Obama Snaps Epic Selfie With Bear Grylls in Alaska
Sep. 02, 2015 03:49PM EST
Climate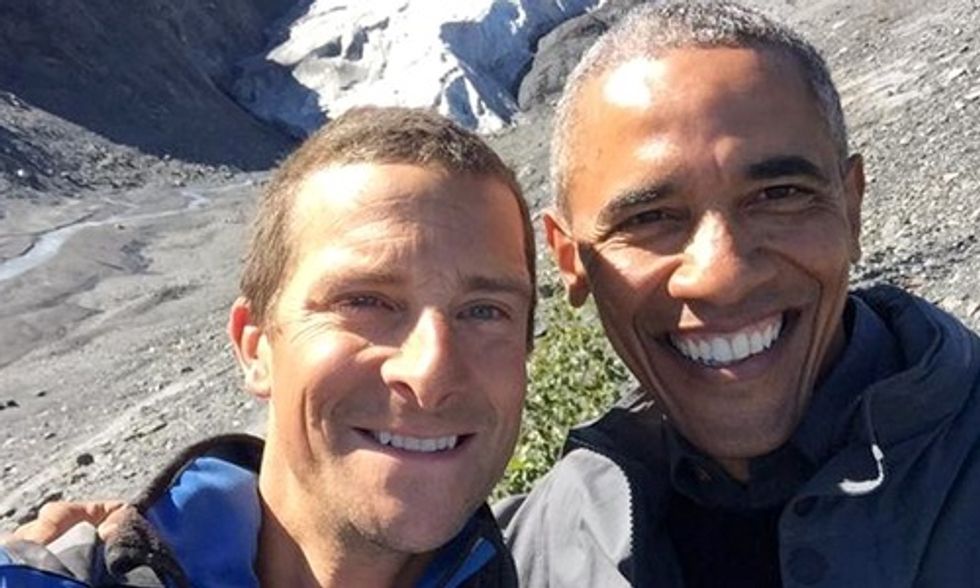 President Obama is in Alaska this week highlighting the impacts of climate change and part of his trip included some time on the NBC show Running Wild with famed survival expert Bear Grylls.
The President snapped the above selfie with Bear Grylls and joked, "Glad this was the only Bear I met in the park." President Obama has been in Alaska these past three days meeting with global leaders at the GLACIER conference in Anchorage and touring the state to see firsthand the effects of the Arctic's changing climate. While Obama has been criticized by the right and the left for his trip to the Arctic, Grylls is clearly excited about the strides the President has been taking in recent months to urge action on climate change.
@POTUS such special moments all through this journey. & what you are doing to help protect our planet in inspiring. pic.twitter.com/IDWJR3rMPM — Bear Grylls (@BearGrylls) September 2, 2015
The President also took the time to highlight the natural beauty of the region, highlighting Resurrection Bay as "a place worth protecting."
Obama hiked to Exit Glacier south of Anchorage over the Chugach Mountains. Taking in the view, he told reporters, "How's this? Beats being in the office." As part of his effort to highlight how much climate change has already altered the Arctic region, which is warming twice as fast as the rest of the country, Obama pointed out signs showing the rapid glacial retreat. Read page 1 "This is as good of a signpost of what we're dealing with when it comes to climate change as just about anything," Obama said. "What it indicates, because of the changing patterns of winter and less snow and longer, hotter summers, is how rapidly the glacier is receding. It sends a message." When he arrived at the glacier, he said, "It is spectacular. We want to make sure that our grandkids can see this."
YOU MIGHT ALSO LIKE
Fox News Host: Obama Is so Obsessed With Climate Change He Should Work for the Weather Channel
Pope Francis: The Rich and Powerful Need to 'Care' for the Planet
2 Elephants Killed in National Park Sparks Fear of More Poaching
EcoWatch Daily Newsletter