Obama Signs Executive Order to Cut Government Greenhouse Gas Emissions by 40 Percent
Mar. 19, 2015 12:41PM EST
Climate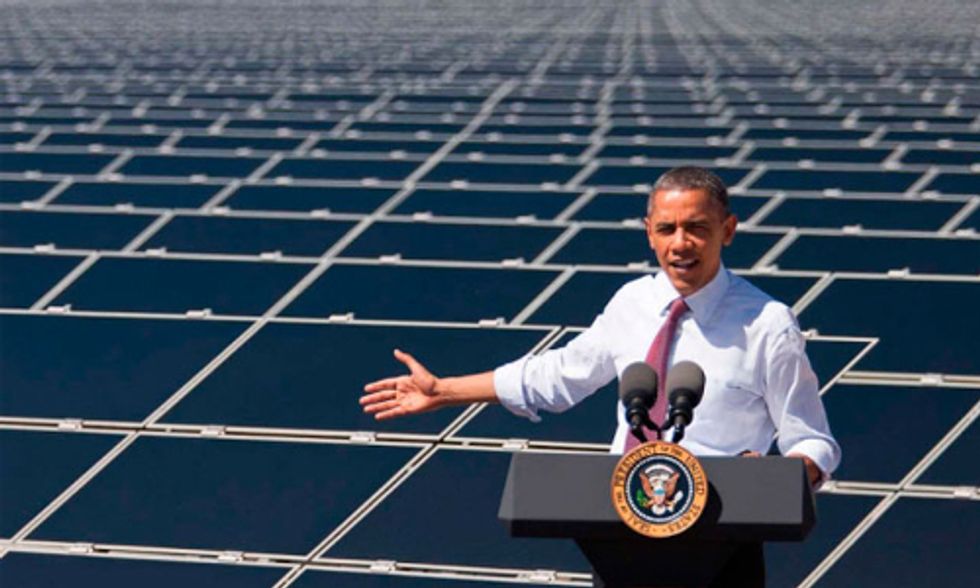 The federal government contributes only modestly to the U.S.'s total greenhouse gas (GHG) emissions. But hoping to spur others into action, President Obama announced today that he will issue an executive order that will cut the federal government's greenhouse gas (GHG) emissions by 40 percent by 2025, including across its entire supply chain.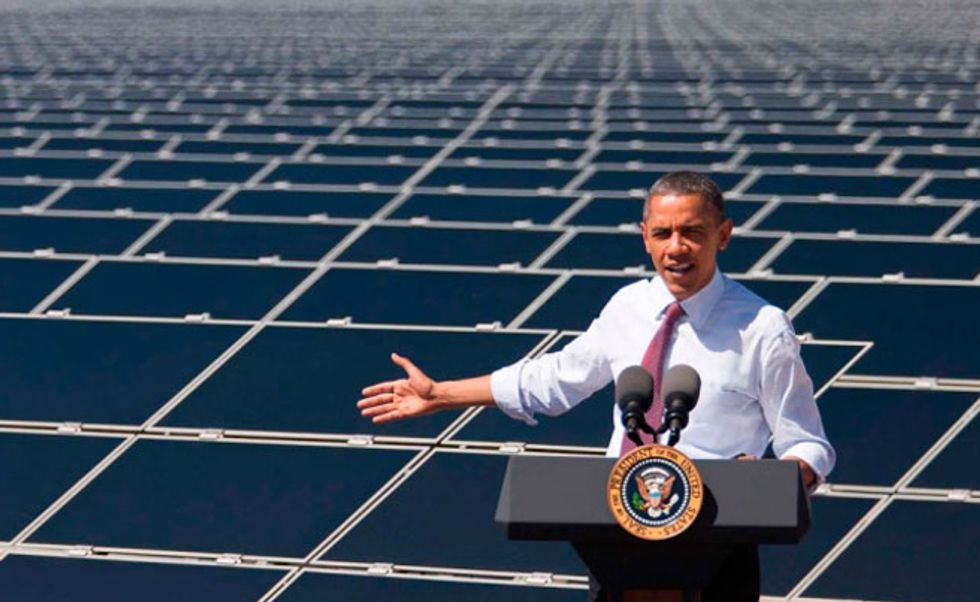 "As part of his commitment to lead by example to curb the emissions that are driving climate change, today President Obama will issue an executive order that will cut the federal government's greenhouse gas emissions 40 percent over the next decade from 2008 levels—saving taxpayers up to $18 billion in avoided energy costs—and increase the share of electricity the Federal Government consumes from renewable sources to 30 percent," said a White House statement. "Complementing this effort, several major federal suppliers are announcing commitments to cut their own GHG emissions."
The new actions and commitments are expected to reduce GHG emissions by 26 million metric tons from 2008 levels by 2025. The administration is also releasing its Federal Supplier Greenhouse Gas Management Scorecard where the public can track GHG emissions for all major federal suppliers and their progress in reducing them. Together, these suppliers receive more than 40 percent of all federal contract dollars, more than $187 billion dollars, with Lockheed Martin, which already has and discloses emissions targets, leading the list at more than $32 billion.
The government itself spends more than $445 billion on goods and services, making the impact of this executive order even greater.
"The President's action today will build on the federal government's significant progress in reducing emissions to drive further sustainability actions through the next decade," according to the White House statement. "In addition to cutting emissions and increasing the use of renewable energy, the Executive Order outlines a number of additional measures to make the Federal Government's operations more sustainable, efficient and energy-secure while saving taxpayer dollars."
Those measures include making sure that 25 percent of their energy comes from renewable sources by 2025, reducing energy use in federal buildings by 2.5 percent a year and reducing water intensity in federal buildings by 2 percent a year in the next decade, and reducing per-mil GHG emissions from federal vehicle fleets by 30 percent by 2015, including increasing the percentage of zero-emission and plug-in hybrid vehicles.
"Earthjustice applauds President Obama for issuing an Executive Order today that aims to make a significant cut in carbon pollution—the pollution responsible for climate change—from the government sector," said Abigail Dillen, Earthjustice's vice president of litigation for Climate & Energy. "The President recognizes that the federal government can lead the way in expanding our use of clean, renewable energy, a key step on the path to end our nation's unnecessary dependence on fossil fuels that harm our health and the environment."
The administration also hosted a roundtable today to bring together some large government suppliers to talk about their GHG reduction targets or make public their first-ever commitments to such targets. The White House release a detailed fact sheet explaining the actions they intend to take.
The companies participating in today's roundtable include IBM, GE, Honeywell, SRA International, Humana, CSC, AECOM, Northrup Gruman and Batelle, among others. All revealed their GHG emissions reduction targets and other sustainability goals. IBM, for instance, announced two new goals. The company said it would reduce carbon emissions from its energy use by 30 percent over 2005 levels by the end of 2020, a reduction of 20 percent over its previous goal. And it said that it would get 20 percent of its electricity from renewable sources by 2020 and that these will be purchases directly matched to its operations, not offsets. Other companies announced similar goals.
Though the President's executive order is a step in the right direction, Greenpeace points out that a policy banning coal, oil and gas extraction on public lands would have an even bigger impact on the climate crisis.
"It's good to see President Obama call for more renewable energy to reduce carbon pollution from the federal government's operations, but his administration needs to get serious about the federal government's much bigger carbon problem—fueling the climate crisis by giving away our coal, oil and gas from federal lands and waters," said Greenpeace climate and energy campaign director Kelly Mitchell.
"President Obama and Interior Secretary Jewell can take immediate steps that would have a real impact: rejecting Shell's plans to drill for oil in the Arctic and putting a moratorium on the sale of federal coal. We also need a comprehensive plan to address the broader problems of federal fossil fuels and climate change, but our land, water, and climate are threatened by fossil fuel companies and outdated federal rules right now, and these are two immediate steps the Obama administration could take."
Earlier this week, Interior Secretary Sally Jewell delivered a speech calling for "an honest and open conversation" about the federal coal program and climate change. According to a Greenpeace report, last year the federal coal program leased 2.2 billion tons of taxpayer-owned coal during the Obama administration, unlocking 3.9 billion metric tons of carbon pollution. The report also found that the average price per ton for those coal leases was only $1.03, while each ton will cause damages estimated at between $22 and $237, using the federal government's social cost of carbon estimates.
A new report today from the Center for American Progress and the Wilderness Society provides new data, including that, "Federal lands and waters could have accounted for 24 percent of all energy-related GHG emissions in the United States in 2012."
Last June, President Obama and the U.S. Environmental Protection Agency unveiled their historic Clean Power Plan to cut greenhouse gas emissions from U.S. power plants—the country's largest source of GHG emissions—cutting carbon emissions by 30 percent over 2005 levels by 2025.
Obama said then, "Right now, there are no national limits to the amount of carbon pollution that existing plants can pump into the air we breathe—none. We limit the amount of toxic chemicals like mercury, sulfur and arsenic that power plants put in our air and water. But they can dump unlimited amounts of carbon pollution into the air."
His announcement today of the government's own actions demonstrates the importance of such goals, a rebuke to the dozen states suing the federal government claiming that the Clean Power Plan is illegal and a burden to the states.
YOU MIGHT ALSO LIKE
Obama: No Challenge Poses a Greater Threat Than Climate Change
U.S. Carbon Emissions Rise Despite Efforts to Combat Climate Change
5 Ways Obama's Budget Fights Climate Change and Expedites Renewable Energy
EcoWatch Daily Newsletter