Obama, Sanders, Kennedy Praise Pope's Call to Action on Climate Change
Sep. 23, 2015 05:17PM EST
Climate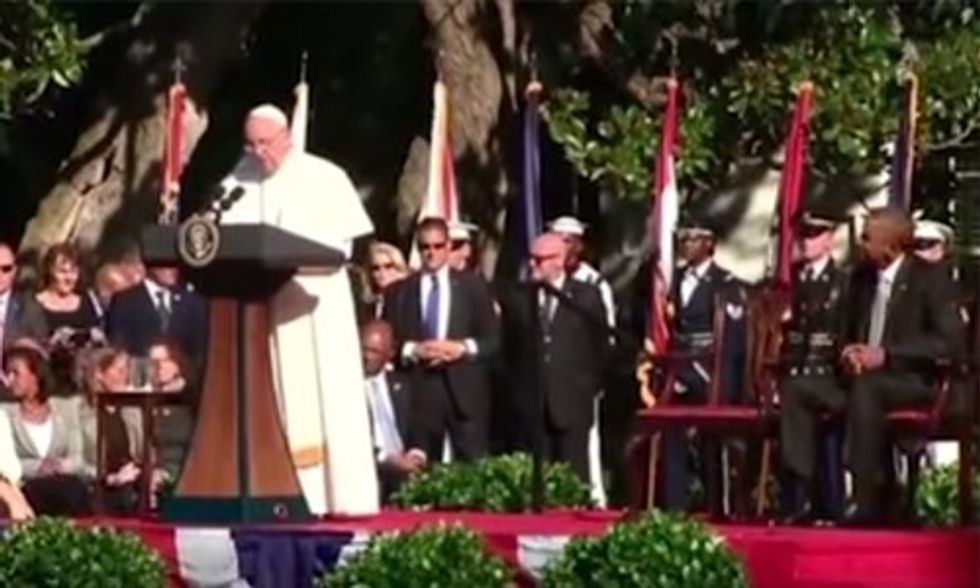 In his first public address during his visit to the U.S., Pope Francis devoted most of it to talking about climate change. In front of a throng of people on the White House lawn this morning, Francis expressed his support for President Obama's plan to fight climate change.
So the Pope just thanked Obama for the #CleanPowerPlan on the lawn of the White House. That's just sinking in. Wow. #PopeInDC @Pontifex

— Mary Anne Hitt (@Mary Anne Hitt)1443017045.0
"I find it encouraging that you are proposing an initiative for reducing air pollution," Pope Francis said regarding President Obama's Clean Power Plan. "Accepting the urgency, it seems clear to me also that climate change is a problem that can no longer be left to a future generation." Quoting his own encyclical, he said, "When it comes to the care of our common home, we are living at a critical moment of history."
Robert F. Kennedy, Jr. who attended the Pope's speech, had this to say immediately following the event: "Contrary to his critics' assertions, the Pope does not hate capitalism. He despises its excesses and sees pollution as sin. He believes that any economic system should be governed by rules that serve the public interest, particularly the poor. Like St. Francis of Assisi, he is both a friend to nature and the enemy of orthodoxy. He has taken the church away from its narrow preoccupation with strict ideology on human sexuality, and he has refocused it on larger moral questions like war, poverty, wealth and the environment."
In his speech, the Pope referenced a critical juncture in our history, saying, "To use a telling phrase of the Reverend Martin Luther King: we can say that we have defaulted on a promissory note and now is the time to honor it."
He may be the foremost Catholic, but to many, Pope Francis is more Martin Luther King Jr. than Pope Benedict XVI http://t.co/I3CxYre7BQ

— The New York Times (@The New York Times)1443028540.0
Watch the Pope's address here:
President Obama hailed the Pope for his advocacy. "Holy Father, you remind us that we have a sacred obligation to protect our planet—God's magnificent gift to us," the President said. He also praised the Pope's call to help the poor and vulnerable. "You shake our conscience from slumber," he said.
Yesterday, as the Pope's plane was touching down in Washington, DC, Sen. Bernie Sanders (I-VT), who has long expressed his admiration for the Pope, took the opportunity to praise him for 11 minutes on the Senate floor for his attention to poverty, the economy and the environment. To show their support ahead of the Pope's visit, last week 11 Republican members of Congress called for climate action last week, introducing a resolution that put the climate challenge in the broader context of conservation, stewardship, innovation and conservatism. And yesterday, a group of Senate Democrats unveiled an energy bill to signal their "full-throated support" of Obama's climate plan.
Not everyone is inspired by Pope Francis' words, though. "We all share Pope Francis's desire for responsible environmental stewardship," said James Taylor, senior environmental fellow at The Heartland Institute. "Unfortunately, Pope Francis appears to believe poorly supported global warming theories that have been strongly and repeatedly contradicted by real-world observations. His decision to spend so much time and effort venturing outside the realm of religion and into the realm of science and public policy is unlikely to advance his Christian mission."
At least one Catholic Republican, Rep. Paul Gosar (R-AZ), is boycotting the Pope's speech to Congress on Thursday because he disagrees with his stance on climate change. Other conservatives have criticized the Pope ahead of his visit to the U.S., accusing him of being inspired by "pagan remnants" of "nature worship."
YOU MIGHT ALSO LIKE
Watch Stephen Colbert Apologize To Donald Trump
Climate Deniers Attack 'Rock Star' Pope as 'Nature-Worshipping Pagan' Amid U.S. Visit
Leonardo DiCaprio Pledges to Divest From Fossil Fuels as Movement Grows 50-Fold in One Year
EcoWatch Daily Newsletter
Related Articles from EcoWatch