Obama Runs Wild With Bear Grylls to Call for Climate Action
Dec. 18, 2015 11:22AM EST
Climate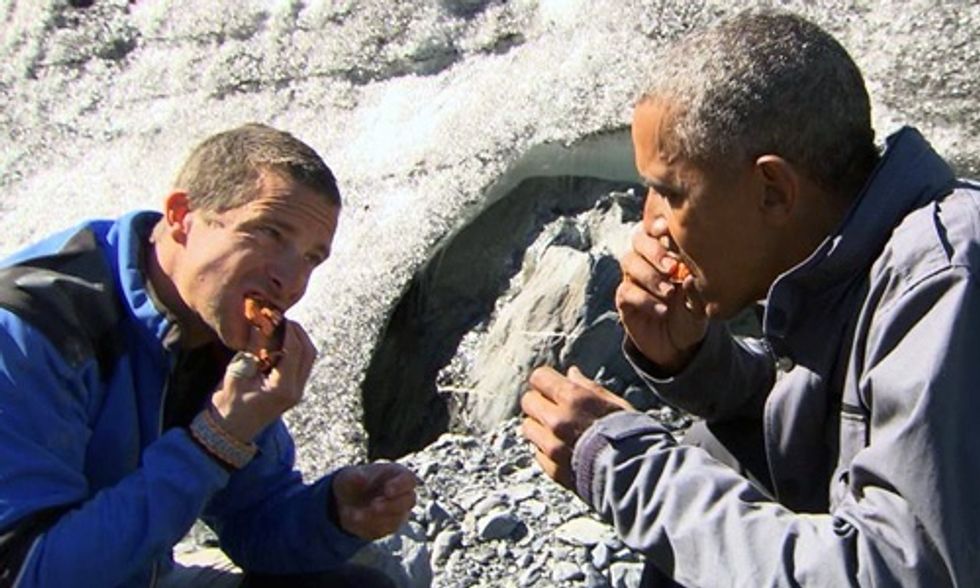 President Obama guest starred in last night's episode of Running Wild With Bear Grylls on NBC. Fans of the show know Grylls as a handsome, rugged Brit who's a former solider and will do just about anything to survive in the wilderness. The episode was filmed back in September when Obama was in Alaska on the last leg of his U.S. climate action tour. The president snapped this awesome selfie with the British adventurer.
Obama is hoping the episode will draw attention to the impacts of climate change. "I've two daughters, and I don't want grandkids too soon, but eventually I hope to have some. And I want to make sure that this is there for them, not just us," said Obama, as they hiked in the Kenai Mountains.
He said he's focusing on climate change because "I think it will have a more significant impact on the lives of future generations as just about anything. And we're still a long way from getting it right but it's something that, working together, I think we can make a difference on."
While celebrities, such as Ben Stiller, Kate Winslet and Zac Efron, have made appearances on the show, it's the first time a sitting president has made an appearance, according to Reuters. About 50 Secret Service personnel, a food taster, snipers and helicopters were all on hand, but Grylls said Obama wanted it to be as authentic as possible. "He didn't have any problems. He wanted the physicality ... he was up for everything," Grylls said.
Well, almost everything. While Obama refused to drink his own urine, he did agree to eat a bit of bloody salmon that was "half-eaten" by a bear and drink tea made from catkins and glacier water.
"I've seen some of the stuff Bear eats, and it's gotta be something that doesn't still have its legs and eyes on it. I want it not to be too recognizable," Obama said. "Bear's a mediocre cook, but the fact that we ate something recognizable was encouraging. Now, the fact that he told me this was a leftover fish from a bear, I don't know if that was necessary. He could have just left that out."
The two bonded over fatherhood and the environment as they hiked on Exit glacier in the Kenai mountains. Grylls complimented the president on his physique, to which Obama said, "I'm skinny, but tougher than I look."
It was "an Obama seldom seen on television," said The Guardian. The president was "loose, personal, stripped of pomp, just a guy out hiking with another guy."
Grylls commended the president on starting a fire without even needing "bellybutton fluff" for kindling. He also told Obama catkins tea was a good remedy for flatulence, to which Obama retorted, "It's not a problem I have, but maybe you do." And when Grylls warned that bears were especially dangerous if you surprised them while they were "fornicating," Obama joked the same could be said for humans.
Grylls was clearly enthralled. "He said it was one of the best days of his presidency," Grylls told Reuters. "There were times along the route I had to pinch myself and think, 'actually, this is the president of America.'"
"I hope we did something that really put a smile on his face that lasted for a while," Grylls added.
YOU MIGHT ALSO LIKE
How Sea Level Rise Impacts the Rotation of Our Planet
EcoWatch Daily Newsletter