Obama Renames Mount McKinley as Denali to Honor Native Americans
Aug. 31, 2015 11:08AM EST
Climate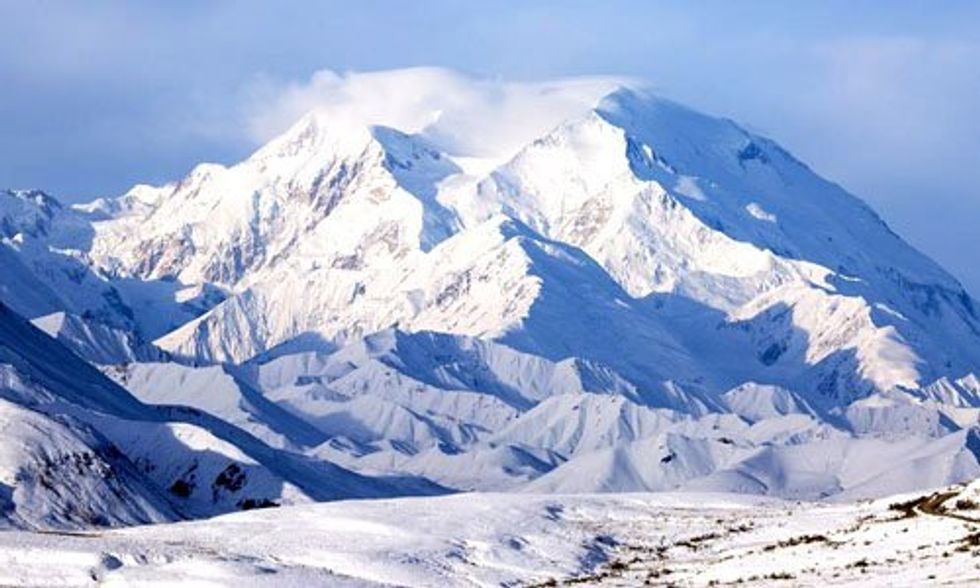 President Obama and Sec. of the Interior Sally Jewell announced yesterday that Mount McKinley was being renamed Denali, restoring the Alaska native name with "deep cultural significance to the tallest mountain in North America," according to The New York Times.
Mt. McKinley, North America's tallest peak, is going to be renamed by Obama http://t.co/JU9DlhkplG pic.twitter.com/xQCwdysY9y

— Los Angeles Times (@latimes) August 31, 2015
The order came just ahead of the President's trip to Alaska today. To wrap up his whirlwind climate tour, President Obama will spend the next three days in Alaska, urging immediate action on climate change. The name change is also just "part of a series of step he will make there meant to address the concerns of Alaska native tribes," says the Times.
"This name change recognizes the sacred status of Denali to many Alaska natives," said Sec. Jewell, noting that the mountain had been known as Denali by the state's native population for generations.
Generations of Alaskans, Alaska Natives hold Denali sacred. Time to honor its original name.SJ http://t.co/eD80BNJKTg pic.twitter.com/mS3kFiLoST

— Sally Jewell (@SecretaryJewell) August 30, 2015
The continent's highest peak at 20,320 feet was dubbed Mount McKinley by a prospector in 1896 to honor William McKinley of Ohio who had just been nominated for the presidency. The government officially recognized the mountain as Mount McKinley in 1917. After much protest, in 1975 the state of Alaska changed the name back to Denali, which is derived from a Koyukon Athabascan word meaning "high" or "tall." But the name change on a federal level has been pending for 40 years.
Using the name Mt. McKinley has long been regarded as "an example of cultural imperialism in which a Native American name with historical roots was replaced by an American one having little to do with the place," reports The New York Times.
Not only had President McKinley never visited the peak. He never even set foot in the state, which was not yet a state or even a territory but instead designated as the District of Alaska at that time. And he had "no significant historical connection" to the place either.
The prospects of changing the name back on a federal level seemed more optimistic this year, though. When Sen. Lisa Murkowski introduced a bill in Congress earlier this year to change the name back, the Department of the Interior said it "did not object" to the name change. One group remains adamantly opposed, though: Ohio lawmakers.
"Mount McKinley ... has held the name of our nation's 25th President for over 100 years," Rep. Bob Gibbs (R-OH), told Fox News. "This landmark is a testament to his countless years of service to our country." Gibbs called Obama's action a "constitutional overreach," saying that an act of Congress was required to rename the mountain, because a law formally naming it after President McKinley was passed in 1917.
And Rep. Gibbs wasn't alone. "We must retain this national landmark's name in order to honor the legacy of this great American president and patriot," said Democratic Rep. Tim Ryan. Sen. Rob Portman, (R-OH), also blasted the decision as "yet another example of the President going around Congress." House Speaker John Boehner said, "I am deeply disappointed in this decision."
The efforts of Murkowski and others have been stymied by Ohio's congressional delegation for years. Even when Denali National Park was created in 1980, the federal government kept the name Mt. McKinley for the peak, which is located within the boundaries of the park.
"For centuries, Alaskans have known this majestic mountain as the 'Great One,'" said Sen. Murkowski in a statement. "Today we are honored to be able to officially recognize the mountain as Denali. I'd like to thank the president for working with us to achieve this significant change to show honor, respect and gratitude to the Athabascan people of Alaska."
The White House also announced on Sunday that President Obama will be increasing government support for programs to allow Alaska Natives to be more involved in developing their own natural resources, according to the Times. Obama announced an initiative to include them in the management of Chinook salmon fisheries, a youth exchange council focusing on promoting "an Arctic way of life" and a program allowing them to serve as advisers to the U.S. Fish and Wildlife Service.
The Alaska trip is the tail-end of the President's climate tour. Last week, he touted the benefits of solar in Nevada and blasted his opponents—singling out the Koch brothers—for "standing in the way of progress" when it comes to renewable energy and his Clean Power Plan. Then, he headed to New Orleans to mark the 10th anniversary of Hurricane Katrina by talking about the need for coastal communities to adapt to a changing climate.
While in Alaska, he will deliver a speech at a State Department-sponsored Arctic conference today in Anchorage, visit a glacier tomorrow and travel to two small coastal Alaskan towns on Wednesday before returning to Washington.
YOU MIGHT ALSO LIKE
Obama Heads to Alaska as Climate Groups Cry 'Hypocrisy' Over Decision to Drill in the Arctic
Arctic Drilling: A Giant Gamble for the Planet and Shell's Bottom Line
EcoWatch Daily Newsletter