This website uses cookies to ensure you get the best experience while browsing it. By clicking 'Got It' you're accepting these terms.
Obama Pledges $3 Billion to Green Climate Fund
Nov. 17, 2014 09:57AM EST
Following the announcement in Beijing last week by President Obama and Chinese President  Xi Jinping of a historical agreement between the two countries to cut carbon emissions, Obama moved on to the G20 meeting in Brisbane where he made another climate-positive announcement: he pledged on Friday that the U.S. will contribute $3 billion to the UN's Green Climate Fund. The fund was established to help developing countries address greenhouse gas pollution and climate change.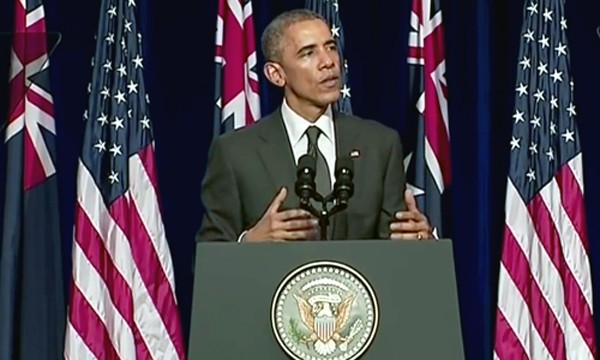 Obama's announcement opened the door for other nations to step up. It was quickly followed by a pledge of $1.5 billion from Japanese prime minister Shinzo Abe. Then last evening, Canadian Prime Minister Stephen Harper, who has dragged his feet about participation, suggested that Canada will get on board as well. The UK's David Cameron is expected to announce a $1 billion pledge later this week.
Harper's announcement comes as a particular surprise since he and Australian prime minister David Abbott jointly dissented from support of the fund when it was announced late last year. G20 meeting host country Australia is rapidly becoming the poster child for resistance to climate change action, and this weekend's conference made it clear that has not changed. Abbott opposed the new pledges, attempting to keep the issue off the meeting's formal agenda and water down the commitment language. The U.S. and other countries overrode that effort. Abbott told the world leaders at the meeting that he is "standing up for coal," while Australia's treasurer Joe Hockey said his country is focused on jobs and growth and he didn't see climate change as a problem.
These pledges should put the fund close to its $10 billion goal, and environmental groups praised the commitments.
"This week has breathed new life into global climate action," said Andrew Steer, president and CEO of the World Resources Institute. "This pledge signifies that the U.S. is serious about delivering a global climate agreement. These funds provide critical support to vulnerable communities that are unable to withstand the impacts of climate change on their own. Further, these funds can be used to support U.S. companies looking to expand low-carbon opportunities overseas."
"Make no mistake about it, momentum toward significant international action to tackle the climate crisis is quickly building," said Michael Brune, executive director of the Sierra Club. "On the heels of a historic deal with China to cut air pollution and carbon pollution while growing our clean energy economy, President Obama's pledge to the Green Climate Fund shows that he is taking the lead in creating a path to real progress in Paris. But this commitment will do more than lay the groundwork for a strong international agreement. It will also help developing countries fund critical investments to reduce emissions and protect themselves from the devastating effects of climate disruption, helping stabilize their future while securing our own."
YOU MIGHT ALSO LIKE 
U.S. and China Strike Historic Climate Change Deal
Companies Warn Investors Climate Change Threatens Their Bottom Line
Developing Countries Invest in Renewables Twice the Pace of Industrialized Nations
Plus, learn if there's one that's best for your health.
Catherine Falls Commercial / Moment / Getty Images
An invasive Amynthas worm, also known as a crazy snake worm, Asian jumping worm and Alabama jumper Tom Potterfield / Flickr
By Jason Bittel
My wife and I built a house two years ago on a few acres of woodland outside of Pittsburgh. The backyard is full of maples, poplars, briars and common spicebush. Two-lined salamanders and grumpy-looking crayfish wade among the rocks in the small stream that runs down the edge of the property. Deer, raccoon and opossum tracks appear regularly in the snow and mud. Sometimes, my trail-cam even catches a pair of gray foxes as they slink through the night.
AleksandarNakic / Getty Images
By Kate Murphy
No matter the time of year, there's always a point in each season when my skin decides to cause me issues. While these skin issues can vary, I find the most common issues to be dryness, acne and redness.

David Woodfall / The Image Bank / Getty Images
By Sam Nickerson
The U.S. Environmental Protection Agency (EPA) in April 2018 proposed relaxing standards related to how it assesses the effects of exposure to low levels of toxic chemicals on public health.
Now, correspondence obtained by the LA Times revealed just how deeply involved industry lobbyists and a controversial, industry-funded toxicologist were in drafting the federal agency's proposal to scrap its current, protective approach to regulating toxin exposure.
Steve Irwin poses with a three foot long alligator at the San Francisco Zoo on June 26, 2002. Justin Sullivan / Getty Images
February 22 is the birthday of conservationist and beloved TV personality "Crocodile Hunter" Steve Irwin, who would have been 57 years old today.
Irwin's life was tragically cut short when the barb from a stingray went through his chest while he was filming in 2006, but his legacy of loving and protecting wildlife lives on, most recently in a Google Doodle today honoring his birthday.