This website uses cookies to ensure you get the best experience while browsing it. By clicking 'Got It' you're accepting these terms.
Obama Opens Oil Floodgate in the Gulf
Dec. 08, 2011 08:00AM EST
Renewable Energy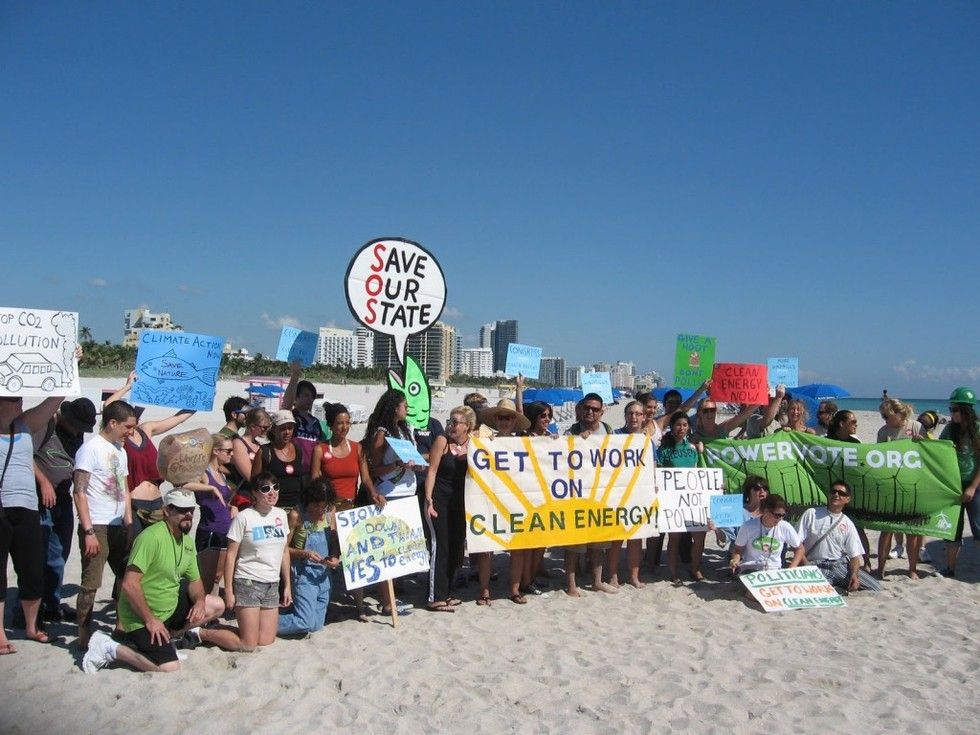 Every five years, the federal government is required by law to update its leasing program for offshore oil and natural gas development. On Nov. 8, Secretary of the Interior, Ken Salazar, announced the government's proposed plan for offshore oil drilling for the next five years (2012-2017). The new plan can be summed up pretty easily—Let the oil flow. By and far, the most oil (and thus oil drilling) that exists off our coasts is off Texas and Louisiana, and most of that is in federal waters. Most coastal states have jurisdiction over offshore areas from zero to three miles from the shore. The zone between 3-200 miles is all the fed's responsibility to regulate, permit and collect revenues from offshore oil drilling for the good of the country. This newly proposed plan would open up all the areas currently unleased in the Western and Central Gulf of Mexico between 2012-2017 for oil leasing. The Deepwater Horizon drilling disaster in the Gulf of Mexico last year put the kibosh on President Barack Obama's initially proposed 5-year plan, but this new plan appears to be business as usual for Gulf oil production.
While it appears the Bureau of Ocean Energy Management (BOEM) will be opening much of the Gulf for oil and gas development, BOEM is going to painstaking lengths to carve up the Atlantic into tiny bit-sized pieces for offshore wind farms through its Smart from the Start program. BOEM has identified some 798 square miles of ocean that might qualify for expedited offshore wind development off of Virginia, Maryland, Delaware and New Jersey—so long as no more areas are cut. By comparison, approximately 1,000 square miles of ocean off the west coast of Florida, and another 49,000 square miles in the Gulf are already leased for offshore oil and gas development.
More than 50,000 square miles of our oceans are already leased for oil and gas development—yet offshore wind farms are having to fight for an area less than 1/50th that size. Clearly, our nation's energy plan is off track.
BOEM is hosting public forums through December and taking public comments on the newly proposed 5-year plan until Jan. 9—be sure to get involved and let BOEM know how unfair this proposed offshore energy plan is and how offshore wind energy is a much better investment for our nation's future.
For more information, click here.
EcoWatch Daily Newsletter
Smog over Los Angeles. Westend61 / Getty Images
After four decades of improving air quality, the U.S. has started to take a step backwards, as the number of polluted days has ticked upwards over the last two years, the Associated Press reported.
Photobos / iStock / Getty Images
Governors in Vermont and Maine signed bills on Monday that will ban plastic bags in their states next year, The Hill reported.
The Maine ban will go into effect next Earth Day, April 22, 2020. The Vermont ban, which extends beyond plastic bags and is the most comprehensive plastics ban so far, will go into effect in July 2020. The wait time is designed to give businesses time to adjust to the ban.
picture-alliance / AP Images / D. Goldman
By Daniel Moattar
Eastern Kentucky's hills are interrupted by jarring flats of bare rock: the aftermath of mountaintop removal mining, which uses explosives to destroy and harvest coal-rich peaks.
By Molly Taft
Lisa Marshall isn't your typical activist. For one thing, she's not into crowds. "I don't really like rallies," Marshall, a mom of three from upstate New York, said. "They're a little stressful — not my favorite thing."

An oil drilling site in a residential area of Los Angeles, California on July 16, 2014.
Faces of Fracking / Flickr
By Jake Johnson
A comprehensive analysis of nearly 1,500 scientific studies, government reports, and media stories on the consequences of fracking released Wednesday found that the evidence overwhelmingly shows the drilling method poses a profound threat to public health and the climate.

sonsam / iStock / Getty Images
By Grace Francese
A new Environmental Working Group (EWG) study published in Environmental Research found that nitrate, one of the most common contaminants of drinking water, may cause up to 12,594 cases of cancer per year, but that's not its only danger: It can pose unique health risks to children.
Melt water from Everest's Khumbu glacier. Ed Giles / Getty Images
EPA Administrator Andrew Wheeler signs his replacement for the Clean Power Plan. Win McNamee / Getty Images