Obama: No Challenge Poses a Greater Threat Than Climate Change
Jan. 21, 2015 08:11AM EST
Climate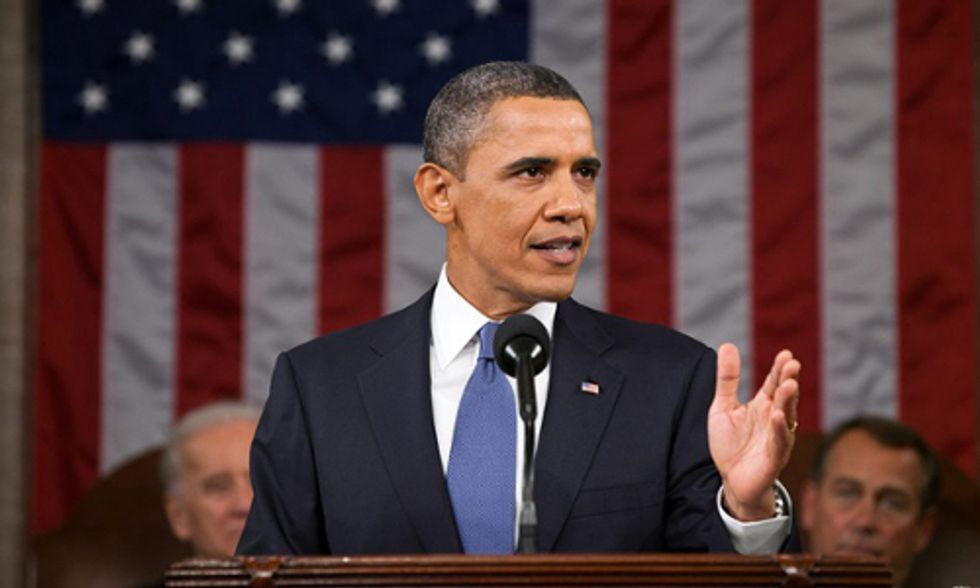 There was a lot of buzz beforehand about what President Obama would say and what he should say about climate change in his State of the Union address. In the end, he devoted three minutes of the hour-long speech to it, and much of what he said either touted his accomplishments or emphasized his previous positions. But he expressed forcefully how essential it is to acknowledge what scientists say and act on it.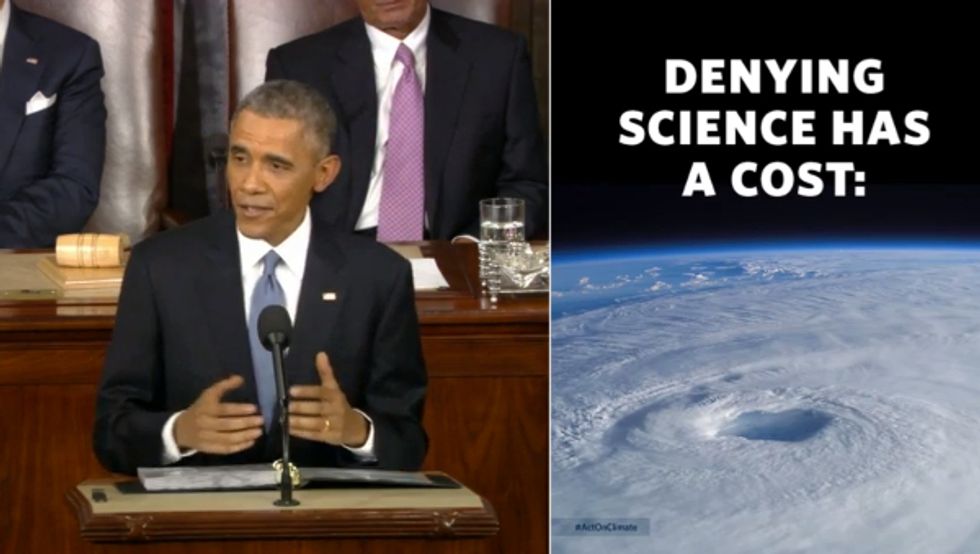 He began by saying, "No challenge—no challenge—poses a greater threat to future generations than climate change. 2014 was the planet's warmest year on record. Now, one year doesn't make a trend, but this does—14 of the 15 warmest years on record have all fallen in the first 15 years of this century."
"I've heard some folks try to dodge the evidence by saying they're not scientists; that we don't have enough information to act," he continued. "Well, I'm not a scientist either. But you know what—I know a lot of really good scientists at NASA, and NOAA, and at our major universities. The best scientists in the world are all telling us that our activities are changing the climate, and if we do not act forcefully, we'll continue to see rising oceans, longer, hotter heat waves, dangerous droughts and floods, and massive disruptions that can trigger greater migration, conflict and hunger around the globe. The Pentagon says that climate change poses immediate risks to our national security. We should act like it. That's why, over the past six years, we've done more than ever before to combat climate change, from the way we produce energy to the way we use it. "
He then pointed to several things his administration has accomplished so far, emphasizing the historic agreement announced in Beijing in November when China agreed for the first time to cut its greenhouse gas emissions and Obama said that U.S. would double the pace at which it would do so.
"And because the world's two largest economies came together, other nations are now stepping up and offering hope that, this year, the world will finally reach an agreement to protect the one planet we've got," he said, referring to the UN climate summit in Paris in December.
He also threw down the gauntlet to Congress whose leader, Speaker John Boehner, sat behind him unmoved, not reacting to these remarks.
"I will not let this Congress endanger the health of our children by turning back the clock on our efforts," he said. "I am determined to make sure American leadership drives international action."
While a few environmental groups expressed dismay over issues he did not mention, such as fracking, most were very pleased with what they heard.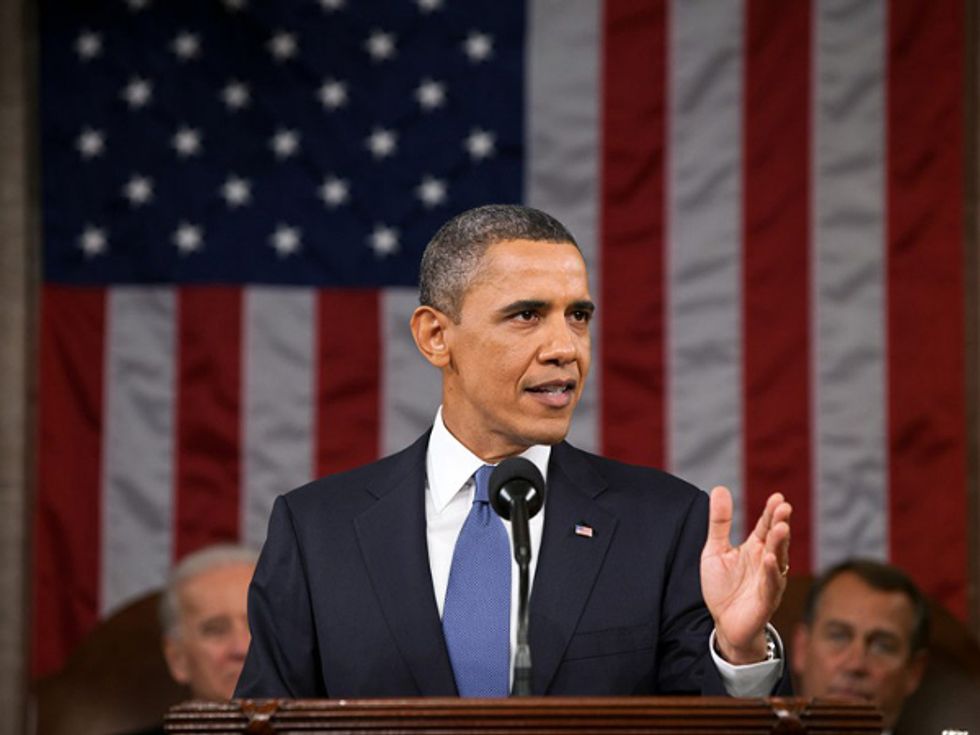 "When it comes to the climate crisis, the President knows the stakes, and tonight he underscored the urgency of the problem and his commitment to climate action for our children's future," said Sierra Club executive director Michael Brune. "Under this presidency, clean energy is growing faster than ever and providing more safe, clean, reliable and affordable power to more Americans than ever. But we should not and cannot stop there. We must accelerate the transition from dirty fossil fuels to clean energy as quickly as possible."
Annie Leonard, executive director of Greenpeace, agrees. "People across America want to see President Obama lead on climate change and that means championing wind and solar power. This is how our country will build a healthy, independent, sustainable energy economy."
"It was inspiring to hear the President of the United States, in this most distinguished of settings, once again make clear that climate change is a national priority," said Environmental Defense Fund president Fred Krupp. "The impacts of climate change threaten all Americans, so it's vital that we continue to address it. The President's words tonight are a promising sign that we will."
Dr. Andrew Steer, president and CEO of the World Resources Institute, praised the president's international leadership.
"President Obama made it clear that he intends to solidify the nation's leadership on climate change,' he said. "The Obama administration is primed to build on the progress of the past six years and bring countries together around an international climate agreement. With President Obama's leadership, the U.S. can be a catalyst for an international climate agreement. The president can protect the planet and seal his legacy as a transformative leader in the face of this global challenge."
Earthjustice president Trip Van Noppen added some words of praise but shared the President's concerns about a Congressional roadblock.
"Tonight in his State of the Union address, President Obama spoke of a better politics in which we appeal to each other's basic decency instead of our basest fears, and work together to move this country forward," he said. "We urge the leaders in Congress on both sides of the aisle to look beyond political positioning and to focus on the health and prosperity of our communities. If Congress fails us, we urge the President to use all of his executive powers to keep climate policies and environmental safeguards on track."
Noppen also sounded a note of caution on the issue of energy and continuing fossil fuel extraction. "The President also spoke of leading the world in oil and gas production," he said. "Our nation's waterways and drinking water sources, our treasured public lands and our fragile Arctic require new thinking from the President. Attempting to address climate change while promoting ever more drilling and mining is like trying to win a race by riding the brakes. Boldly promoting clean energy sources and reining in dirty energy sources will reduce the impacts of climate change and help build the economy of the 21st century that the President promises."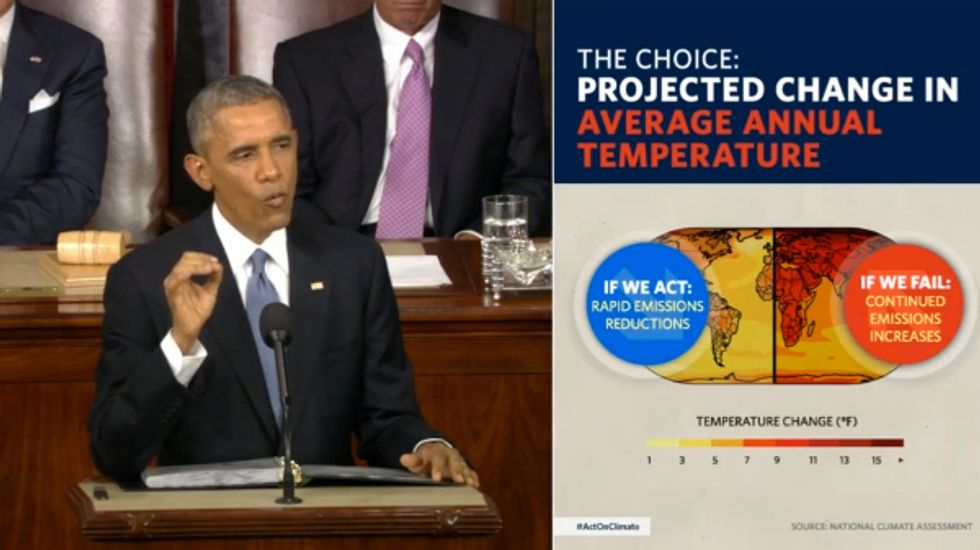 There was some expectation that the President might finally make a statement personally that he would veto the Keystone XL pipeline bill, which his spokespeople have suggested he would do. But he referred to it only once—and only obliquely. Addressing the need to invest in infrastructure, he said "21st century businesses need 21st century infrastructure—modern ports, stronger bridges, faster trains and the fastest internet. Democrats and Republicans used to agree on this. So let's set our sights higher than a single oil pipeline. Let's pass a bipartisan infrastructure plan that could create more than thirty times as many jobs per year, and make this country stronger for decades to come."
Reading between the lines, May Boeve, executive director of 350.org said, "Tonight's speech puts wind in the sails of Keystone XL opponents. President Obama laid out a clear case for climate action and hit back hard against those who are sticking their heads in the sand. He said we need to think beyond a single pipeline, and made a strong case for developing sustainable, clean energy sources like wind and solar. The President is clearly beginning to think about his climate legacy, and he understands that it depends on rejecting Keystone XL."
It appears Boeve's reading is accurate. In a live interview with White House senior advisor Dan Pfeiffer broadcast on WhiteHouse.gov following the speech, Huffington Post's Sam Stein remarked that it sounded as if the president was willing to go along with Keystone XL if it were part of a larger infrastructure package. Pfeiffer said that was not the case and reiterated how the Republicans exaggerated the project's jobs-creation potential, saying, "If you were to listen to Republicans, you'd think it was the Hoover Dam and the Golden Gate Bridge rolled into one."
EcoWatch Daily Newsletter
Recent Stories from EcoWatch