Obama Mocks GOP Presidential Candidates as Climate Deniers and Debate Whiners
Nov. 04, 2015 02:04PM EST
Climate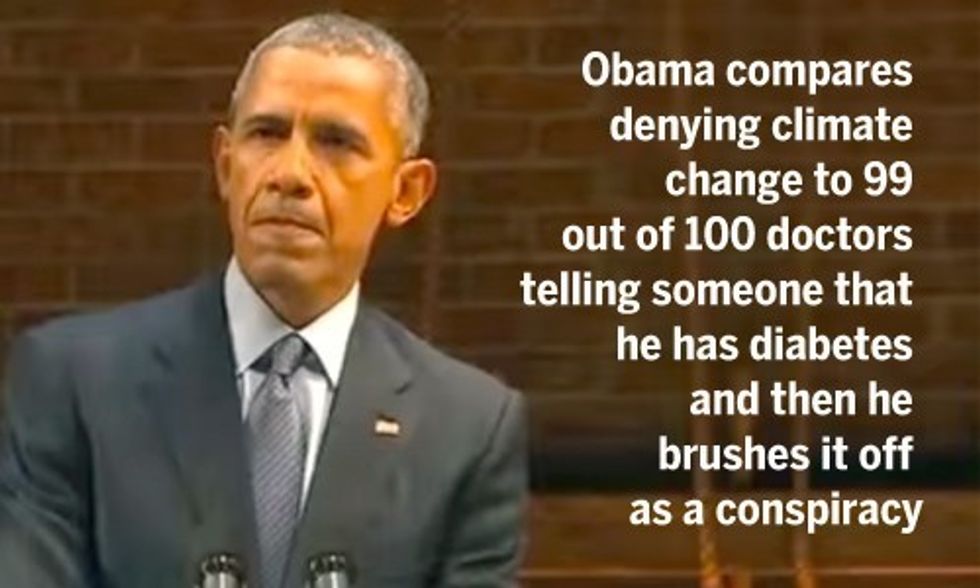 President Obama is still clearly feeling some of that feistiness he talked about experiencing after his vacation in August when he ended up launching a feud with the Koch brothers after accusing them and other opponents of "standing in the way of progress." On Monday night, as part of a Democratic National Committee fundraiser, President Obama had his audience cracking up as he took dig after dig at the Republican presidential candidates.
"They occupy a different reality": President Obama beautifully trolls the GOP class of 2016 https://t.co/cK4PNCyYM0 https://t.co/jdFw0MyDHm

— Salon (@Salon)1446561905.0
He said they seem to "occupy a different reality" in which the country has been in ruins since he was elected seven years ago. "According to them, everything was really good in 2008, when we were going through the worst economic crisis in our lifetimes," Obama said. "This, apparently, was the golden age that I messed up."
And the candidates' views on climate change? Obama couldn't hold back there either. He compared it to 99 out of 100 doctors telling someone they have diabetes and having that person brush it off as "a conspiracy." It's as if "all 99 of those doctors got together—with Obama—to try to prevent me from having bacon and doughnuts," Obama said. "It'd be funny—except this is about climate change."
He reminded the audience of when, earlier this year, Sen. Jim Inhofe (R-Okla.) stood on the floor of the Senate with a snowball to question global warming. His response to that episode: "It's cray!"
To cap off his roast, Obama mocked Donald Trump and others who have criticized the President for his dealings with Russian President Vladimir Putin. "And then it turns out they can't handle a bunch of CNBC moderators," Obama quipped, ridiculing the candidates' objections over last week's GOP debate. "If you can't handle those guys, I don't think the Chinese and the Russians are going to be too worried about you."
The President has made climate change a major focal point of his remaining time in office. His Clean Power Plan, which requires states to reduce carbon dioxide emissions by 32 percent from 2005 levels by 2030, was formally published a few weeks ago. Two dozen states have already filed suit.
And in August, the President launched a whirlwind 11-day climate tour that, he vowed, was a prelude to a 100-day long marathon leading up to COP21, the Paris climate talks. During his climate tour, Obama saw the booming solar industry in Nevada, the recovery efforts in New Orleans as the city marked its 10th anniversary of Hurricane Katrina and finally, the first-hand effects of climate change in Alaska.
You can watch the full speech here:
YOU MIGHT ALSO LIKE
Elon Musk's Brother Wants to Revolutionize Our Food System
CBS Reporter Ben Swann Tells the Truth About CDC Vaccine Cover-Up
Hidden Camera Prank Exposes Absurdity of Climate Deniers' Arguments
Plastic Bags and Fishing Nets Found in Stomach of Dead Whale
EcoWatch Daily Newsletter
Related Articles from EcoWatch