Obama Heads to Alaska as Climate Groups Cry 'Hypocrisy' Over Decision to Drill in the Arctic
Aug. 29, 2015 09:08AM EST
Climate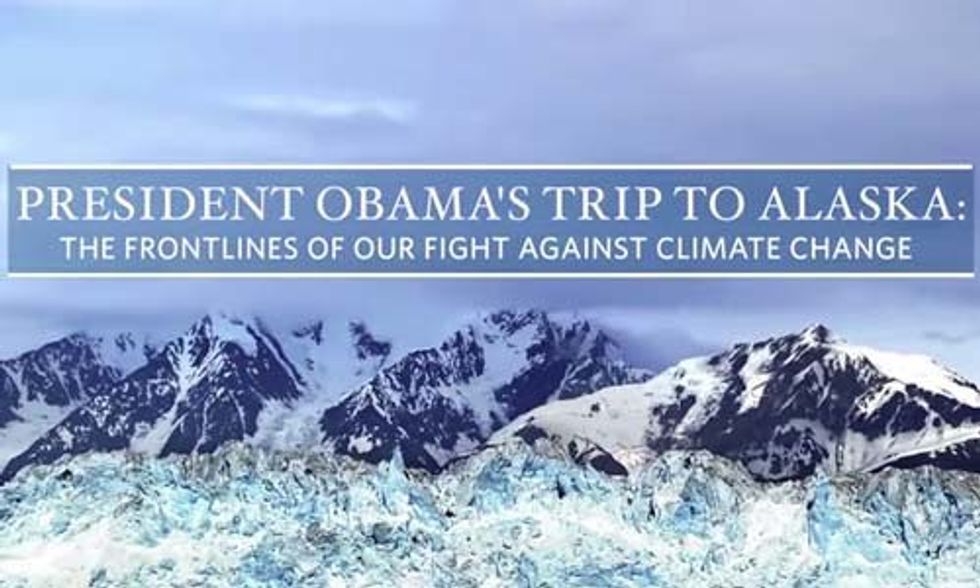 President Obama is ramping up his efforts to address climate change with a whirlwind tour around the U.S. Earlier this week, he visited sun-soaked Nevada to praise the solar industry boom. He then commemorated the 10th anniversary of Hurricane Katrina, the costliest natural disaster in U.S. history, and spoke about the need for cities to develop resiliency plans in the face of a changing climate.
Next week, President Obama will become the first sitting president to visit the Arctic Circle in Alaska. He said the trips to the Gulf and Alaska are connected. Rapidly melting sea ice in the Arctic is resulting in higher sea levels, impacting low-lying coastal communities like New Orleans.
"We can build great levees. We can restore wetlands. But ultimately, what we also have to do is make sure that we don't continue to see ocean levels rise, oceans getting warmer, storms getting stronger," Obama told WWL-TV's anchor Sally-Ann Roberts.
His three-day trip, which begins on Monday, will include Anchorage as well as the Seward area and other rural communities. In Anchorage, he will deliver a speech at a State Department-sponsored Arctic conference that will draw nearly a dozen foreign ministers and hundreds of attendees. The White House has released a video explaining why the President is going to Alaska:
Alaskans are on the front lines of climate change, says Obama in the video. "What's happening in Alaska isn't just a preview of what's to come for the rest of us if we don't take action, it's our wake up call," he says. Alaska is warming at twice the national average and the effects of that warming are everywhere. Alaska had a record mild winter, followed by unprecedented heat waves this past May. Its wildfires this summer have been jaw-dropping. There were more than 300 active fires burning at one point earlier this summer. Five million of the 7.5 million acres burned so far this season were in Alaska.
Climate change has caused Alaska's glaciers to melt so quickly that a one-foot thick layer of water could completely cover the entire state of Alaska every seven years, according to a study published earlier this summer. And while Alaska only holds one percent of the Earth's glacial ice volume (most is contained in Greenland and Antarctica), the state's melting glaciers are "punching far above their weight" when it comes to contributing to sea level rise, sending 75 billion tons of water into the sea every year.
Obama points out that Alaskan communities are already grappling with the effects of climate change, and so is the state's wildlife. Thousands of walruses are being forced ashore again this year due to record low sea ice.
Not everyone is thrilled about the President's trip, though.
"There is no clearer symbol of the self-defeating hypocrisy of his policies on energy and climate," says the progressive social change group Credo. "In Alaska, President Obama's words about the urgency of climate change, against the backdrop of the Shell oil rig he approved to drill, brings to mind the tragic irony of President George W. Bush declaring 'Mission Accomplished' six weeks into his decade-long invasion of Iraq."
Sign the petition to @POTUS : Climate leaders don't drill the Arctic: @WhiteHouse http://t.co/Q0UC0ibF7R #p2 pic.twitter.com/NVGbQfEC0B

— CREDO Mobile (@CREDOMobile) August 27, 2015
The group has launched a website, Mission Not Accomplished, and produced the following video:
"Here's your wake-up call, Mr. President," Credo urges in the video, echoing Obama's sentiments in the original video. "Climate leaders don't drill the Arctic." Credo is not alone.
"This Alaska visit really highlights the contradictions between President Obama's energy and climate change policies. It makes no sense to open the Arctic up to offshore oil drilling while trying to reduce greenhouse gas emissions," said the Center for Biological Diversity's Alaska Director Rebecca Noblin. "The people and wildlife of Alaska are being endangered by Shell's dangerous drilling project, which undermines Obama's climate change leadership at a moment when it's needed the most."
.@POTUS's own words make it clear why Arctic drilling is the wrong call for our climate http://t.co/sYOI0Ebmcl pic.twitter.com/0e7KCQTNy8 — Greenpeace USA (@greenpeaceusa) August 27, 2015
In Alaska, Obama will be greeted by a familiar face: Frostpaw the Polar Bear http://t.co/fqna9Xtc7c pic.twitter.com/XngUDI3ORC

— National Journal (@nationaljournal) August 28, 2015
The Center for Biological Diversity will be sending "Frostpaw the Polar Bear" along with other climate activists to attend a rally—Our Climate! Our Future!—in Anchorage on Monday. The event, which is put on by Alaska Climate Action Network, is designed to urge President Obama "to take strong action to curb climate change and slow the melting of Arctic ice."
YOU MIGHT ALSO LIKE
Thousands of Walruses Stranded Ashore in Alaska Once Again Due to Rapidly Melting Sea Ice
Humans to Blame for Catastrophic Drought in California, Scientists Say
Call for a Future Powered by 100% Renewables Gains Momentum as UN Climate Talks Resume in Bonn
EcoWatch Daily Newsletter
Related Articles from EcoWatch