This website uses cookies to ensure you get the best experience while browsing it. By clicking 'Got It' you're accepting these terms.
Obama Cancels Arctic Drilling Leases
Oct. 17, 2015 09:27AM EST
Climate
It just keeps getting better and better for the Arctic. First, Shell Oil pulled the plug on its horrific current drilling effort there two weeks ago.
Now the Obama administration has taken its first concrete steps to reduce future threats. Yesterday, it cancelled new lease sales scheduled for next year and 2017 in our Polar Bear Seas—the Chukchi and Beaufort—off the north Alaskan coast. And just said "No" to extension requests from Shell and others holding existing leases in the region.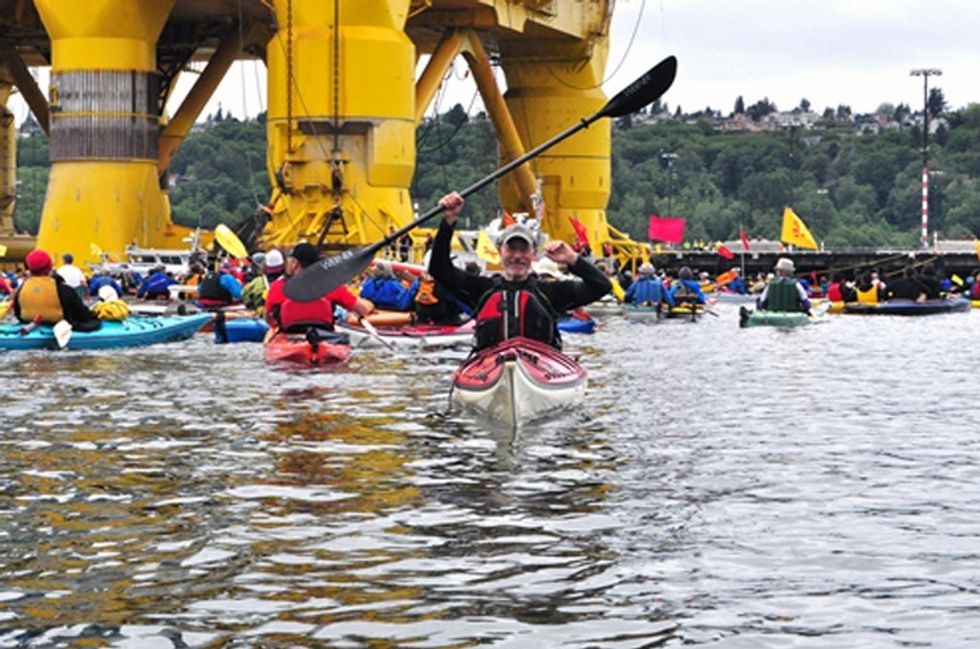 Kayaktivists protest Arctic drilling in Seattle, Washington. Photo credit: Natural Resources Defense Council
This is big. Up to now, the federal government has treated Arctic Ocean drilling as a done deal. As recently as last May, the President tweeted: "we can't prevent oil exploration completely in region."
His administration focused on excluding some high value areas and saying drilling would be subject to high standards. It tentatively proposed to allow more leasing in the Arctic Ocean (and the Atlantic) after 2017.
But the tide has changed. Shell made a spectacle of itself, rushing to drill. Mother Nature asserted herself. Human error propagated in the harsh conditions.
Kayaktivists spotlighted Arctic drilling as a climate issue—rightly, because huge new investments in dirty fuels can't be harmonized with accelerating the shift to a clean energy future.
Shareholders demanded that Shell explain how its exploration policies squared with limiting damage from global warming. Again rightly, not least because of the likelihood that increasingly effective carbon regulation and affordable efficiency and clean fuel alternatives will "strand" fossil fuel assets, forcing companies to write them off.
Alaska Natives joined environmentalists to enforce protective laws when the federal government didn't, setting back efforts to jam through new drilling.
And yesterday, the Obama administration is starting to actively pull our energy policy away from the Arctic Ocean. Turns out drilling there may not be inevitable. "All of the above" was always a slogan, not literally a policy: there were always some places off the table. Now we have a real shot at adding the U.S. Arctic Ocean to that list—if we don't let up.
So hurrah for Obama, props to all those who raised their voices and/or their paddles, and let's keep on keepin' on.
YOU MIGHT ALSO LIKE
14 Reasons Why We Must Never Drill in the Arctic
Arctic Warming Produces Mosquito Swarms Large Enough to Kill Baby Caribou
10 Awesome Tweets From #ShellNo to Arctic Drilling Day of Action
Don't Let Wall Street Leave You Behind: It's Time to Divest From Fossil Fuels
EcoWatch Daily Newsletter
Ocean pollution concept with plastic and garbage.
Anton Petrus
/ Moment / Getty Images
Nestlé cannot claim that its Ice Mountain bottled water brand is an essential public service, according to Michigan's second highest court, which delivered a legal blow to the food and beverage giant in a unanimous decision.
A number of supermarkets across the country have voluntarily issued a recall on sushi, salads and spring rolls distributed by Fuji Food Products due to a possible listeria contamination, as CBS News reported.
A U.S. Border Patrol agent gathers personal effects from immigrants before they are transferred to a McAllen processing center on July 02, 2019 in Los Ebanos, Texas. John Moore / Getty Images
Poverty and violence in Central America are major factors driving migration to the United States. But there's another force that's often overlooked: climate change.
Retired Lt. Cmdr. Oliver Leighton Barrett is with the Center for Climate and Security. He says that in Guatemala, Honduras and El Salvador, crime and poor economic conditions have long led to instability.
"And when you combine that with protracted drought," he says, "it's just a stressor that makes everything worse."
Barrett says that with crops failing, many people have fled their homes.
"These folks are leaving not because they're opportunists," he says, "but because they are in survival mode. You have people that are legitimate refugees."
So Barrett supports allocating foreign aid to programs that help people in drought-ridden areas adapt to climate change.
"There are nonprofits that are operating in those countries that have great ideas in terms of teaching farmers to use the land better, to harvest water better, to use different variety of crops that are more resilient to drought conditions," he says. "Those are the kinds of programs I think are needed."
So he says the best way to reduce the number of climate change migrants is to help people thrive in their home countries.
Reporting credit: Deborah Jian Lee / ChavoBart Digital Media.
Reposted with permission from Yale Climate Connections.
Chris Pratt arrives to the Los Angeles premiere of "Jurassic World: Fallen Kingdom" on June 12, 2018 in Los Angeles, California. Michael Tran / FilmMagic / Getty Images

Chris Pratt was called out on social media by Game of Thrones star Jason Momoa after Pratt posted an image "low key flexing" with a single-use plastic water bottle.