Obama Attributes Washington State Wildfires to Climate Change
Jul. 24, 2014 09:42AM EST
Climate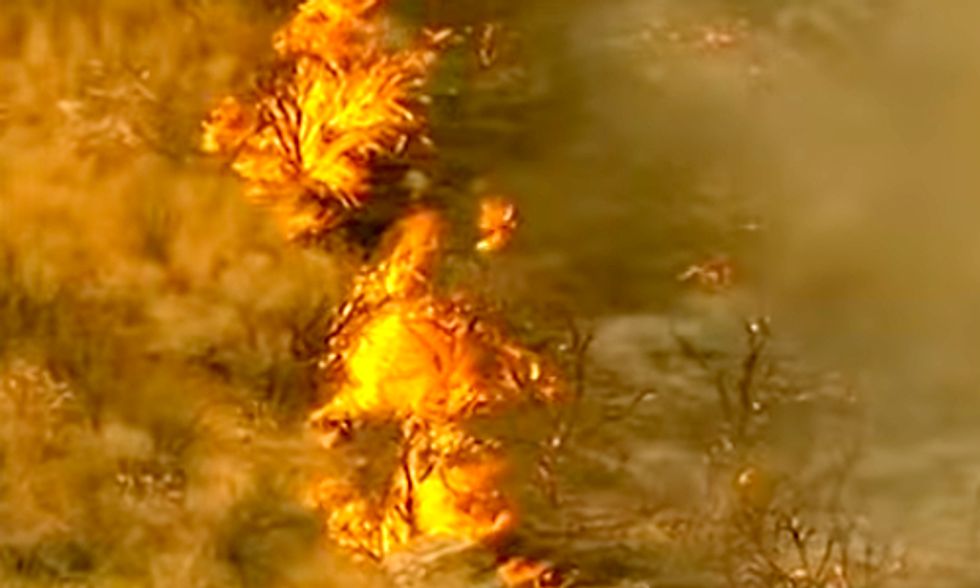 President Barack Obama is part of a "very long list" of global officials slated to attend a climate summit in September in New York, United Nations Climate Chief Christiana Figueres said, and for good reason.
A wildfire that has burned nearly 400 square miles in North-Central Washington was only about half contained as of Thursday morning, and Obama minced no words Wednesday when describing its cause.
"A lot of it has to do with drought, a lot of it has to do with changing precipitation patterns and a lot of that has to do with climate change," he said, according to the Associated Press.
The Carlton Complex—the largest wildfire in the state's history—has destroyed about 150 homes and has been fought by about 2,500 people. Earlier this week, Chelan HD Productions provided drone footage of devastated land in Washington. 
The other fires damaging North-Central Washington are the Chiwaukum Complex fire near Leavenworth, which has burned 12,225 acres, and the Mills Canyon fire, which has burned 22,571 acres. The latter was about 90 percent contained by Thursday morning.
Obama has asked Congress for $615 million in emergency spending to battle wildfires in the West. The Federal Emergency Management Agency and the U.S. Department of Homeland Security have coordinated disaster relief, aiding state and local agencies with more equipment and resources following the the president's declaration of a state of emergency.
"These additional resources will significantly help our efforts to restore power to thousands of people affected by these fires," Gov. Jay Inslee said. "I appreciate his prompt response and partnership in helping our state."
Earlier this year, California, Arizona and Alaska all dealt with severe wildfires. Nearly one dozen wildfires burned more than 25,000 acres in San Diego County alone in May.
The nation's largest-ever climate march is scheduled to take place in New York the day before the UN climate summit.
EcoWatch Daily Newsletter