This website uses cookies to ensure you get the best experience while browsing it. By clicking 'Got It' you're accepting these terms.


The best of EcoWatch, right in your inbox. Sign up for our email newsletter!
Obama and Nordic Leaders Agree Economic Activity in Arctic Must Pass Climate Test
May. 16, 2016 09:28AM EST
Climate
President Obama and leaders from Denmark, Finland, Iceland, Norway and Sweden agreed on Friday that all future commercial activity in the Arctic will adhere to strict environmental standards and climate goals.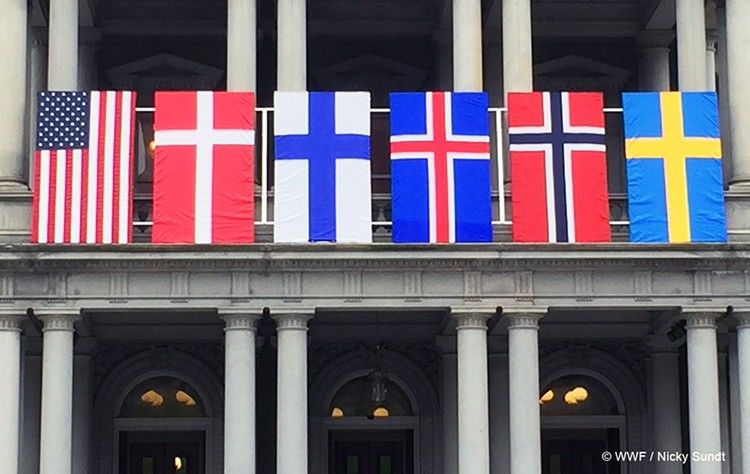 This will include oil and gas drilling and is similar to the agreement signed by the U.S. and Canada earlier this year. Denmark and the U.S. also announced a partnership to develop offshore wind.
Here's an excerpt from the U.S.-Nordic leaders' joint statement:
The leaders recognize that climate change is one of the foremost challenges the world is facing. No effort should be spared in making concrete progress domestically and abroad over the coming decades by shifting to low carbon economies and creating more resilient communities. The United States and the Nordic countries acknowledge the foundational role energy plays in our economies and that energy security is key for overall security.
Building on a history of collaboration, the United States and the Nordic countries commit to strengthening European energy security and to join and implement the Paris Agreement, accelerate the transition to a clean energy future, strengthen adaptation efforts, especially in developing countries, protect and restore forests, and continue to take science-based steps to protect the Arctic and its peoples.
The United States, the Kingdom of Denmark, Finland, Iceland, Norway, and Sweden affirm our commitment to safeguarding the Arctic environment while providing enhanced opportunities for sustainable development for all inhabitants of the Arctic, including indigenous peoples.
The Arctic is rapidly changing and attracting global attention. It is a globally unique region that provides livelihoods for its inhabitants, but is also one of the most vulnerable regions to climate change. Rich with opportunities for transport, tourism, energy, and innovation, the Arctic is characterized by close cooperation on a broad range of issues between the United States and the Nordic Countries, together with our Arctic partners Canada and Russia. Continuing to keep the Arctic region a zone of peace and stability is at the heart of our efforts. We reaffirm the importance of maintaining the Arctic region based on universally recognized principles of international law including those reflected in the United Nations Convention on the Law of the Sea.
The Arctic Council celebrates its 20th anniversary this year, reaffirming its commitment to cooperation and coordination on matters of common interest among the Arctic States and indigenous peoples of the region. As the preeminent high-level forum among the Arctic States, the Arctic Council has proven instrumental in addressing new challenges and opportunities, while retaining a core focus on environmental protection and sustainable development.
The United States and Nordic countries will continue to work actively in the Arctic Council to ensure progress on shared priorities. The work of the current U.S. chairmanship and subsequent Finnish and Icelandic chairmanships will be closely coordinated to ensure effective progress on these priorities.
We will strengthen our work, both within the Arctic and globally, to address the environmental challenges facing the region. We remain committed to managing the region with an ecosystem-based approach, which balances conservation and sustainable use of the environment. We are committed to the pursuit of international and national climate change goals. We will work towards the highest global standards, best international practice, and a precautionary approach, when considering new and existing commercial activities in the Arctic, including oil and gas operations.
The United States and the Nordic countries are committed to recognizing the rights of the indigenous and local peoples and we reaffirm our commitment to the unique role played by Arctic indigenous and local communities and their traditional and local knowledge.
We will advance scientifically based protection and conservation of areas of ecologically important marine, terrestrial and freshwater habitats, taking into account ecological resilience in a changing climate and national and global climate and environmental goals. We are dedicated to promote the active involvement of the people of the Arctic in the management and sustainable use of protected areas.
We are committed to deepen the knowledge and understanding of the Arctic, both inside and outside the region, to strengthen Arctic research and transdisciplinary science, and to encourage cooperation between higher education institutions and society as well as synergies between science and traditional and local knowledge. The Nordic countries welcome the White House Arctic Science Ministerial.
For a deeper dive: E&E News, Washington Post, AP, The Hill, Morning Consult, Reuters
For more climate change and clean energy news, you can follow Climate Nexus on Twitter and Facebook, and sign up for daily Hot News.
YOU MIGHT ALSO LIKE
With Clean Energy Jobs Booming in Republican Districts, It's Time to Recalibrate Climate Politics
Shell Oil Spill Dumps Nearly 90,000 Gallons of Crude Into Gulf
Facebook, Microsoft Give Wind and Solar Energy a Big Boost
Global Wave of Resistance to Keep Fossil Fuels in the Ground Escalates
EcoWatch Daily Newsletter
The Anopheles stephensi mosquito, which carries malaria. CDC / Jim Gathany
The world's first malaria vaccine was launched in Malawi on Tuesday, NPR reported. It's an important day in health history. Not only is it the first malaria vaccine, it's the first vaccine to target any human parasite.
Ice-rich permafrost has been exposed due to coastal erosion, National Petroleum Reserve, Alaska. Brandt Meixell / USGS
By Jake Johnson
An alarming study released Tuesday found that melting Arctic permafrost could add nearly $70 trillion to the global cost of climate change unless immediate action is taken to slash carbon emissions.
According to the new research, published in the journal Nature Communications, melting permafrost caused by accelerating Arctic warming would add close to $70 trillion to the overall economic impact of climate change if the planet warms by 3°C by 2100.
Jeff Reed / NYC Council
The New York City Council on Thursday overwhelmingly passed one of the most ambitious and innovative legislative packages ever considered by any major city to combat the existential threat of climate change.

Ghazipur is a neighborhood in East Delhi. It has been one of the largest dumping site for Delhi. India is one of many countries where global warming has dragged down economic growth. Frédéric Soltan / Corbis / Getty Images
Global inequality is worse today because of climate change, finds a new study published Monday by Stanford University professors Noah Diffenbaugh and Marshall Burke in the Proceedings of the National Academy of Sciences.
A child playing with a ball from planet earth during Extinction Rebellion rally on April 18 in London, England. Brais G. Rouco / Barcroft Media / Getty Images
Earth Day 2019 just passed, but planning has already begun for Earth Day 2020, and it's going to be a big deal.
Geneva Vanderzeil, A Pair & A Spare / Flickr / CC BY 2.0
Is your closet filled with clothes you don't wear (and probably don't like anymore)? Are you buying cheap and trendy clothing you only wear once or twice? What's up with all the excess? Shifting to a more Earth-conscious wardrobe can help simplify your life, as well as curb fast fashion's toll on people and the planet.
Christine Zenino / Wikimedia Commons / CC BY 2.0