This website uses cookies to ensure you get the best experience while browsing it. By clicking 'Got It' you're accepting these terms.
Obama Administration Proposes Stricter Rules for Crude Oil Trains to Halt Derailments
Jul. 23, 2014 11:38AM EST
Business
The U.S. Department of Transportation (DOT) announced details Wednesday of a proposal to make crude oil transportation safer, in a bid to prevent more derailments and the threats that accompany them.
The proposal would phase out older DOT 111 tank cars that ship packing group I flammable liquids, a category that includes most Bakken crude oil. Retrofitting the tank cars to comply with new standards is the only way that wouldn't be phased out.
Other elements of the proposal include braking controls, lower speed laws and a testing program for mined gases and liquids.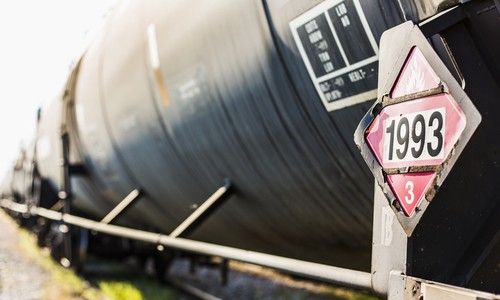 Photo courtesy of Shutterstock
"Safety is our top priority, which is why I've worked aggressively to improve the safe transport of crude oil and other hazardous materials since my first week in office," DOT Secretary Anthony Foxx said. "While we have made unprecedented progress through voluntary agreements and emergency orders, today's proposal represents our most significant progress yet in developing and enforcing new rules to ensure that all flammable liquids, including Bakken crude and ethanol, are transported safely."
The proposal is subject to 60 days of public comment. The proposal is based on an Advanced Notice of Proposed Rulemaking published by the Pipeline and Hazardous Materials Safety Administration in September that received more than 150,000 comments. Here are some highlights of Wednesday's proposal:
 Carriers would be required to perform a routing analysis for high-hazard flammable trains (HHFTs) that would consider 27 safety and security factors and select a route based on findings of the route's analysis.
HHFTs that contain any tank cars that don't meet enhanced tank car standards would be required to choose one of three speed restrictions: A 40-miles-per-hour maximum speed restriction in all areas; a 40-mph speed restriction in "high-threat urban areas"; or a 40-mph speed restriction in areas with populations of 100,000 or more.
All HHFTs would be equipped with alternative brake signal propagation systems. Depending on the outcome of the tank car standard proposal and implementation timing, all HHFTs would be operated with either electronic controlled pneumatic brakes, a two-way end of train device or distributed power.
More crude oil was spilled from rail cars in 2013 than in the previous four decades combined. The trend continued this year with derailments like one that spilled thousands of crude oil gallons into the James River in Virginia.
The DOT in February issued an emergency order requiring all shippers to test product from the Bakken region to ensure the proper classification of crude oil before it was transported by rail.
EcoWatch Daily Newsletter
By Anita Desikan
The Trump administration is routinely undermining your ability — and mine, and everyone else's in this country — to exercise our democratic rights to provide input on the administration's proposed actions through the public comment process. Public comments are just what they sound like: an opportunity for anyone in the public, both individuals and organizations, to submit a comment on a proposed rule that federal agencies are required by law to read and take into account. Public comments can raise the profile of an issue, can help amplify the voices of affected communities, and can show policymakers whether a proposal has broad support or is wildly unpopular.
Alena Gamm / EyeEm / Getty Images
Picture this: a world where chocolate is as rare as gold. No more five-dollar bags of candy on Halloween. No more boxes of truffles on Valentine's day. No more roasting s'mores by the campfire. No more hot chocolate on a cold winter's day.
Who wants to live in a world like that?
Fabian Krause / EyeEm / Getty Images
Water protectors of all persuasions gathered in talking circles at Borderland Ranch in Pe'Sla, the heart of the sacred Black Hills, during the first Sovereign Sisters Gathering. At the center are Cheryl Angel in red and white and on her left, Lyla June. Tracy Barnett
By Tracy L. Barnett
Sources reviewed this article for accuracy.
For Sicangu Lakota water protector Cheryl Angel, Standing Rock helped her define what she stands against: an economy rooted in extraction of resources and exploitation of people and planet. It wasn't until she'd had some distance that the vision of what she stands for came into focus.
Hedges, 2019 © Hugh Hayden. All photos courtesy of Lisson Gallery
By Patrick Rogers
"I'm really into trees," said the sculptor Hugh Hayden. "I'm drawn to plants."
BruceBlock / iStock / Getty Images
Thanks to their high concentration of powerful plant compounds, foods with a natural purple hue offer a wide array of health benefits.