This website uses cookies to ensure you get the best experience while browsing it. By clicking 'Got It' you're accepting these terms.
Obama Administration Greenlights Disastrous Gas Development Project in Pristine Wilderness
Mar. 16, 2012 10:54AM EST
Energy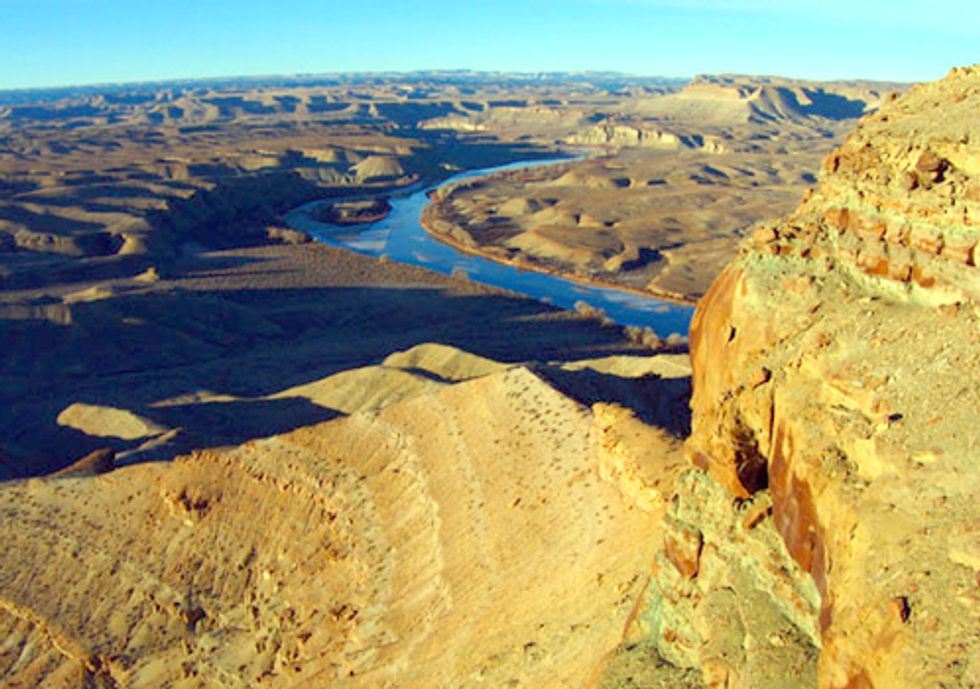 The Obama administration's decision on March 16 authorizing nearly 1,300 new natural gas wells in Utah's Desolation Canyon wilderness and other remote areas will degrade the pristine region's air quality and hurt the state's tourism industry, according to a coalition of environmental groups.
In approving the so-called Gasco development project, the Department of the Interior also rejected calls by the U.S. Environmental Protection Agency (EPA) and tens of thousands of citizens from across the country to approve an alternative to Gasco's proposal. This alternative would have allowed for significant development while protecting the department's plan to designate Desolation Canyon as wilderness and reducing the overall footprint and impact of the project.
"Secretary Salazar is making the wrong decision to approve the Gasco project in a way that creates irreversible risks to Desolation Canyon," said Peter Metcalf CEO/president of Black Diamond, Inc. "This decision is particularly disappointing in light of the fact that conservationists, and the EPA (with support of the leading companies in the American outdoor industry) endorsed an alternative drilling plan that protected the sanctity of the Desolation Canyon proposed wilderness, while allowing for robust drilling to occur on a huge parcel abutted to the proposed wilderness area. It is truly tragic that the BLM can't show some small degree of balance."
The Desolation Canyon region is important to Utah's desert recreation and tourism, a $4 billion industry that generates approximately $300 million annually in state tax revenue and supports 65,000 jobs.
The Desolation Canyon proposed wilderness is the largest unprotected roadless complex in the lower 48 states. Centered around the Desolation Canyon stretch of the Green River, the area's spectacular solitude and endless vistas are awe-inspiring. But now this remarkable place is once again in the crosshairs for destruction.
"It's bewildering that Secretary Salazar—who has been such a strong advocate of conserving America's great outdoors—would allow turning Desolation Canyon into an industrial wasteland,'' said Sharon Buccino, director of NRDC's Land and Wildlife program. "Desolation Canyon has some of the most stunning wilderness vistas found anywhere. It is no wonder that EPA gave this proposal its worst environmental rating possible."
Gasco—a Colorado-based natural gas company—wants to drill nearly 1,300 new gas wells in the area, including more than 200 new wells in the Desolation Canyon proposed wilderness and gateway areas.
The administration analyzed two alternatives to the company's proposed action, both of which would have barred drilling in the Desolation Canyon proposed wilderness and while affording greater protections for the Green River and Nine Mile Canyon badlands. But the administration ended up supporting the company's plans to drill in all these sensitive places. 
This approval comes at a time when natural gas prices are at near-record lows due to an abundance of gas supplies, and companies are idling drilling rigs in developed fields in the Uinta Basin.
"Desolation Canyon and Nine Mile Canyon along the Green River are some of the wildest places left in Utah, and they should be protected from drilling," said Nada Culver, director and senior counsel of The Wilderness Society's BLM Action Center. "There are more than 1,000 approved BLM drilling permits going unused by oil and gas companies in Utah alone. We should take the most responsible approach to developing this area in order to preserve the spectacular wilderness-quality lands, the rare and extraordinary rock art, and the threatened plant and wildlife species in Desolation Canyon."
The BLM itself has described Desolation Canyon as "…one of the largest blocks of roadless BLM public lands within the continental U.S. This is a place where a visitor can experience true solitude—where the forces of nature continue to shape the colorful, rugged landscape."
Eastern Utah has experienced several years of record high winter-time ozone levels that is largely linked to oil and gas development. According to Gasco's own data, this project will add to those unsafe pollution levels. 
"Secretary Salazar's approval of the controversial Gasco project stands in stark contrast to the agreements worked out over the past few years between industry, the Interior Department, and conservation groups over several natural gas projects in eastern Utah," said Stephen Bloch, an attorney for the Southern Utah Wilderness Alliance. "There is a proven, better way to bring parties together and produce a win-win solution. It is inexplicable why the Secretary is turning his back on this approach."
"The Desolation Canyon region is one of the most iconic landscapes of wildness that Utah is known for," said Tim Wagner of the Sierra Club. "People from all over the world come to Desolation every year for the many outdoor experiences. To permanently mar this area over 200 new natural gas wells is a serious error in land management decision-making."
For more information, click here.
EcoWatch Daily Newsletter
A Starbucks barista prepares a drink at a Starbucks Coffee Shop location in New York. Ramin Talaie / Corbis via Getty Images
By Cathy Cassata
Are you getting your fill of Starbucks' new Almondmilk Honey Flat White, Oatmilk Honey Latte, and Coconutmilk Latte, but wondering just how healthy they are?
By Sharon Kelly
Back in April last year, the Trump administration's Environmental Protection Agency decided it was "not necessary" to update the rules for toxic waste from oil and gas wells. Torrents of wastewater flow daily from the nation's 1.5 million active oil and gas wells and the agency's own research has warned it may pose risks to the country's drinking water supplies.
Swedish climate activist Greta Thunberg takes part in a "Friday for Future" youth demonstration in a street of Davos on Jan. 24, 2020 on the sideline of the World Economic Forum annual meeting. FABRICE COFFRINI / AFP via Getty Images
Treasury Secretary Steven Mnuchin pretended not to know who Greta Thunberg is, and then he told her to get a degree in economics before giving world leaders advice, as The Guardian reported.
The Visible Infrared Imaging Radiometer Suite on the Suomi NPP satellite acquired this image of forest fire smoke hovering over North America on Aug. 15, 2018. NASA Earth Observatory
New York City isn't known for having the cleanest air, but researchers traced recent air pollution spikes there to two surprising sources — fires hundreds of miles away in Canada and the southeastern U.S.
If temperatures continue to rise, the world is at risk from global
sea-level rise
, which will flood many coastal cities as seen above in Bangladesh. NurPhoto / Contributor / Getty Images
The mounting climate emergency may spur the next global financial crisis and the world's central banks are woefully ill equipped to handle the consequences, according to a new book-length report by the Bank for International Settlements (BIS), as S&P Global reported. Located in Basel, Switzerland, the BIS is an umbrella organization for the world's central banks.