This website uses cookies to ensure you get the best experience while browsing it. By clicking 'Got It' you're accepting these terms.
Obama Administration Green Lights Shell to Begin Arctic Drilling
Aug. 31, 2012 07:59AM EST
Energy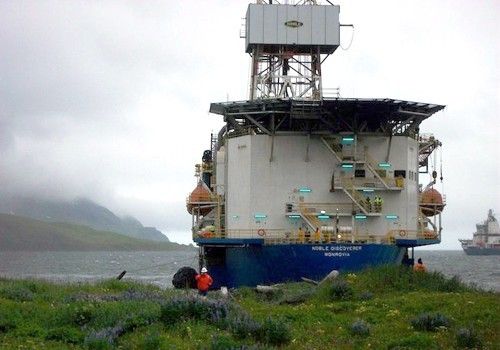 The Obama administration yesterday gave Shell Oil the initial approval to begin controversial and dangerous oil drilling in the Arctic Ocean off Alaska, despite the fact that a critical oil-spill containment vessel is still awaiting certification in Bellingham, Wash. Until now, the Arctic Ocean has largely been off limits to offshore drilling. Shell Oil is expected to begin the initial phases of exploratory drilling in the Chukchi Sea as soon as it can get its drillship in place, in the heart of habitat critical to the survival of polar bears.
"By opening the Arctic to offshore oil drilling, President Obama has made a monumental mistake that puts human life, wildlife and the environment in terrible danger. The harsh and frozen conditions of the Arctic make drilling risky, and an oil spill would be impossible to clean up," said Rebecca Noblin, Alaska director at the Center for Biological Diversity. "Scariest of all, the Obama administration is allowing Shell to go forward without even having the promised oil-spill containment equipment in place."
Since 2007, the Center and its allies have successfully protected the Arctic Ocean from Shell's exploratory drilling plans. So far in 2012, a series of blunders and broken promises has prevented Shell from moving forward with its aggressive drilling plans. Last month the company announced that it could not comply with its air-pollution permits and asked the U.S. EPA to waive Clean Air Act requirements. Days later its drillship Noble Discoverer slipped its moorings in Dutch Harbor, Alaska, and drifted dangerously close to shore. Right now, Shell's oil-spill containment vessel, which was supposed to be onsite for any drilling, is still stuck in Washington state.
"While opposition to Shell's drilling plans has resulted in significant safety improvements, Arctic drilling can never really be safe. The president is putting America's natural heritage on the line just to add to Shell's bottom line," Noblin said. "Make no mistake: Once we've ruined the Arctic for wildlife, we'll never get it back. The unique animals that evolved over millions of years to survive in this frozen wilderness—and nowhere else—will be condemned to extinction."
More than 1 million people have sent President Obama messages asking him to save the Arctic from drilling. The Center for Biological Diversity, staunchly opposed to offshore drilling, will continue working to protect the Arctic Ocean's sensitive wildlife.
"Pursuing fossil fuels in the remote Arctic will destroy the life there, even as it speeds up the climate change that's already destroying the polar bears' home and poses enormous risks to people, too," Noblin said.
Visit EcoWatch's ENERGY page for more related news on this topic.
EcoWatch Daily Newsletter
Colombia rainforest. Marcel Oosterwijk / CC BY-SA 2.0
Many of us think of the Amazon as an untouched wilderness, but people have been thriving in these diverse environments for millennia. Due to this long history, the knowledge that Indigenous and forest communities pass between generations about plants, animals and forest ecology is incredibly rich and detailed and easily dwarfs that of any expert.
picture-alliance / Newscom / R. Ben Ari
By Wesley Rahn
Plastic byproducts were found in 97 percent of blood and urine samples from 2,500 children tested between 2014 and 2017, according to a study by the German Environment Ministry and the Robert Koch Institute.

Pexels
Medically reviewed by Daniel Bubnis, MS, NASM-CPT, NASE Level II-CSS
Hot yoga has become a popular exercise in recent years. It offers many of the same benefits as traditional yoga, such as stress reduction, improved strength, and flexibility.
Lara Hata / iStock / Getty Images
By SaVanna Shoemaker, MS, RDN, LD
Rice is a staple in many people's diets. It's filling, inexpensive, and a great mild-tasting addition to flavorful dishes.
An image of the trans-alaskan oil pipeline that carries oil from the northern part of Alaska all the way to valdez. This shot is right near the arctic national wildlife refuge. kyletperry / iStock / Getty Images Plus
The Trump administration has initialized the final steps to open up nearly 1.6 million acres of the protected Alaskan National Wildlife Refuge to allow oil and gas drilling.
Kaboompics / Pexels
Tensions between lawmakers and several large manufacturing companies came to a head on Capitol Hill this week during a hearing on toxic fluorochemicals in U.S. drinking water.