Obama Administration Grants Shell Final Permits to Start Drilling in Arctic Ocean
Jul. 23, 2015 09:31AM EST
Energy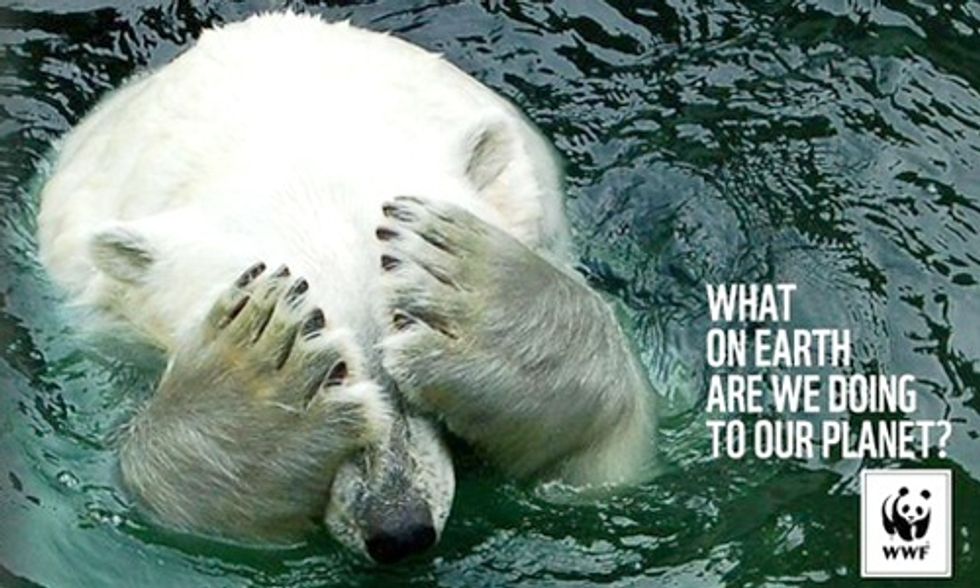 Royal Dutch Shell was granted federal permits yesterday that clear the way for the oil company to begin drilling in the Arctic Ocean. The U.S. Department of the Interior granted the permits for Shell to drill off the coast of Alaska in the Chukchi Sea.
#ShellNo! Shell gets final OK for #Arctic oil drilling but must await spill gear http://t.co/97TLnMAaFD image - WWF pic.twitter.com/hHQc0eRZLM

— Irina Tikhomirova (@IrinaGreenVoice) July 23, 2015
The company is only permitted to drill the top sections of its wells because it lacks the equipment to cap the wells in case of emergency. The ice breaker carrying the required capping stack for the wells, is receiving repairs to its damaged hull in Portland, Oregon. The permits also restricts Shell to drilling only one well at a time, due to a U.S. Fish and Wildlife regulation.
This announcement comes on the heels of a nationwide protest last weekend where people in 13 states gathered for a "ShellNo" Day of Action asking President Obama to revoke oil and gas exploration leases in the Chukchi Sea.
Many environmental organizations are irate over the granting of the final permit to Shell. Here are several of their responses:
Greenpeace:
"This approval for Shell to drill in Alaska from the Obama administration is just the latest in a string of concessions for Shell, a company that cannot even make it to the Alaskan Arctic without significantly damaging its equipment," said Tim Donaghy, Greenpeace senior research specialist. "By opening up the Arctic to oil drilling, President Obama is courting disaster and undermining his legacy on climate change. The world cannot afford to burn Arctic oil, and the consequences of a spill would be enormous."
BREAKING: Shell cleared a major hurdle to drill in the Arctic, but it's not too late for @POTUS to stop them http://t.co/Ho4w56stO9 #ShellNo

— Greenpeace USA (@greenpeaceusa) July 22, 2015
Sierra Club:
"President Obama's decision to undercut his climate legacy and allow Shell to drill in the Arctic Ocean goes against science, the will of the people, and common sense," said Michael Brune, executive director of Sierra Club. "The President ignored his advisors when they said that any drilling in the Arctic carries a 75-percent risk of a 'major' oil spill; he ignored the people as hundreds of thousands of Americans continue to come together and call on Obama to say 'Shell No' to drilling in the Arctic Ocean; and he ignored common sense as Shell continues to commit one reckless mistake after another."
Environment America: 
"We've seen time and again, most recently just last week: when you drill, you spill. And when you spill in the Arctic Ocean, the consequences are all but irrevocable," said Rachel Richardson, the director of Environment America's Stop Drilling program. "The area is simply too fragile and too remote to ever fully recover from a catastrophic spill, and polar bears, beluga whales, and other wildlife unique to this precious area will pay the price.
"Today's action is a huge setback for climate action and the health of the Arctic. But in the long term, with the support of the public, we can protect our oceans from drilling and transition toward a 100 percent clean energy future."
Natural Resources Defense Council:
"Shell shouldn't be drilling in the Arctic, and neither should anybody else," said Franz Matzner, director of NRDC's Beyond Oil initiative. "President Obama's misguided decision to let Shell drill has lit the fuse on a disaster for our last pristine ocean and for our climate. Fortunately, Big Oil faces a long road before commercial production of Arctic Ocean oil begins. Any plan to combat climate change over the long term must reverse course in the Arctic now."
It's not too late to #Stopshell! Tell @POTUS to reverse his decision: http://t.co/rZ9l7wIO3O pic.twitter.com/k8fy8jM106

— NRDC (@NRDC) July 23, 2015
Earthjustice:
"Today's decision takes us in exactly the wrong direction—it puts an irreplaceable region, its people, and its wildlife directly in harm's way and veers us off a course on addressing climate change," said Erik Grafe, staff attorney at Earthjustice. "Drilling in the Chukchi Sea risks significant effects on walruses and whales in the rapidly warming Arctic Ocean even without an oil spill. And the science is clear, Arctic Ocean drilling is incompatible with avoiding the worst effects of climate change. Wrong as it is, this decision won't stop the demand for change. We call on the Obama administration to show leadership and re-consider its course on Arctic Ocean drilling."
Oil Change International:
"The Obama Administration should put Shell out of its misery," said Stephen Kretzmann, executive director of Oil Change International. "They have wasted billions on the hunt for unburnable carbon and wreaked havoc on everything they come in contact with in their Arctic exploits."
Friends of the Earth:
"Today's approval ignores Shell's dismal record of safety violations and undermines President Obama's pledge to combat climate change," said Marissa Knodel, climate campaigner for Friends of the Earth. "With this decision, President Obama has given Shell an open invitation to turn the Chukchi Sea into an energy sacrifice zone, threatening both the resilience of the American Arctic Ocean and his climate legacy."
YOU MIGHT ALSO LIKE
10 Awesome Tweets From #ShellNo to Arctic Drilling Day of Action
Al Gore: Obama's Plan for Arctic Drilling Is 'Insane'
Keri Russell: We Need to Protect the Arctic for Future Generations
EcoWatch Daily Newsletter
Recent Stories from EcoWatch