Obama Administration Cancels Major Fossil Fuel Auction as Pressure Mounts From Climate Movement
Dec. 08, 2015 10:47AM EST
Energy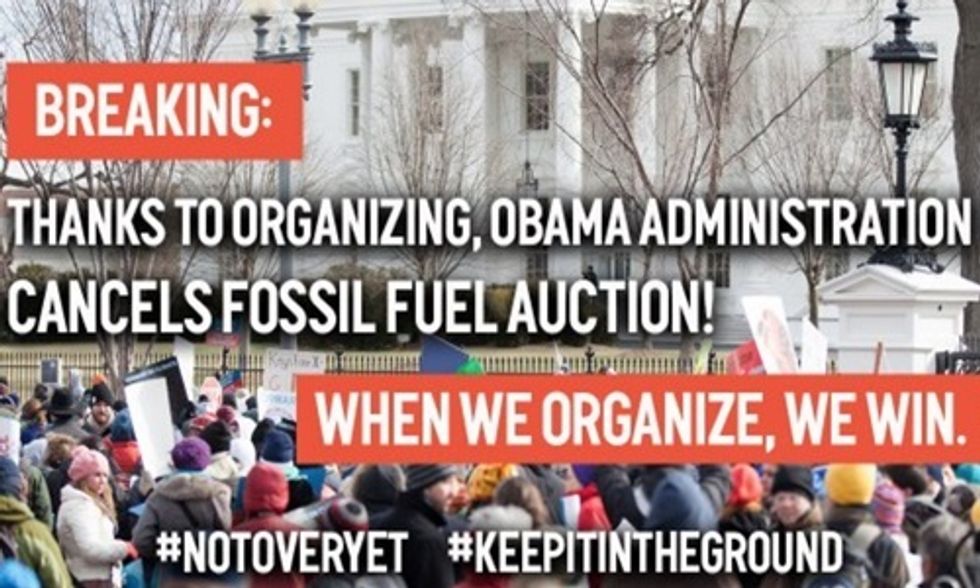 Under pressure from climate campaigners, the Obama Administration announced a last minute delay for a fossil fuel auction scheduled for Thursday in Washington, DC.
"Keeping fossil fuels in the ground has quickly become the new standard for climate leadership," 350.org Policy Director Jason Kowalski said. "The Obama administration clearly recognized that it couldn't present itself as a climate leader in Paris if it was peddling fossil fuels at home. The win against the Keystone XL pipeline has energized a 'keep it in the ground' movement across the U.S. and around the world. You'll see many more protests like this over the year ahead—especially that we now have such clear evidence that they work. We'll definitely be back in March to protest this auction if it indeed goes forward."
WIN: The White House just cancelled a major fossil fuel auction after we threatened to protest it. Nice work! https://t.co/AYVspAsDxQ

— 350 dot org (@350 dot org)1449508549.0
Campaigners with 350.org and partner organizations had planned a demonstration outside the auction to pressure the Obama administration to keep fossil fuels in the ground at home while negotiating for climate action in Paris. Coverage of the planned protest included articles in TIME, International Business Times and Mashable.
The action was publicized in the press late last week and campaigners say hundreds of people had signed up to take part in the protest, with many willing to risk arrest to stop the auction from proceeding. Fresh off their victory over the Keystone XL pipeline, over the last month activists united under the "Keep It In the Ground" banner have targeted fossil fuel actions in Colorado, Alaska, Wyoming, Nevada, Utah and elsewhere.
Scientists have made it clear that in order to keep global warming under 2C, a target the U.S. has supported at the climate talks in Paris, let alone the 1.5C that many vulnerable nations are calling for, more than 80 percent of known fossil fuel reserves must stay in the ground.
Hundreds of organizations have asked President Obama to end these fossil fuel auctions—a policy supported by seven senators including Bernie Sanders and Elizabeth Warren.
Around half the fossil fuels under U.S. soil are on public lands managed by the Obama Administration. A report from Ecoshift Consulting showed that ending the policy of selling of gas and coal to the fossil fuel industry would keep 90 percent of these fossil fuels in the ground, forever—keeping 450 billion tons of carbon dioxide out of the atmosphere.
YOU MIGHT ALSO LIKE
Bernie Sanders Unveils 'People Before Polluters' Climate Plan
Leonardo DiCaprio: Ready for 100%
Josh Fox: 'How To Let Go of the World' to Premiere at Sundance
James Hansen: Fracking is 'Screwing Your Children and Grandchildren'
EcoWatch Daily Newsletter