This website uses cookies to ensure you get the best experience while browsing it. By clicking 'Got It' you're accepting these terms.
NY Times' Climate Coverage Suffers After Dissolving Environmental Team and Green Blog
Nov. 26, 2013 01:52PM EST
Climate
By Laura Santhanam 
The New York Times has produced less environmental news coverage overall since dismantling its reporting team and blog devoted to this issue area earlier this year, the newspaper's public editor said.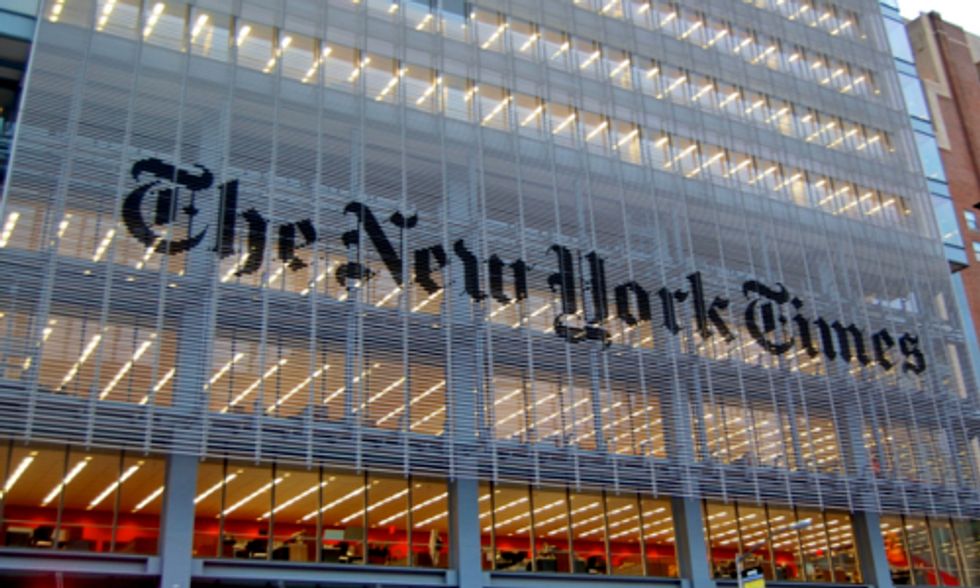 In her Nov. 23 column, New York Times Public Editor Margaret Sullivan reported that environmental coverage and investigative projects decreased significantly since the newspaper disbanded its issue-specific team in January and discontinued the Green blog in March.
This decision drew wide criticisms and concerns, which were substantiated by a corresponding drop in coverage on environmental issues, including the omission of two major climate stories in August. The decrease came despite assurances from editors that "they were not abandoning the subject—just taking it out of its silo and integrating it into many areas of coverage." Sullivan reported:
Times editors emphasized that they were not abandoning the subject—just taking it out of its silo and integrating it into many areas of coverage. The changes were made for both cost-cutting and strategic reasons, they said, and the blog did not have high readership. Readers and outside critics weren't buying it. They scoffed at the idea that less would somehow translate into not only more, but also better.
While current events may develop and influence a media outlet's news agenda, the loss of environmental coverage from the New York Times after the changes went into effect was noticeable and immediate. Specifically, climate change coverage dropped by one-third to 242 articles from April to September this year, compared to 362 articles during the same time period in 2012, Sullivan reported, citing work from the University of Colorado's Maxwell T. Boykoff.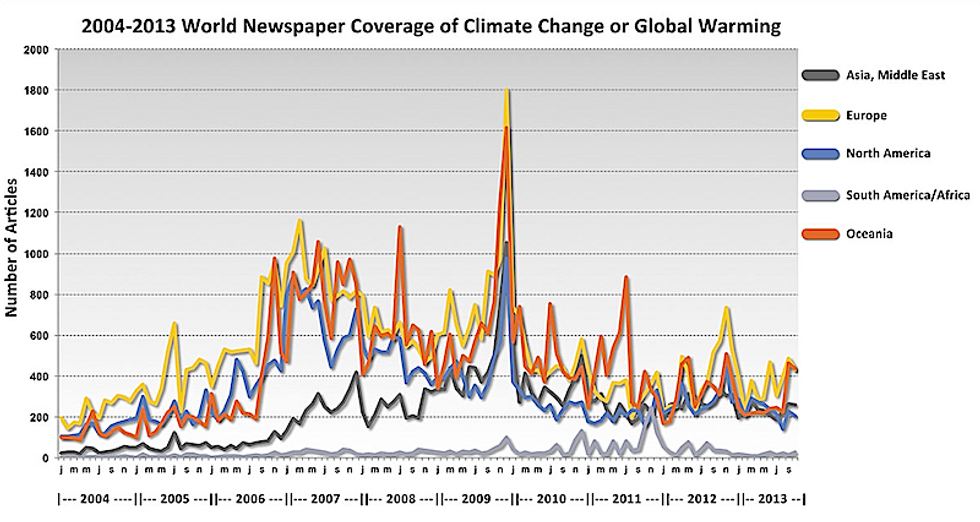 Similarly, the New York Times only ran three front-page articles that delved into climate change between April and September, versus nine stories produced during the same time period in 2012. Sullivan highlighted that "[w]ith fewer reporters and no coordinating editor, what was missing was the number and variety of fresh angles from the previous year."
Since dissolving its environmental team, the New York Times has hired one more environmental reporter and added the beat to the existing workloads of two reporters. However, the impact of these staff changes has not yet altered significantly the quantity and quality of the publication's diminished climate change coverage.
Prior to eliminating the now-defunct Green blog, the blog served as a common space where reporters and readers tracked and discussed emerging environmental issues. Andrew Revkin, the opinion blogger for the New York Times' Dot Earth, highlighted that at the time the Green blog was discontinued, the newspaper supported nine sports blogs but no longer prioritized a reporting blog devoted to covering environmental issues:
The news side of The Times has nine sports blogs; nine spanning fashion, lifestyles, health, dining and the like; four business blogs; four technology blogs (five if you include automobiles as a technology); and a potpourri of other great efforts [...] I would like to have thought there was space for the environment in that mix, even though these issues are still often seen by journalists weaned on politics as a sidenote.
Visit EcoWatch's CLIMATE CHANGE page for more related news on this topic. 

EcoWatch Daily Newsletter
A new report spotlights a U.N. estimate that at least 275 million people rely on healthy coral reefs. A sea turtle near the Heron Island in the Great Barrier Reef is seen above. THE OCEAN AGENCY / XL CATLIN SEAVIEW SURVEY
In a new report about how the world's coral reefs face "the combined threats of climate change, pollution, and overfishing" — endangering the future of marine biodiversity — a London-based nonprofit calls for greater global efforts to end the climate crisis and ensure the survival of these vital underwater ecosystems.
Half of the extracted resources used were sand, clay, gravel and cement, seen above, for building, along with the other minerals that produce fertilizer. Cavan Images / Cavan / Getty Images
The world is using up more and more resources and global recycling is falling. That's the grim takeaway from a new report by the Circle Economy think tank, which found that the world used up more than 110 billion tons, or 100.6 billion metric tons, of natural resources, as Agence France-Presse (AFP) reported.
By Gero Rueter
Heating with coal, oil and natural gas accounts for around a quarter of global greenhouse gas emissions. But that's something we can change, says Wolfgang Feist, founder of the Passive House Institute in the western German city of Darmstadt.

By George Citroner
Recent research finds that official government figures may be underestimating drug deaths by half.
Researchers estimate that 142,000 people died due to drug use in 2016.
Drug use decreases life expectancy after age 15 by 1.4 years for men and by just under 1 year for women, on average.
Government records may be severely underreporting how many Americans die from drug use, according to a new study by researchers from the University of Pennsylvania and Georgetown University.
Water coolers in front of shut-off water fountains at Center School in Stow, MA on Sept. 4, 2019 after elevated levels of PFAS were found in the water. David L. Ryan / The Boston Globe via Getty Images
In a new nationwide assessment of drinking water systems, the Environmental Working Group found that toxic fluorinated chemicals known as PFAS are far more prevalent than previously thought.