NY Fracking Ban, People's Climate March and Recycling Center Celebrated at Awards Event
Apr. 23, 2015 08:50AM EST
Climate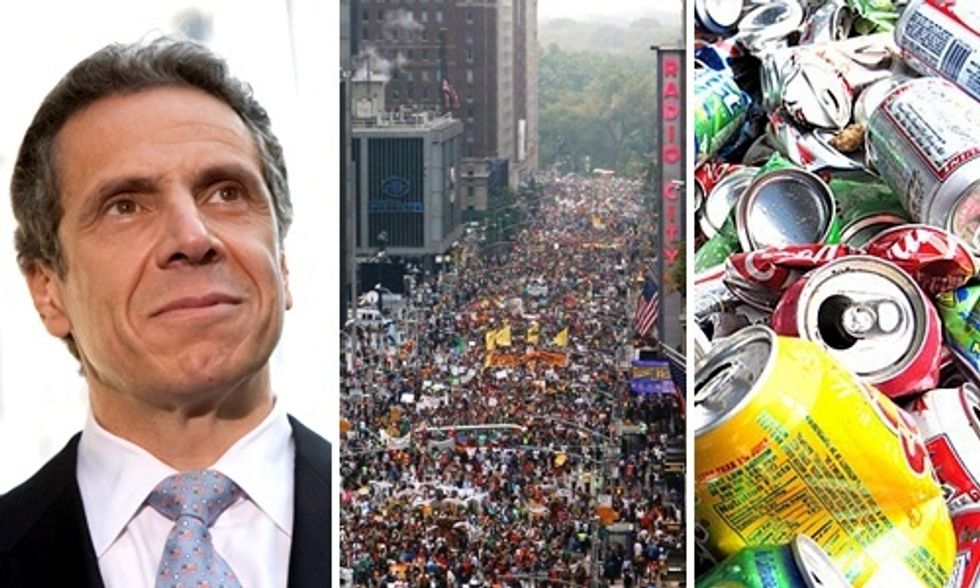 Earth Day New York and the Natural Resources Defense Council (NRDC) presented their annual awards at a ceremony yesterday on Earth Day, honoring New York State Gov. Andrew Cuomo, organizers of the People's Climate March and Sims Recycling official Tom Outerbridge.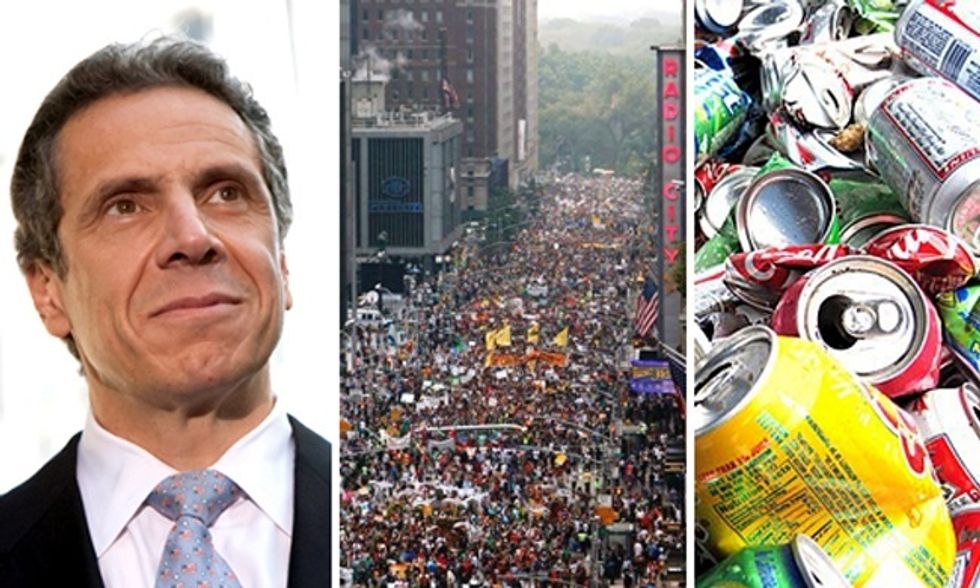 "Each year, we recognize individuals in government, business and the activist community for their stellar contributions to environmental health and safety, sustainability and education," says Pamela Lippe, founder and president of Earth Day New York.
The Public Official of the Year Award was presented to Gov. Andrew Cuomo, in recognition of his administration's bold decision to prohibit hydraulic fracturing in New York State. At a cabinet meeting in December, the state's acting health commissioner, Dr. Howard Zucker, revealed the results of a two-year review of high-volume hydraulic fracturing, which showed significant public health risks, including water and air quality concerns, and that additional health questions remain. At that same cabinet meeting, the state's environmental commissioner, Joe Martens, reported that there were also significant environmental impacts that could result from advancing this controversial drilling practice. Armed with this information, Gov. Cuomo announced that fracking would not be moving forward anywhere in New York State.
"Governor Cuomo's decision on fracking puts New York in a position to be a leader on clean energy and has helped to draw attention to a health and environmental threat facing communities across the country and around the world," says Eric A. Goldstein of the Natural Resources Defense Council. "For taking this bold action in the face of industry pressure, the Cuomo administration deserves great credit."
Actor and long-time advocate Mark Ruffalo said, "I congratulate Governor Cuomo for directing his Health and Environmental Commissioners to study the science on fracking, to meet with officials in other states, and for granting them the time for due diligence. He stood by his promise to listen to the experts and not get pressured by the special interests of the oil and gas industry. Governor Cuomo's bold leadership put New Yorkers first."
The Environmental Advocate of the Year Award was presented to the organizers of the People's Climate March, for organizing and successfully implementing the enormously successful march in support of governmental action to combat climate change. As is now well known, on Sept. 20, 2014, a huge and diverse crowd estimated as high as 400,000 people turned out in New York City, marching through the streets of mid-town Manhattan to demand that world leaders act to reduce carbon emissions. There were an estimated 50,000 college students in the New York march and more than 1,500 participating organizations. The march itself went off without a hitch. It was well-organized, well-run and occurred without violence, arrests or visible dissention. Many organizations had a role in planning and in boosting turnout for the March. Among those participating in the effort were 350.0rg, Avaaz.org, 32BJ SEIU, ALIGN, and the People's Climate March staff, as well as the New York Environmental Justice Alliance, UPROSE and We Act for Environmental Justice.
The march has already had a positive impact—giving momentum to climate initiatives being advanced by President Obama and creating a positive atmosphere for the upcoming international climate conference in Paris.
"The People's Climate March was truly inspiring," says John Oppermann, executive director of Earth Day New York.
"The March in many ways parallels the first Earth Day when a perfect storm of activists, public officials, business leaders, community organizers and others came together to demonstrate that it was time for real action on the environment. We believe that the People's Climate March will be a similar turning point in our efforts to take action on climate change."
The Business Leader of the Year Award was presented to Tom Outerbridge, managing director of the Sims Recycling Facility in Sunset Park, Brooklyn, for an Environmental Business Leadership award, in recognition of the successful opening and operation of that state-of-the-art recycling center and for the recent completion of the city's largest commercial wind turbine at the recycling facility. This facility is the anchor of New York City's curbside recycling program, and handles all of the metals, glass and plastics collected by the City's Department of Sanitation for recycling.
In December 2014, Outerbridge oversaw the installation, at the facility, of the first commercial-scale wind turbine in New York City. The turbine, which is more than 160 feet high, is now generating about 3 to 4 percent of the energy used by recycling plant itself. Combined with its solar power array—which Outerbridge also played a big role in bringing to fruition—the facility will be meeting about 20 percent of its power needs through on-site clean energy.
"Tom is a visionary business leader who understands that sustainability is good for the planet and good for the bottom line. We hope Tom's work becomes a model and that others will follow him by investing in clean power for their business operations," said NRDC's Eric A. Goldstein.
YOU MIGHT ALSO LIKE
250,000 People Call for Action on Climate Change and an End to Extreme Poverty
Rapper Prince Ea's Viral Video Tells Future Generations 'Sorry'
Must-See: John Oliver and Martin Sheen Make Hilarious Doomsday Video
EcoWatch Daily Newsletter
Related Articles from EcoWatch