Nutrition Experts Find Debate Over Multivitamins Is Far From Over
Researchers from the Linus Pauling Institute at Oregon State University (OSU) and three other institutions have taken issue with recent claims that "the case is closed" on whether or not a multivitamin/mineral supplement should be taken by most people to help obtain needed micronutrients.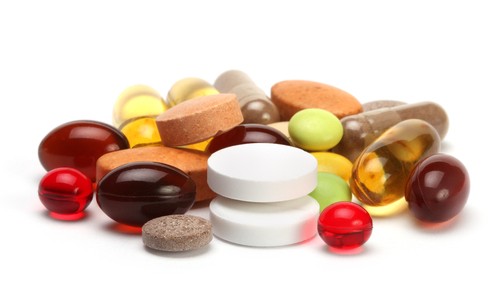 Photo courtesy of Shutterstock
In a correspondence to be published Tuesday in the Annals of Internal Medicine, the researchers reasoned that this type of dietary supplement helps fill nutritional gaps, improves general health, might help prevent chronic disease, will cause no harm and is easily worth the few cents a day that it costs.
To "call the case closed" is wrong and "misinforms the public and the medical community," the researchers wrote. Their statements were a response to an editorial in the same publication last year that argued that such supplements are unnecessary and received widespread publicity.
The statement was authored by nutrition experts from OSU, the Children's Hospital Oakland Research Institute, Tufts University and the Harvard School of Public Health.
While most nutrition experts agree that a balanced and nutritious diet is the best way to obtain needed nutrients, the researchers in this commentary point out that many Americans have a less-than-perfect diet—long on calories and short on nutrients—and the vast majority are not getting enough of several important vitamins and minerals.
"It's naïve to ignore the fact that most people have micronutrient inadequacies, and wrong to condemn a daily supplement that could cover these nutritional gaps safely and at low cost," said Balz Frei, professor and director of the Linus Pauling Institute, and a biochemist in the OSU College of Science.
"There's strong evidence that a multivitamin/mineral supplement supports normal functioning of the body and helps improve overall health, and may even help lower chronic disease risk," Frei said. "It's irresponsible to ignore decades of nutrition research and tell the people of the United States they have no need for a supplement that could be so helpful, and costs as little as $1 a month.
"And if they have a poor diet, people should try to improve that as well," he said. "The two are not mutually exclusive."
Among the points the researchers made in their commentary:
The vast majority of people in the U.S. do not meet all of the guidelines for dietary intake of vitamins and minerals.

More than 93 percent of adults in the U.S. do not get the estimated average requirement of vitamins D and E from their diet; 61 percent not enough magnesium; and 50 percent not enough vitamin A and calcium.

Many subpopulations have even more critical needs for micronutrients, including older adults, African Americans, obese persons and some people who are ill or injured.

Concerns about "increased mortality" from supplements of vitamins A and E have been based on extremely high use through supplements far beyond the amount available in a multivitamin, and in the case of vitamin E largely refuted by comprehensive meta-analyses.
The value of proper nutrition, on the other hand, is wide-ranging and positive. Micronutrients maintain normal cell and tissue function, metabolism, growth and development. A supplement that helps a person "cover all the bases" can help protect daily, routine health.
Overt deficiency diseases such as scurvy or rickets are increasingly rare in the U.S. due to improved diet and fortified foods. However, certain vitamin and mineral deficiencies are still a major issue in the developing world, especially vitamin A, iron, iodine and zinc. According to the World Health Organization, more than 650,000 children under the age of five die around the world every year from deficiency in vitamin A.
And the potential for vitamins and other micronutrients to help reduce or prevent chronic disease continues to show promise. One of the longest, largest controlled studies ever done, the Physicians' Health Study II, found a significant eight percent reduction in total cancer incidence in male physicians—people who, through their education, income and lifestyle, probably had diets much closer to optimal than the average American.
"There are many issues that have helped to mislead people when it comes to the study of micronutrients," Frei said. "For instance, most research is done without first checking to see if a person is inadequate in a nutrient, and you won't find much effect from a supplement if it isn't needed.
"In similar fashion, too much research has been done with groups such as doctors and nurses who are probably not representative of the general population," he said. "Whatever has been shown to be useful in such research probably would be even more effective in people who have poor diets or clear nutritional inadequacies."
The researchers wrote in their conclusion that to "label multivitamin and mineral supplements useless, harmful and a waste of money is wrong."
——–
YOU MIGHT ALSO LIKE
How Weight Gain During Pregnancy Could Protect Your Baby From Toxic Chemicals
Minnesotans vs. McDonald's Toxic Taters
——–
Disturbing footage of a snake in Goa, India vomiting an empty soft drink bottle highlights the world's mounting plastic pollution crisis.
Keep reading...
Show less
By Melissa Hellmann
When her eldest son was in elementary school in the Oakland Unified School District, Ruth Woodruff became alarmed by the meals he was being served at school. A lot of it was frozen, processed foods, packed with preservatives. At home, she was feeding her children locally sourced, organic foods.
Keep reading...
Show less
May. 28, 2017 01:33PM EST
Laurie Woolever
By James O'Hare
There are 20 million people in the world facing famine in South Sudan, Somalia, Nigeria and Yemen. In developed nations, too, people go hungry. Venezuela, for instance, is enduring food insecurity on a national level as a result of economic crisis and political corruption. In the U.S., the land of supposed excess, 12.7 percent of households were food insecure in 2015, meaning they didn't know where their next meal would come from.
Keep reading...
Show less
May. 28, 2017 01:22PM EST
Melwater, Greenland ice sheet. Diane Tuft
Artists are taking the climate crisis into frame and the results are emotional, beautiful and stirring.
So you've seen the best climate change cartoons and shared them with your friends. You've showed your family the infographics on climate change and health, infographics on how the grid works and infographics about clean, renewable energy. You've even forwarded these official National Oceanic and Atmospheric Administration graphs that explain the 10 clear indicators of climate change to your colleagues at the office.
Keep reading...
Show less
May. 27, 2017 01:11PM EST
As the Trump administration moves full speed ahead on boosting the oil and fossil fuel industry, opposition to increased pipeline construction is cropping up in different communities around the country.
Keep reading...
Show less
May. 27, 2017 01:02PM EST
Minke whale stranding near Havergate Island in Suffolk. MCGA.
By Simon Evans
Last Saturday, two dead whales washed up on the coast of Suffolk, in eastern England, and a third was spotted floating at sea.
What happened next illustrates how news can spread and evolve into misinformation, when reported by journalists rushing to publish before confirming basic facts or sourcing their own quotes.
Keep reading...
Show less
May. 27, 2017 01:22PM EST
By Monica Amarelo and Paul Pestano
Sun safety is a crucial part of any outdoor activity for kids, and sunscreen can help protect children's skin from harmful ultraviolet rays. Kids often get sunburned when they're outside unprotected for longer than expected. Parents need to plan ahead and keep sun protection handy in their cars or bags.
Keep reading...
Show less
May. 27, 2017 01:02PM EST
By Joe McCarthy
A lot of people take part in community clean-up efforts—spending a Saturday morning picking up litter in a park, mowing an overgrown field or painting a fence.
Keep reading...
Show less