This website uses cookies to ensure you get the best experience while browsing it. By clicking 'Got It' you're accepting these terms.
Nukes Fade As Wind and Solar Soar
Dec. 30, 2014 10:25AM EST
Energy
With nuclear power falling ever further behind renewables as a global energy source, and as the price of oil and gas falls, the future of the industry in 2015 and beyond looks bleak.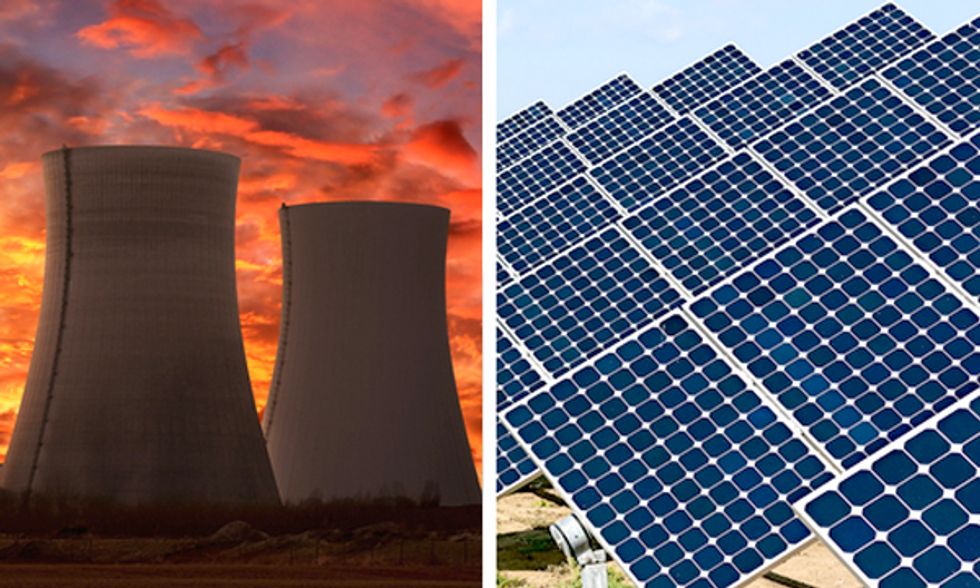 Renewables now supply 22 percent of global electricity and nuclear only 11 percent—a share that is gradually falling as old plants close and fewer new ones are commissioned.
New large-scale installations of wind and solar power arrays continue to surge across the world. Countries without full grids and power outages, such as India, increasingly find that wind and solar are quick and easy ways to bring electricity to people who have previously had no supply.
Developed countries, meanwhile, faced with reducing carbon dioxide emissions, find that the cost of both these renewable technologies is coming down substantially. Subsidies for wind and solar are being reduced and, in some cases, will disappear altogether in the next 10 years.
Speed of installation
The other advantage that renewables have is speed of installation. Solar panels, once manufactured, can be installed on a rooftop and be in operation in a single day. Wind turbines can be put up in a week.
Nuclear power, on the other hand, continues to get more expensive. In China and Russia, costs are not transparent, and even in democracies they hard to pin down. But it is clear that they are rising dramatically.
Building of the proposed twin European Pressurised Water reactors, called Hinkley Point C, in Britain's West Country is due to start in 2015, but the price has risen several times already. Estimated construction costs have now jumped from £16 billion to £24 billion—before the first concrete has even been poured.
The other problem with nuclear is the time frame. Originally, Hinkley Point C was due to be completed by 2018. This has now slipped to 2024, but even this is optimistic judging by the performance of the two prototypes in Finland and France, both of which are late and over budget.
The Finnish plant was due to open in 2009, but is still at least three years from commissioning. The French plant is five years overdue.
In many countries, there are plans on paper for new nuclear stations, and China, South Korea and India are among those that are continuing to build them. Other countries, particularly where private capital is needed to finance them, are putting their plans on hold.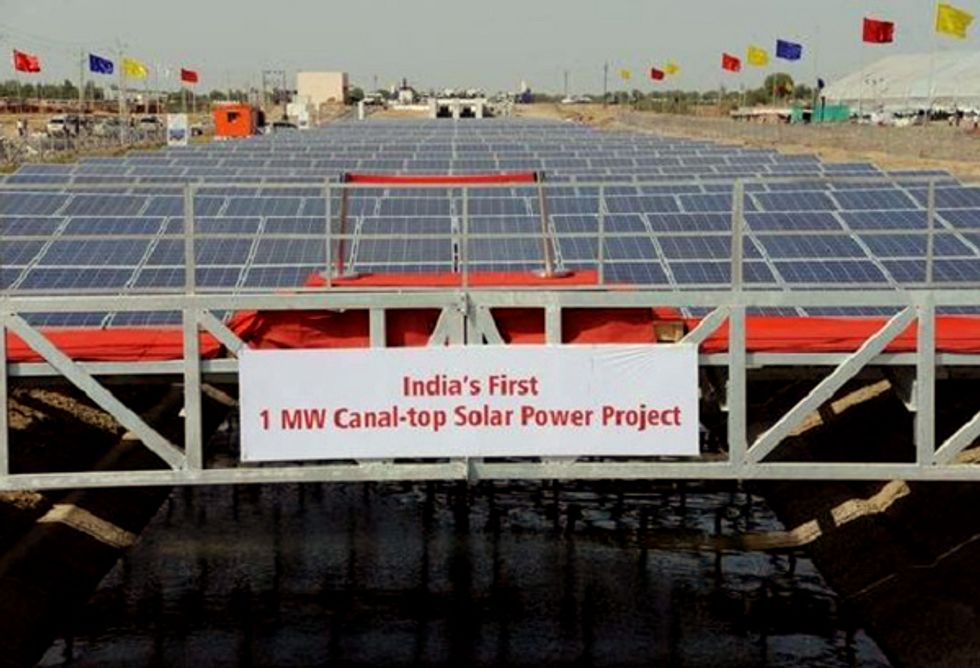 Photo credit: Hitesh vip via Wikimedia Commons
Extend life
The U.S., which still has the largest number of reactors of any country in the world, is opting instead to extend the life of its plants. Many operators are considering applying for such extensions from 60 to 80 years. Provided they are up to modern safety standards, there seems no barrier to this.
Many other countries, including the UK, are extending the lives of their plants as long as possible, so the industry won't be disappearing any time soon.
But one of the key problems for the nuclear sector is that reactors have been designed to be at full power all of the time. With renewables taking an increasing share of the market, a combination of nuclear, wind and solar can produce more electricity than required—leaving a problem of what to turn off.
A way round this problem being developed in Britain is large, strategically-based batteries. A five-megawatt battery, the largest in Europe, has just been commissioned in Leighton Buzzard, Bedfordshire, in the middle of England.
This is charged up when there is too much power in the grid, and releases its energy when there is a surge in demand.
If, during a two-year trial, this works to smooth the peaks and troughs of demand, and cuts the costs of switching on expensive gas turbines, then a network of batteries will be installed across the country to harvest the intermittent supplies of renewables.
The only bright spot for nuclear at the moment is the development of small nuclear reactors. These are from 30 megawatts upwards and are designed to be built in a factory and assembled on site—a bit like wind turbines are.
These can be installed singly or in a series, depending on the demand. Their two greatest selling points are that they would be good in remote locations far from other power sources, and are said to be much safer than their larger cousins.
Price tag
However, a drawback is the price tag of around $3 billion dollars. Both the U.S. and UK are supporting private firms in research and development, but commercial operation is a long way off.
Whether a small nuclear power station would be any more welcomed than a wind or solar farm to provide power in a neighbourhood is a question still to be tested.
Nuclear enthusiasts—and there are still many in the political and scientific world—continue to work on fast breeder reactors, fusion and thorium reactors, heavily supported by governments who still believe that one day the technology will be the source of cheap and unlimited power. But, so far, that remains a distant dream.
In the meantime, investors are increasingly sceptical about putting their money into nuclear—whereas renewables promise an increasingly rapid return on investment, and may get a further boost if the governments of the world finally take climate change seriously.
YOU MIGHT ALSO LIKE
Fortune 500 Companies Unite in Support of Renewable Energy
Richard Branson and Amory Lovins Join Forces to Accelerate Clean Energy Revolution
Activists Permanently Shut Down Vermont Yankee Nuke Plant Today
EcoWatch Daily Newsletter
A Starbucks barista prepares a drink at a Starbucks Coffee Shop location in New York. Ramin Talaie / Corbis via Getty Images
By Cathy Cassata
Are you getting your fill of Starbucks' new Almondmilk Honey Flat White, Oatmilk Honey Latte, and Coconutmilk Latte, but wondering just how healthy they are?
By Sharon Kelly
Back in April last year, the Trump administration's Environmental Protection Agency decided it was "not necessary" to update the rules for toxic waste from oil and gas wells. Torrents of wastewater flow daily from the nation's 1.5 million active oil and gas wells and the agency's own research has warned it may pose risks to the country's drinking water supplies.
Swedish climate activist Greta Thunberg takes part in a "Friday for Future" youth demonstration in a street of Davos on Jan. 24, 2020 on the sideline of the World Economic Forum annual meeting. FABRICE COFFRINI / AFP via Getty Images
Treasury Secretary Steven Mnuchin pretended not to know who Greta Thunberg is, and then he told her to get a degree in economics before giving world leaders advice, as The Guardian reported.
The Visible Infrared Imaging Radiometer Suite on the Suomi NPP satellite acquired this image of forest fire smoke hovering over North America on Aug. 15, 2018. NASA Earth Observatory
New York City isn't known for having the cleanest air, but researchers traced recent air pollution spikes there to two surprising sources — fires hundreds of miles away in Canada and the southeastern U.S.
If temperatures continue to rise, the world is at risk from global
sea-level rise
, which will flood many coastal cities as seen above in Bangladesh. NurPhoto / Contributor / Getty Images
The mounting climate emergency may spur the next global financial crisis and the world's central banks are woefully ill equipped to handle the consequences, according to a new book-length report by the Bank for International Settlements (BIS), as S&P Global reported. Located in Basel, Switzerland, the BIS is an umbrella organization for the world's central banks.