NPR Takes a Deeper Look into Fracking Boom
May. 21, 2012 09:32AM EST
Energy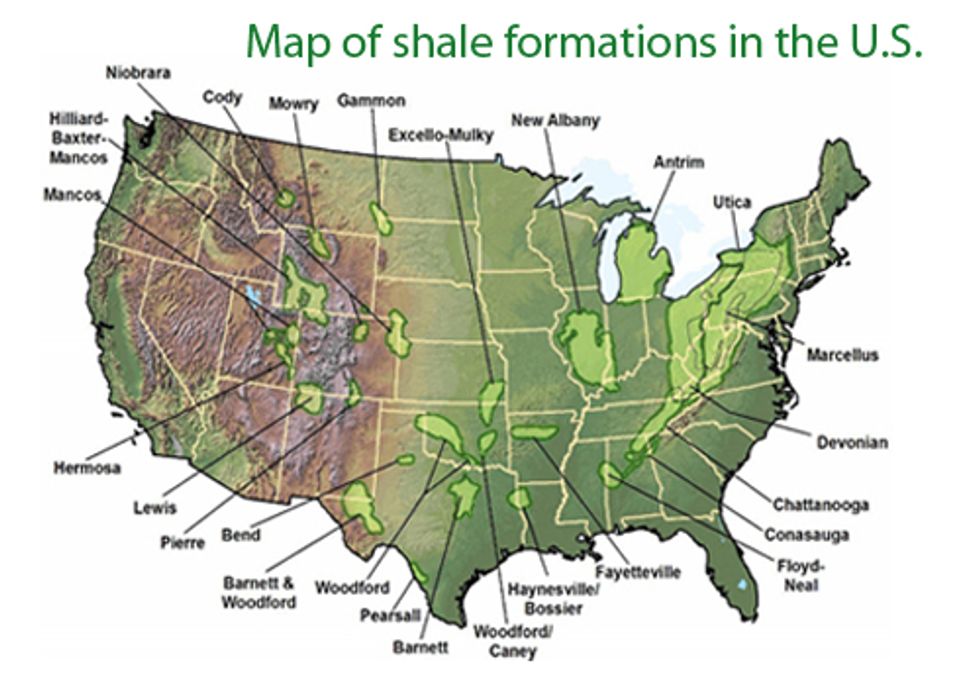 Last week, National Public Radio (NPR) took a deeper look into the natural gas boom in the U.S. The special series, The Fracking Boom: Missing Answers, questions what the gas boom is doing to the air and water in communities where fracking has become a household name.
The NPR series explores the question "Are these wells creating harmful pollutants?" and dives deep to identify issues caused from the more than 200,000 wells drilled in the U.S. in just under a decade.
On May 14, Christopher Joyce's report, With Gas Boom, Pennsylvania Fears New Toxic Legacy, honed in on the impacts of drilling in the Pennsylvania Marcellus formation, including the unexpected nuisance of truck traffic, what to do with the toxic wastewater from fracking, water contamination from spills at well sites and groundwater contamination. With more than 5,000 new wells drilled in Pennsylvania since 2008, residents are deeply concerned about this "new toxic legacy," and the impact fracking has on human health and the environment.
On May 15, Rob Stein's report, Sick From Fracking? Doctors, Patients Seek Answers, identified the concerns of residents living near fracking sites and their fear of the unknown impacts natural gas drilling will have on the health of their community. From gusts of fumes occupying their airways and buildings to mysterious health-related symptoms, doctors and residents living in fracking war zones expound on their concerns.
Also on May 15, Elizabeth Shogren's report, 'Close Encounters' With Gas Well Pollution, exposed the concerns in Silt, Colorado, where natural gas drilling well pads have taken over the landscape. Here again, concerns for the community's health are revealed as residents experience "itchy eyes, scratchy throats and getting sick to their stomachs." In this extensive report, it becomes clear that it's time to connect the dots and officially identify the true impacts of hydraulic fracturing on communities before more people are put into harms way.
On May 16, Jon Hamilton's report, Medical Records Could Yield Answers on Fracking, explored the health impacts on residents living above the Marcellus Shale formation in northern Pennsylvania that could help resolve the national debate on whether fracking is making people sick. The report begins with a disturbing image of William Reigle, a Pennsylvania resident with fibrosis who is concerned that a nearby fracking well may be aggravating his disease, while he sits in a doctor's office with his nose pinched and blows into a tube testing his airway capacity. The piece focuses on the importance of letting the facts tell the story by evaluating detailed health histories of hundreds of thousands of people living near these fracking sites.
Also on May 16, Jon Hamilton's report, Town's Effort to Link Fracking and Illness Falls Short, revealed that scientists are not convinced that the evidence collected blaming health problems on fracking—from nosebleeds to cancer—is the cause. However, it's very clear that the small town of Dish, Texas—population 225 and 35 miles north of Fort Worth—has not been the same since it became the epicenter of the fracking boom.
On May 17, Elizabeth Shogren's report, Fracking's Methane Trail: A Detective Story, followed the work of Gaby Petron, an air pollution investigator for the National Oceanic and Atmospheric Administration (NOAA). When Petron saw high levels of methane in readings from a NOAA observation tower north of Denver, she had to determine why there was an increase and where it came from. The results of her observations, which were published in the Journal of Geophysical Research, suggest that methane, a potent greenhouse gas, is leaking at at least twice the rate reported by the industry. The report makes clear that "scientists need to play a much bigger role in measuring air pollution from natural gas production—at well sites and compressor stations, and over entire gas fields."
Also on May 17, Susan Phillips's report, Pennsylvania Doctors Worry Over Fracking 'Gag Rule,' explained the new law in Pennsylvania that "grants physicians access to information about trade-secret chemicals used in natural gas drilling... But the new law also says that doctors can't tell anyone else—not even other doctors—what's in those formulas. It's being called the 'doctor gag rule.'" The piece details a case study in which a boy living near natural gas drilling activity is experiencing nosebleeds, liver damage and has a strange skin lesion. Dr. Amy Pare explains that in order to determine what is causing the problems with her patient, it's critical to know exactly what he has been exposed to. Having access to that information through this new law is great, but it's unclear if doctors can legally share this information with their patients and public health officials.
After reading and listening to this well-researched NPR series on the U.S. fracking boom, it's very clear to me that referring to natural gas as a cheap, homegrown solution to our nation's energy crisis is absurd. The promise of economic recovery, job growth and community wealth is an illusion that the fossil fuel industry's propaganda machine is selling to the American people. Sacrificing human health and the environment in the name of corporate profits is criminal. We need to educate our fellow Americans about the risks associated with continued use of fossil fuels and support policies that will transition our nation to relying on cleaner, renewable sources of energy.
EcoWatch Daily Newsletter
Related Articles from EcoWatch