This website uses cookies to ensure you get the best experience while browsing it. By clicking 'Got It' you're accepting these terms.
NPR Guts Environmental Team, Leaving Only One Reporter
Oct. 27, 2014 11:29AM EST
Climate
How interested is the public in climate change and other environmental issues? Apparently, National Public Radio (NPR) thinks the answer is "not very."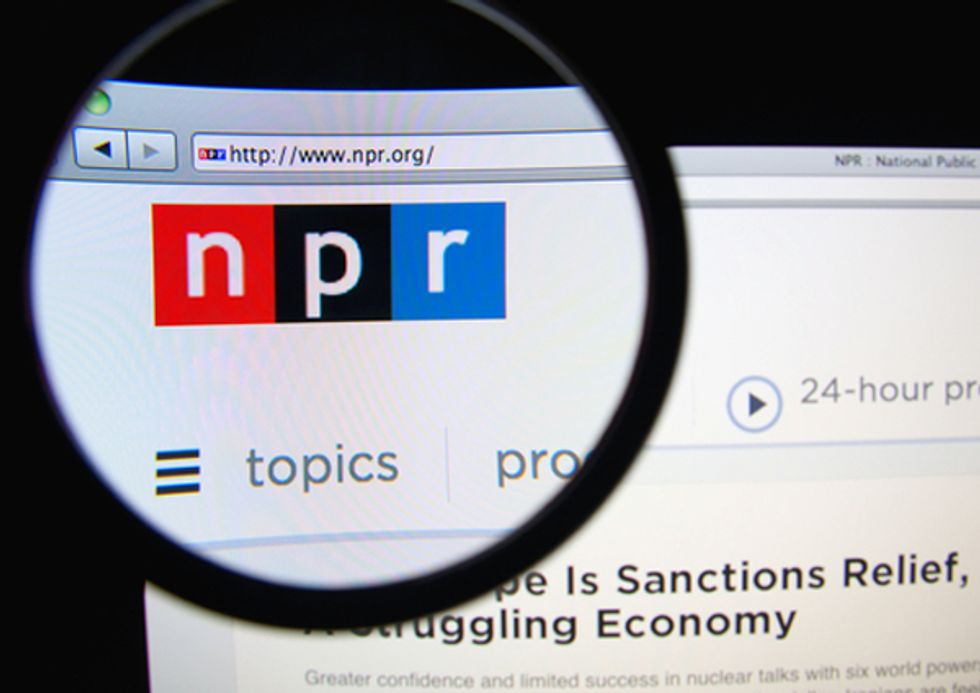 Gil C
/
Shutterstock.com
Inside Climate News reports that the media outlet generally perceived to provide thoughtful coverage of pressing issues has cut back its environmental staff from three reporters and an editor, working within NPR's science desk, to a single reporter covering the environment part-time. Of the four working on the beat at the beginning  of this year, Richard Harris and Vikki Valentine have moved to new roles at NPR and Elizabeth Shogren has left the media outlet. Only reporter Chris Joyce remains on the beat.
Anne Gudenkauf, the senior supervising director of NPR's science desk, told Inside Climate News reporter Katherine Bagley that there were other issues of more interest and that she doesn't feel the environment requires dedicated reporters because other staffers also cover it along with the regular beats. She said she had't noticed any change in the volume of material, saying "Just as the news about climate changes from week to week, month to month and year to year, so does our coverage."'
However, Inside Climate News found that, despite rising public interest, the People's Climate March in September that drew hundreds of thousands of people and major stories such as the drought in the southwest, the number of pieces tagged "environment" at NPR has dropped since the beginning of the year from an average of the low 60s per month to the mid 40s. It found that those stories were a mix of things including pollution, wildlife, global health, agriculture and land conservation.
When listeners complained about NPR's deficient coverage of the Climate March, NPR ombudsman Edward Schumacher-Matos devoted several paragraphs of a lengthy column rebutting the criticism to parsing the numbers claimed for the march and explaining why they were probably overestimated. He spent most of the rest of it insisting complainers had just missed the coverage and didn't understand that on the afternoon of the march, it was competing with "breaking" stories about Syrian refugees fleeing ISIS and a power-sharing agreement in Afghanistan.
Many people critical of NPR have charged that its sponsorship by companies and organizations invested in fossil fuel industries has caused it to step cautiously on environmental issues. Here Schumacher-Matos adopted a defensive, almost petulant, tone, asking listeners to take it on faith that NPR would never be influenced by its sponsors.
"Some of the critics pointed to NPR's acceptance of short sponsorship ads from corporations, and especially America's Natural Gas Alliance (ANGA), as proof," he wrote. "Corporate and other business sponsorships account for 25 percent of NPR's revenues, but in my more than three years as ombudsman, I have yet to find a single incidence in which a story was influenced by a sponsor, or by a fear of losing or offending one. You either believe that or you don't. Yes, NPR must avoid the appearance of conflicts of interests, but where do you draw the line? Should it not accept money from the government? From foundations? From private individuals? Should it just fold up its tent and disappear?"
He then pulled out the "both sides" card, saying, "NPR's code of ethics draws the line between the newsroom and all its sponsors and contributors. You either trust that there is this unbridgeable wall and ethic or you don't. Simply to point to sponsors as proof that NPR skews its coverage is not proof at all, it is cynicism. It is not unlike the claims made by the far right about NPR."
It's not the first time media coverage of the environment has come under fire. Last year, the New York Times took a lot of grief for eliminating its environment desk and the subsequent cutback in coverage. The paper has now walked back on that decision. It said earlier this month that it will be adding additional staff to the beat.
New York Times public editor Margaret Sullivan said in a column announcing the beefing up of its coverage, "A year ago, the signs weren't particularly good for coverage of the environment in the New York Times. A special group (or "pod") of reporters who had that expertise had been disbanded, and the Green blog had been discontinued. I wrote about it several times, including a column that demonstrated that the amount and quality of coverage had declined. Now, I'm glad to report, things are looking up again. Since the survival of the planet ranks pretty high on my list of what matters, it seems worth noting here exactly what's happening and why."
She then revealed that four reporters and an editor have been newly assigned to the beat.
She quoted the newly appointed environmental editor Adam Bryant saying, "To state the obvious, it's an incredibly important story. There's a lot of opportunity to connect the dots, to ask the big questions." And science editor Barbara Strauch told her, "The idea is that climate change is the biggest story going, and we ought to be on it in a big way."
YOU MIGHT ALSO LIKE
The Danger of 'Balanced' Climate Science in the Media
Washington Post Editorial Board Damns Mountaintop Removal Coal Mining
Wall Street Journal Runs Op-Ed Advocating Against Action on Climate Change
EcoWatch Daily Newsletter
The CDC has emphasized that washing hands with soap and water is one of the most effective ways to prevent the spread of COVID-19. Guido Mieth / Moment / Getty Images
The Centers for Disease Control has emphasized that washing hands with soap and water is one of the most effective measures we can take in preventing the spread of COVID-19. However, millions of Americans in some of the most vulnerable communities face the prospect of having their water shut off during the lockdowns, according to The Guardian.
A California newt (Taricha torosa) from Napa County, California, USA. Connor Long /
CC BY-SA 3.0
Aerial photos of the Sierra Nevada — the long mountain range stretching down the spine of California — showed rust-colored swathes following the state's record-breaking five-year drought that ended in 2016. The 100 million dead trees were one of the most visible examples of the ecological toll the drought had wrought.
Now, a few years later, we're starting to learn about how smaller, less noticeable species were affected.
Disinfectants and cleaners claiming to sanitize against the novel coronavirus have started to flood the market.
Natthawat / Moment / Getty Images
Disinfectants and cleaners claiming to sanitize against the novel coronavirus have started to flood the market, raising concerns for the U.S. Environmental Protection Agency (EPA), which threatened legal recourse against retailers selling unregistered products, according to The New York Times.
A customer packs groceries in reusable bags at a NYC supermarket on March 1, 2020. Eduardo Munoz Alvarez/Getty Images
The global coronavirus pandemic has thrown our daily routine into disarray. Billions are housebound, social contact is off-limits and an invisible virus makes up look at the outside world with suspicion. No surprise, then, that sustainability and the climate movement aren't exactly a priority for many these days.
Ingredients are displayed for the Old School Pinto Beans from the Decolonize Your Diet cookbook by Luz Calvo and Catriona Rueda Esquibel. Melissa Renwick / Toronto Star via Getty Images
By Molly Matthews Multedo
Livestock farming contributes to global warming, so eating less meat can be better for the climate.