Not Everyone Is Celebrating the Signing of the Paris Climate Agreement
Apr. 21, 2016 01:23PM EST
Climate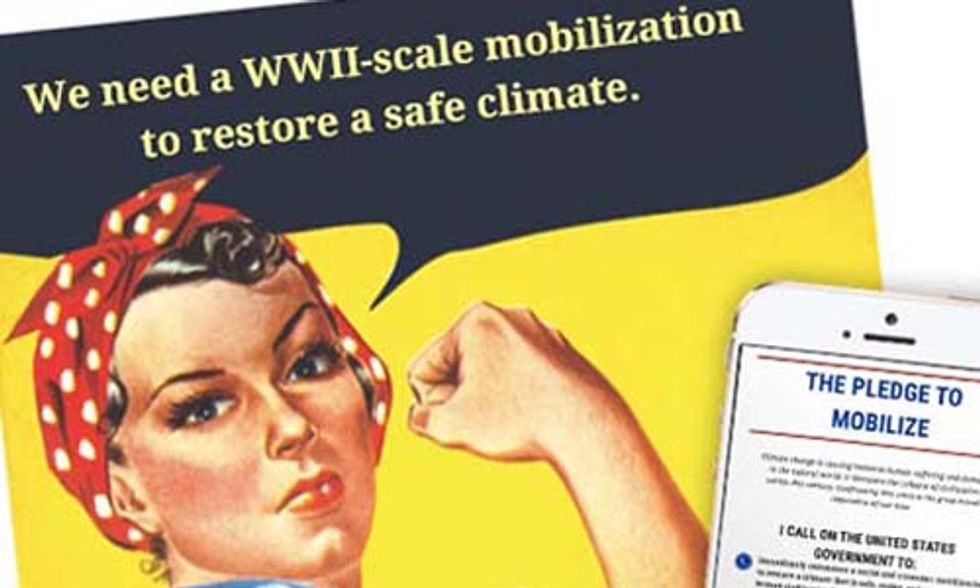 By The Climate Mobilization
When establishment civil society groups and politicians gather Friday to cheer the signing of the Paris agreement as a "historic" achievement that will avert global catastrophe, a group of climate emergency protesters will stage a "mass death" and collapse scenario outside the United Nations to demonstrate the reality of the future the agreement locks in.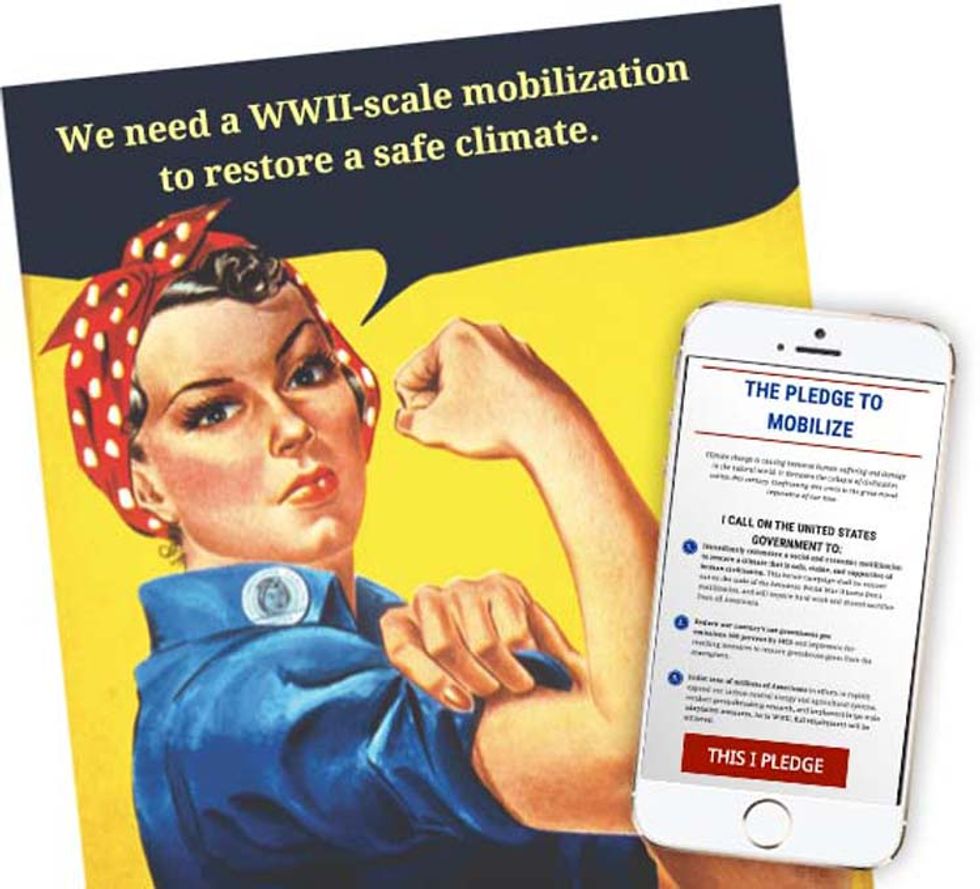 The protesters will act out the collapse of global civilization that will occur if humanity remains on the Paris agreement's non-binding emissions trajectory toward a world 3.5 C hotter than the pre-industrial period.
More specifically, they will enact the mass starvations the agreement ensures, erect grave stones for the nation-states that will collapse under the stress of extreme drought and water scarcity and play the government and civil society bureaucrats who pretend that the situation is under control and that business-as-usual reforms can protect humanity and the natural world.
Speakers will include Theravadan Buddhist monk Bhikkhu Bodhi and the Climate Mobilization's Founders Margaret Klein Salamon and Ezra Silk. All of the speakers will call for an emergency, World War II-scale mobilization that eliminates global net greenhouse gas emissions by 2030 and restores a safe and stable climate by drawing down all excess carbon dioxide and cooling the planet from the dangerously high temperatures reached in recent months and years.
The Paris agreement calls for net zero greenhouse gas emissions at some point "in the second half of this century" and does not directly cover aviation, shipping or agriculture, which collectively account for, at minimum, between a quarter and a third of global greenhouse gas emissions. In the first three months of 2016, global average temperature anomalies approached and surpassed the limits called for in the agreement, rendering its gradual emissions trajectory irrelevant and dangerous.
"The Paris agreement is historic in the sense that the Munich Agreement was historic—a catastrophic act of appeasement meant to maintain business-as-usual arrangements," said Climate Mobilization Deputy Director Ezra Silk. "Leading economists argue that climate change could cause at least as much destruction as World War II—and the non-binding Paris agreement paves the way for that future. It's time to stop waiting for another climate 'Pearl Harbor' and to mobilize all available resources to save human civilization."
The Climate Mobilization is sponsoring the event with the support of the People's Climate Movement New York. Since last fall, the Climate Mobilization has pressured all Democratic and Republican presidential contenders to endorse a WWII-scale mobilization to restore a safe climate. Last week, Bernie Sanders embraced the idea at the CNN debate held at the Brooklyn Navy Yard, which played a pivotal role in the World War II home front mobilization of the 1940s.
"Of course the [Paris] agreement is a step forward, but you know agreements and I know agreements, there's a lot of paper there," Sanders said. "If we approach this, Errol, as if we were literally at a war—you know, in 1941, under Franklin Delano Roosevelt, we moved within three years, within three years to rebuild our economy to defeat Nazism and Japanese imperialism. That is exactly the kind of approach we need right now."
Climate voters who #FeelTheBern—let's call on @BernieSanders to champion the WWII-scale mobilization America needs! https://t.co/PxxYVL2B90

— Climate Mobilization (@Climate Mobilization)1458062578.0
YOU MIGHT ALSO LIKE
Cuomo's Next Step Against Fracking: Reject the Constitution Pipeline
12 Arrested in Earth Day-Themed Protest Against Gas Storage in Seneca Lake's Salt Caverns
On Earth Day 150 World Leaders to Sign Paris Climate Agreement
Which Countries Won't Be Signing the Paris Climate Deal on Earth Day?
EcoWatch Daily Newsletter
Recent Stories from EcoWatch