This website uses cookies to ensure you get the best experience while browsing it. By clicking 'Got It' you're accepting these terms.
Salt is arguably the most important ingredient in cooking.
Without it, most meals would taste bland and unexciting.
However… not all salt is created equal and there are many "types" to choose from.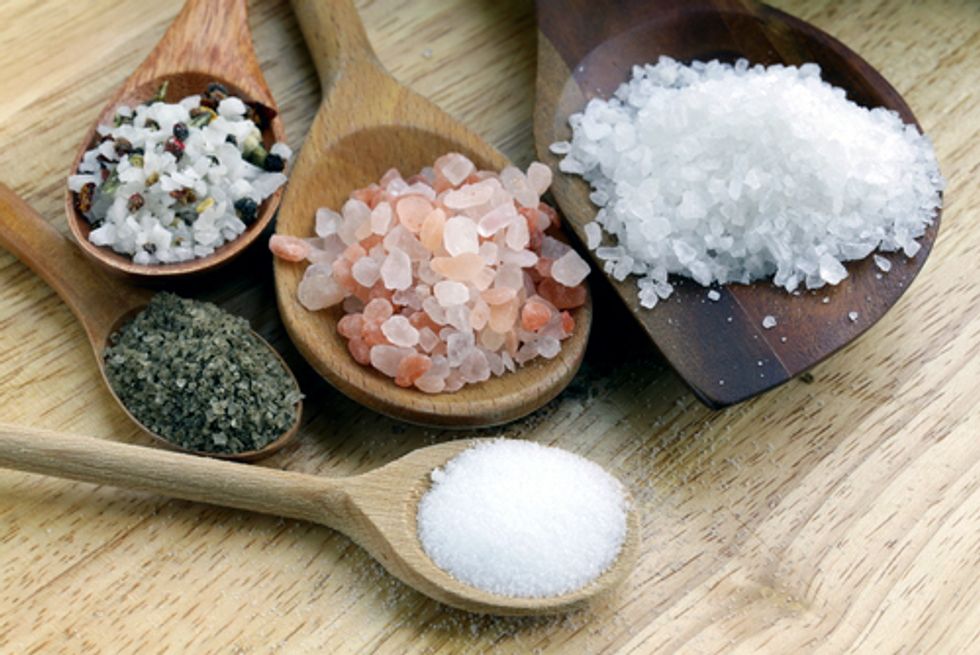 Photo credit: Shutterstock
We have Himalayan Pink Salt, Kosher Salt, Sea Salt, Celtic Salt (to name a few)… and then we have plain old refined table salt.
Not only do they differ in taste and texture, but there are also some differences in mineral and sodium content.
This article explores the most popular salt types… then at the end, gives you a direct comparison of their nutritional properties to help you make the right choices.
But first, let's take a look at what salt is and why it's such a controversial ingredient among health experts.
What is Salt and How Does it Affect Health?
Salt is a crystalline mineral made of two elements, sodium (Na) and chlorine (Cl).
Sodium and chlorine are absolutely essential for life in animals, including humans.
They serve important functions like helping the brain and nerves send electrical impulses.
Most of the world's salt is harvested from salt mines, or by evaporating sea water or other mineral-rich waters.
Salt is used for various purposes, the most common of which is adding flavor to foods. Salt is also used as a food preservative, because bacteria have trouble growing in a salt-rich environment.
The reason salt is often perceived as unhealthy (in large amounts), is that it can bind water in the bloodstream and raise blood pressure.
But even though studies have suggested that lowering salt intake can reduce blood pressure by 1-5.4 mm/Hg, there is no evidence that lowering salt prevents heart attacks, stroke or death (1, 2).
The great majority of sodium in the Western diet comes from processed foods. If you eat mostly whole, unprocessed foods then you don't need to worry about adding some salt to your meals.
Bottom Line: Salt is made of two minerals, sodium and chloride, which are essential for human life. Too much salt can raise blood pressure, but there is very little evidence that eating less salt can improve health.
Refined Salt (Regular Table Salt)
The most commonly used salt is plain old table salt.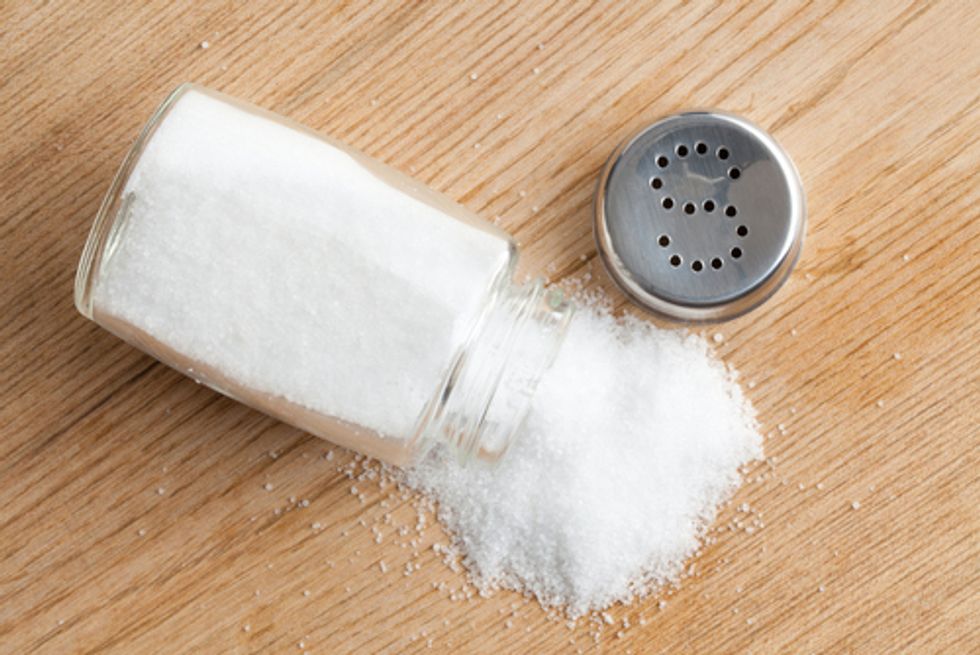 Photo credit: Shutterstock
This salt is usually highly refined. It is heavily ground and most of the impurities and trace minerals are removed.
The problem with heavily ground salt is that it can clump together. For this reason, various substances called anti-caking agents are added so that it flows freely.
Food-grade table salt is almost pure sodium chloride, or 97 percent or higher.
Here's an important point… iodine is often added to table salt.
This was a successful public health preventative measure against iodine deficiency, which was (and still is) common in many parts of the world and a leading cause of hypothyroidism, mental retardation and various health problems.
Therefore, if you choose not to eat regular iodine-enriched table salt, then make sure you're eating some other foods that are high in iodine, like fish, dairy, eggs and seaweed.
I personally take kelp tablets (seaweed) a few times per week because I rarely eat iodized salt. They are very high in iodine.
Bottom Line: Refined table salt is mostly just sodium chloride, with substances called anti-caking agents added in order to prevent clumping. Iodine is often added to table salt.
Sea Salt
Sea salt is made by evaporating seawater.
Like table salt, it is mostly just sodium chloride.
However, depending on where it is harvested and how it was processed, it usually does contain some amount of trace minerals like potassium, iron and zinc.
The darker the sea salt, the higher its concentration of "impurities" and trace nutrients will be. However, keep in mind that due to the pollution of oceans, sea salt can also contain trace amounts of heavy metals like lead.
Sea salt is often less ground than regular refined salt, so if you sprinkle it on top of your food after it has been cooked, it may have a different mouthfeel and cause a more potent "flavor burst" than refined salt.
The trace minerals and impurities found in sea salt can also affect the taste, but this varies greatly between different brands.
Bottom Line: Sea salt is made by evaporating seawater. It is very similar to regular salt, but can contain small amounts of minerals. It can also contain trace amounts of heavy metals if it is harvested from a polluted sea.
Himalayan Pink Salt
Himalayan salt is harvested in Pakistan.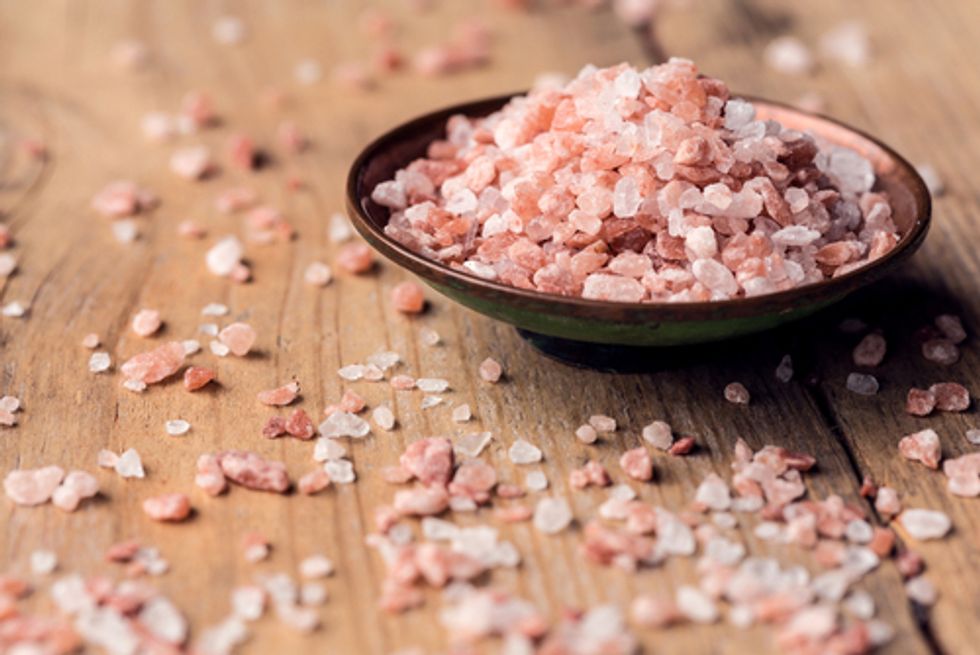 Photo credit: Shutterstock
It is mined from the Khewra Salt Mine, the second largest salt mine in the world.
Himalayan salt often contains trace amounts of iron oxide (rust), which gives it a pink color.
It does contain small amounts of calcium, iron, potassium and magnesium. It also contains slightly lower amounts of sodium than regular salt.
A lot of people prefer the flavor of himalayan salt compared to other types of salts, but personally I haven't been able to notice a difference.
The main difference seems to be the color, which can give a meal a nice look if you sprinkle it on top after it has been cooked.
Bottom Line: Himalayan salt is harvested from a large salt mine in Pakistan. It has a pink color due to the presence of iron oxide. It also contains trace amounts of calcium, potassium and magnesium.
Kosher Salt
Kosher salt was originally used for religious purposes.
Jewish law required blood to be extracted from meat before it was eaten. Kosher salt has a flaky, coarse structure that is particularly efficient at extracting the blood.
The main difference between regular salt and kosher salt is the structure of the flakes. Chefs find that kosher salt, due to its large flake size, is easier to pick up with your fingers and spread over food.
Kosher salt will have a different texture and flavor burst, but if you allow the salt to dissolve in the food, then there really isn't any difference compared to regular table salt.
However, kosher salt is less likely to contain additives like anti-caking agents and iodine.
Bottom Line: Kosher salt has a flaky structure that makes it easy to spread on top of your food. There is very little difference compared to regular salt, although it is less likely to contain anti-caking agents and added iodine.
Celtic Salt
Celtic salt is a type of salt that originally became popular in France.
It has a greyish color and also contains a bit of water, which makes it quite moist.
Celtic salt contains trace amounts of minerals and is a bit lower in sodium than plain table salt.
Bottom Line: Celtic salt has a light greyish color and is quite moist. It is made from seawater and contains trace amounts of minerals.
Differences In Taste
Foodies and chefs primarily choose their salt based on taste, texture, color and convenience.
The impurities, including the trace minerals, can affect both the color and taste of the salt.
The size of the salt can also affect how the salty flavor hits the tongue. Salt with a larger grain size can have a stronger flavor and last longer on your tongue.
However, if you allow the salt to dissolve in the food, then there shouldn't be any major taste difference between plain refined salt and the other "gourmet" types of salt.
If you like to use your fingers to sprinkle salt on food, then dry salts with a larger grain size are much easier to handle.
Bottom Line: The main difference between the salts is the taste, flavor, color, texture and convenience.
Minerals in Different Types of Salt
There is one study that compared the mineral content of different types of salt.
The table below shows the comparison between Table Salt, Maldon Salt (a typical sea salt), Himalayan Salt and Celtic Salt:

As you can see, celtic salt has the least amount of sodium and the highest amount of calcium and magnesium. Himalayan salt contains a bit of potassium.
However… keep in mind that these really are tiny amounts. For example, the 0.3 percent content of Magnesium for celtic salt implies that you would need to eat 100 grams of salt to reach the recommended daily amount.
For this reason, the mineral content of the various salts is actually not a compelling reason to choose one salt over the other. These amounts really are negligible compared to what you get from food.
Which Salt is the Healthiest?
I looked long and hard and couldn't find a single study actually comparing the health effects of different types of salt.
However… if such a study were done, I highly doubt they would find a major difference. Most of the salts are similar, consisting of sodium chloride and tiny amounts of minerals.
The main benefit of choosing more "natural" types of salt is that you avoid additives and anti-caking agents that are often added to regular table salt.
At the end of the day, salt is salt… its main purpose is to add flavor, not nutrition.
EcoWatch Daily Newsletter
Micromobility is the future of transportation in cities, but cities and investors need to plan ahead to avoid challenges. Jonny Kennaugh /
Unsplash
By Carlo Ratti, Ida Auken
On the window of a bike shop in Copenhagen, a sign reads: Your next car is a bike.
An American flag waves in the wind at the Phillip Burton Federal Building in San Francisco, California on May 17 where a trial against Monsanto took place. Alva and Alberta Pilliod, were awarded
more than $2 billion in damages
in their lawsuit against Monsanto, though the judge in the case lowered the damage award to $87 million. JOSH EDELSON / AFP / Getty Images
By Carey Gillam
For the last five years, Chris Stevick has helped his wife Elaine in her battle against a vicious type of cancer that the couple believes was caused by Elaine's repeated use of Monsanto's Roundup herbicide around a California property the couple owned. Now the roles are reversed as Elaine must help Chris face his own cancer.
The last 50 years have been brutal for wildlife. Animals have lost their habitats and seen their numbers plummet. Now a new report from a British conservation group warns that habitat destruction and increased pesticide use has on a trajectory for an "insect apocalypse," which will have dire consequences for humans and all life on Earth, as The Guardian reported.
Six of the nineteen wind turbines which were installed on Frodsham Marsh, near the coal-powered Fiddler's Ferry power station, in Helsby, England on Feb. 7, 2017.
Sales of electric cars are surging and the world is generating more and more power from renewable sources, but it is not enough to cut greenhouse gas emissions and to stop the global climate crisis, according to a new report from the International Energy Agency (IEA).
"Globally, we're starting to see examples of retailers moving away from plastics and throwaway packaging, but not at the urgency and scale needed to address this crisis."
Greenpeace
By Jake Johnson
A Greenpeace report released Tuesday uses a hypothetical "Smart Supermarket" that has done away with environmentally damaging single-use plastics to outline a possible future in which the world's oceans and communities are free of bags, bottles, packaging and other harmful plastic pollutants.
Children are forced to wear masks due to the toxic smoke from peat land fires in Indonesia.
Aulia Erlangga /
CIFOR
Private homes surround a 20 inch gas liquids pipeline which is part of the Mariner East II project on Oct. 5, 2017 in Marchwood, Penn. Robert Nickelsberg / Getty Images
The FBI is looking into how the state of Pennsylvania granted permits for a controversial natural gas pipeline as part of a corruption investigation, the AP reports.
Three cows who were washed off their North Carolina island by Hurricane Dorian have been found alive after swimming at least two miles.
Carolina Wild Ones / Facebook