This website uses cookies to ensure you get the best experience while browsing it. By clicking 'Got It' you're accepting these terms.
Norway Becomes World's First Country to Ban Deforestation
Jun. 08, 2016 09:28AM EST
Popular
Norway has become the first country to ban deforestation. The Norwegian Parliament pledged May 26 that the government's public procurement policy will be deforestation-free.
Any product that contributes to deforestation will not be used in the Scandinavian country. The pledge was recommended by Norwegian Parliament's Standing Committee on Energy and Environment as part of the Action Plan on Nature Diversity. Rainforest Foundation Norway was the main lobbying power behind this recommendation and has worked for years to bring the pledge to existence.
---
"This is an important victory in the fight to protect the rainforest," Nils Hermann Ranum, head of policy and campaign at Rainforest Foundation Norway said in a statement. "Over the last few years, a number of companies have committed to cease the procurement of goods that can be linked to destruction of the rainforest. Until now, this has not been matched by similar commitments from governments. Thus, it is highly positive that the Norwegian state is now following suit and making the same demands when it comes to public procurements."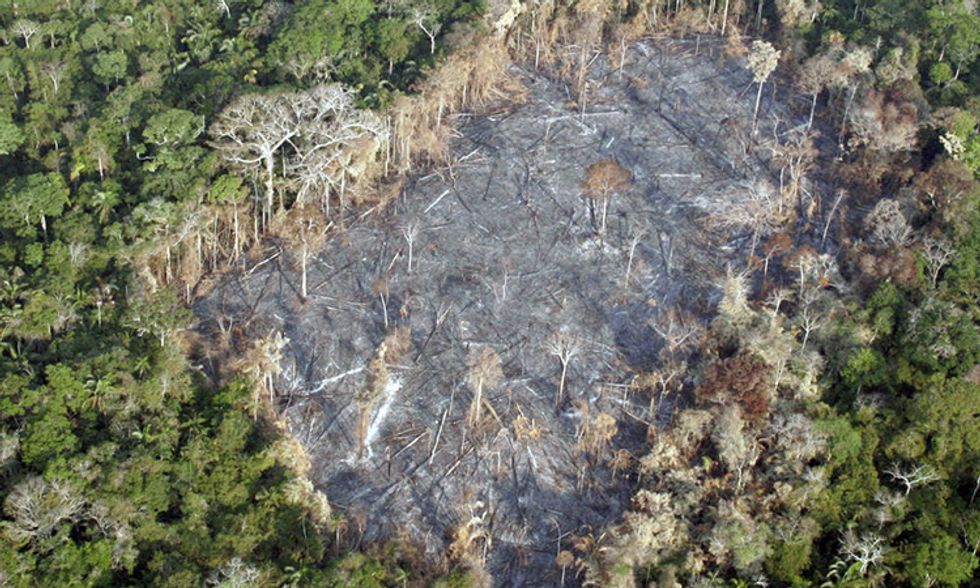 Photo credit: World Wildlife Fund
Norway's action plan also includes a request from parliament that the government exercise due care for the protection of biodiversity in its investments through Norway's Government Pension Fund Global.
"Other countries should follow Norway's leadership, and adopt similar zero deforestation commitments," Ranum said. "In particular, Germany and the UK must act, following their joint statement at the UN Climate Summit."
Germany and the UK joined Norway in pledging at the 2014 UN Climate Summit to "promote national commitments that encourage deforestation-free supply chains," through public procurement policies and to sustainably source products like palm oil, soy, beef and timber, the Huffington Post reported.
Beef, palm oil, soy and wood products in Argentina, Bolivia, Brazil, Paraguay, Indonesia, Malaysia and Papau New Guinea were responsible for 40 percent of deforestation between 2000 and 2011. Those seven countries were also responsible for 44 percent of carbon emissions, Climate Action reported.
Another Step in the Right Direction
Norway's recent pledge is yet another step the country has taken to combat deforestation. The Scandinavian country funds several projects worldwide.
The Norwegian government announced a $250 million commitment to protect Guyana's forest, WorldWatch Institute reported. The South American country, which has its forests zoned for logging, received the money over a four-year period from 2011 to 2015.
"Our country is at a stage where our population is no less materialistic [than industrialized countries] and no less wanting to improve their lives," Carolyn Rodrigues-Birkett, Guyana's minister of foreign affairs, said. "We want to continue our development, but we can't do that without a form of payment."
The partnership is part of the UN's initiative Reducing Emissions from Deforestation and Forest Degradation, which was launched in 2008. Guyana is unique among its counterparts in the initiative because the country's forests don't face significant deforestation pressure.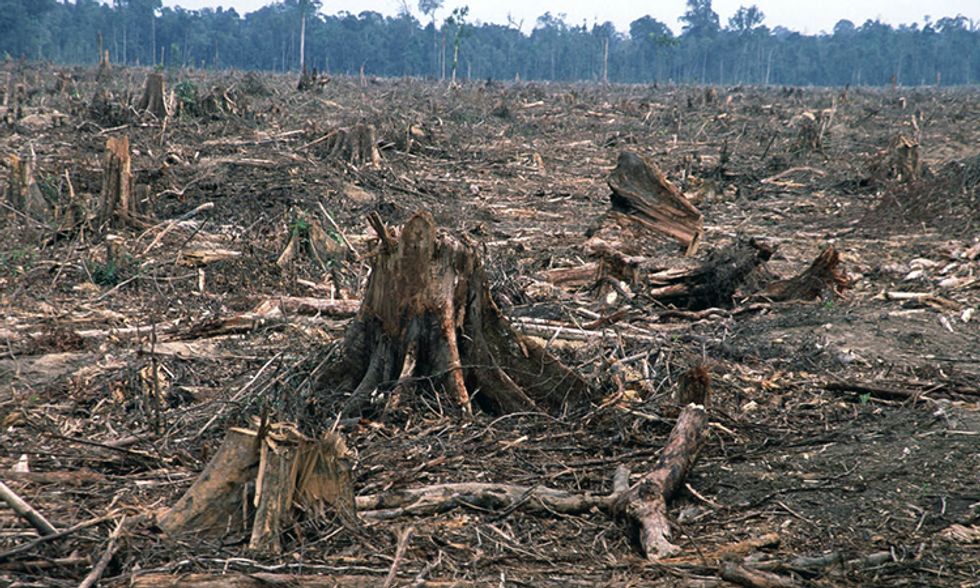 Photo credit: World Wildlife Fund
In 2015, Norway paid $1 billion to Brazil, home to 60 percent of the Amazon forest, for completing a 2008 agreement between the two countries to prevent deforestation, according to mongabay.com. Deforestation of the Brazilian Amazon decreased more than 75 percent over the last decade, representing the single biggest emissions cut in that time period. The deal helped save more than 33,000 square miles of rainforest from clear-cutting, National Geographic reported.
The partnership was praised by UN Secretary General Ban Ki-moon:
"The partnership between Brazil and Norway through the Amazon Fund shows intensified support for one of most impressive climate change mitigation actions of the past decades. This is an outstanding example of the kind of international collaboration we need to ensure the future sustainability of our planet."
The Amazon has lost around 17 percent of its trees in the last 50 years, according to World Wildlife Fund.
This TED talk explains how Brazil reached its goal:
Norway doesn't just focus on South American forests. The country is also hard at work in Africa and other regions of the planet.
Liberia, with the help of Norway, became the first nation in Africa to stop cutting down trees in return for aid, the BBC reported. The deal involves Norway paying the West African country $150 million through 2020 to stop deforestation.
"We hope Liberia will be able to cut emissions and reduce poverty at the same time," Jens Frolich Holte, a political adviser to the Norwegian government, said.
Liberia is home to 43 percent of the Upper Guinean forest and the last populations of western chimpanzees, forest elephants and leopards. The country agreed to place 30 percent or more of its forests under protection by 2020.
The Case for Deforestation Bans
Forests cover 31 percent of the land on Earth. They are the planet's figurative lungs, producing oxygen and removing carbon dioxide from the atmosphere. Forests also provide homes to people and much of the world's wildlife.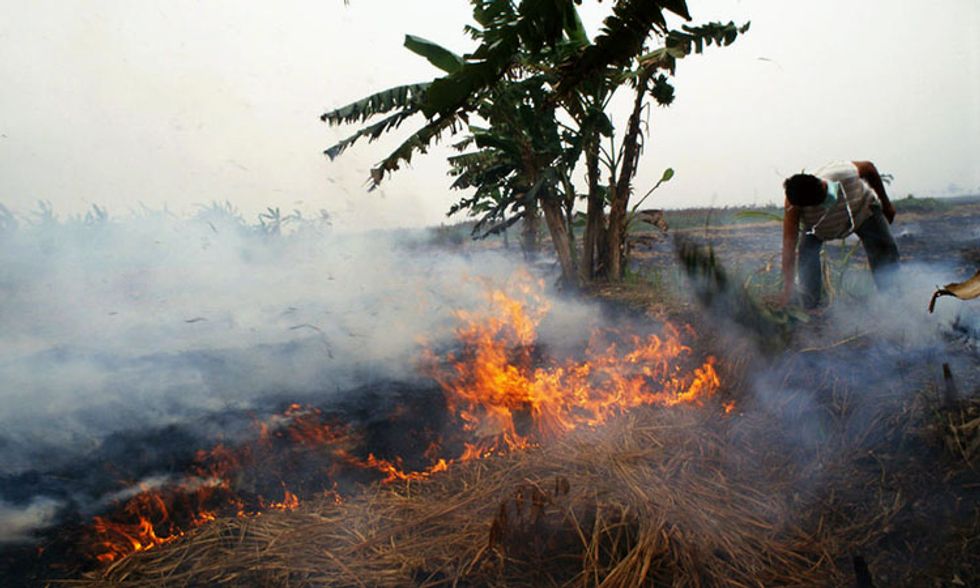 Fire burning in peat moss area in Central Kalimantan Indonesia. Photo credit: World Wildlife Fund
There are 1.6 million people who rely on forests for food, fresh water, clothing, medicine and shelter, according to the World Wildlife Fund. But people also see forests as an obstacle they must remove. Around 46,000 to 58,000 square miles of forest are lost each year—a rate equal to 48 football fields every minute.
Deforestation is estimated to contribute around 15 percent of all greenhouse gas emissions. Not only does deforestation contribute to climate change, it can also disrupt livelihoods and natural cycles, the World Wildlife Fund said. Removal of trees can disrupt the water cycle of the region, resulting in changes in precipitation and river flow, and contribute to erosion.
EcoWatch Daily Newsletter
A general view of the flooded St. Mark's Square after an exceptional overnight "Alta Acqua" high tide water level, on Nov. 13 in Venice. MARCO BERTORELLO / AFP / Getty Images
President Donald Trump doesn't like wind turbines.
In April, he claimed they caused cancer, and he sued to stop an offshore wind farm that was scheduled to go up near land he had purchased for a golf course in Aberdeenshire in Scotland. He lost that fight, and now the Trump Organization has agreed to pay the Scottish government $290,000 to cover its legal fees, The Washington Post reported Tuesday.
A verdant and productive urban garden in Havana. Susanne Bollinger / Wikimedia Commons
By Paul Brown
When countries run short of food, they need to find solutions fast, and one answer can be urban farming.
Trevor Noah appears on set during a taping of "The Daily Show with Trevor Noah" in New York on Nov. 26, 2018.
The Daily Show With Trevor Noah / YouTube screenshot
Rebecca Burgess came up with the idea of a fibersheds project to develop an eco-friendly, locally sourced wardrobe.
Nicolás Boullosa / CC BY 2.0
By Tara Lohan
If I were to open my refrigerator, the origins of most of the food wouldn't be too much of a mystery — the milk, cheese and produce all come from relatively nearby farms. I can tell from the labels on other packaged goods if they're fair trade, non-GMO or organic.
A television crew reports on Hurricane Dorian while waves crash against the Banana River sea wall. Paul Hennessy / SOPA Images / LightRocket / Getty Images
By Mark Hertsgaard and Kyle Pope
Some good news, for a change, about climate change: When hundreds of newsrooms focus their attention on the climate crisis, all at the same time, the public conversation about the problem gets better: more prominent, more informative, more urgent.
U.S. Senators Chris Coons (D-Del.) and Mike Braun (R-Ind.) met with Bill Gates on Nov. 7 to discuss climate change and ways to address the challenge.
Senator Chris Coons
The U.S. Senate's bipartisan climate caucus started with just two members, a Republican from Indiana and a Democrat from Delaware. Now it's up to eight members after two Democrats, one Independent and three more Republicans joined the caucus last week, as The Hill reported.