Norway Becomes World's First Country to Ban Deforestation
Norway has become the first country to ban deforestation. The Norwegian Parliament pledged May 26 that the government's public procurement policy will be deforestation-free.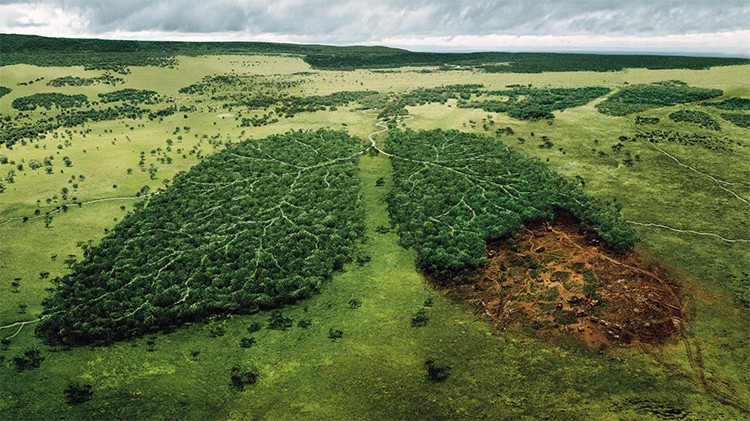 Rainforests are the lungs of the planet.
Any product that contributes to deforestation will not be used in the Scandinavian country. The pledge was recommended by Norwegian Parliament's Standing Committee on Energy and Environment as part of the Action Plan on Nature Diversity. Rainforest Foundation Norway was the main lobbying power behind this recommendation and has worked for years to bring the pledge to existence.
"This is an important victory in the fight to protect the rainforest," Nils Hermann Ranum, head of policy and campaign at Rainforest Foundation Norway said in a statement. "Over the last few years, a number of companies have committed to cease the procurement of goods that can be linked to destruction of the rainforest. Until now, this has not been matched by similar commitments from governments. Thus, it is highly positive that the Norwegian state is now following suit and making the same demands when it comes to public procurements."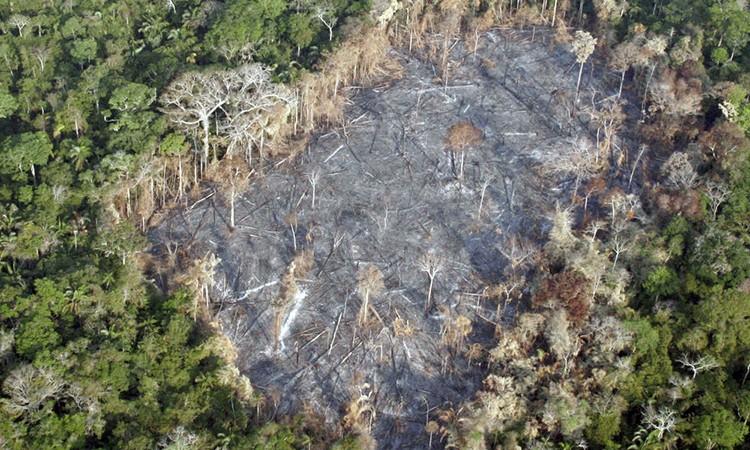 Photo credit: World Wildlife Fund
Norway's action plan also includes a request from parliament that the government exercise due care for the protection of biodiversity in its investments through Norway's Government Pension Fund Global.
"Other countries should follow Norway's leadership, and adopt similar zero deforestation commitments," Ranum said. "In particular, Germany and the UK must act, following their joint statement at the UN Climate Summit."
Germany and the UK joined Norway in pledging at the 2014 UN Climate Summit to "promote national commitments that encourage deforestation-free supply chains," through public procurement policies and to sustainably source products like palm oil, soy, beef and timber, the Huffington Post reported.
Beef, palm oil, soy and wood products in Argentina, Bolivia, Brazil, Paraguay, Indonesia, Malaysia and Papau New Guinea were responsible for 40 percent of deforestation between 2000 and 2011. Those seven countries were also responsible for 44 percent of carbon emissions, Climate Action reported.
Another Step in the Right Direction
Norway's recent pledge is yet another step the country has taken to combat deforestation. The Scandinavian country funds several projects worldwide.
The Norwegian government announced a $250 million commitment to protect Guyana's forest, WorldWatch Institute reported. The South American country, which has its forests zoned for logging, received the money over a four-year period from 2011 to 2015.
"Our country is at a stage where our population is no less materialistic [than industrialized countries] and no less wanting to improve their lives," Carolyn Rodrigues-Birkett, Guyana's minister of foreign affairs, said. "We want to continue our development, but we can't do that without a form of payment."
The partnership is part of the UN's initiative Reducing Emissions from Deforestation and Forest Degradation, which was launched in 2008. Guyana is unique among its counterparts in the initiative because the country's forests don't face significant deforestation pressure.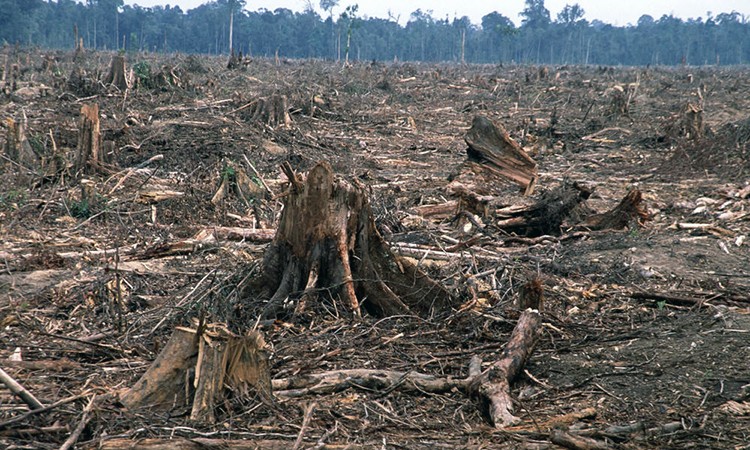 Photo credit: World Wildlife Fund
In 2015, Norway paid $1 billion to Brazil, home to 60 percent of the Amazon forest, for completing a 2008 agreement between the two countries to prevent deforestation, according to mongabay.com. Deforestation of the Brazilian Amazon decreased more than 75 percent over the last decade, representing the single biggest emissions cut in that time period. The deal helped save more than 33,000 square miles of rainforest from clear-cutting, National Geographic reported.
The partnership was praised by UN Secretary General Ban Ki-moon:
"The partnership between Brazil and Norway through the Amazon Fund shows intensified support for one of most impressive climate change mitigation actions of the past decades. This is an outstanding example of the kind of international collaboration we need to ensure the future sustainability of our planet."
The Amazon has lost around 17 percent of its trees in the last 50 years, according to World Wildlife Fund.
This TED talk explains how Brazil reached its goal:
Norway doesn't just focus on South American forests. The country is also hard at work in Africa and other regions of the planet.
Liberia, with the help of Norway, became the first nation in Africa to stop cutting down trees in return for aid, the BBC reported. The deal involves Norway paying the West African country $150 million through 2020 to stop deforestation.
"We hope Liberia will be able to cut emissions and reduce poverty at the same time," Jens Frolich Holte, a political adviser to the Norwegian government, said.
Liberia is home to 43 percent of the Upper Guinean forest and the last populations of western chimpanzees, forest elephants and leopards. The country agreed to place 30 percent or more of its forests under protection by 2020.
The Case for Deforestation Bans
Forests cover 31 percent of the land on Earth. They are the planet's figurative lungs, producing oxygen and removing carbon dioxide from the atmosphere. Forests also provide homes to people and much of the world's wildlife.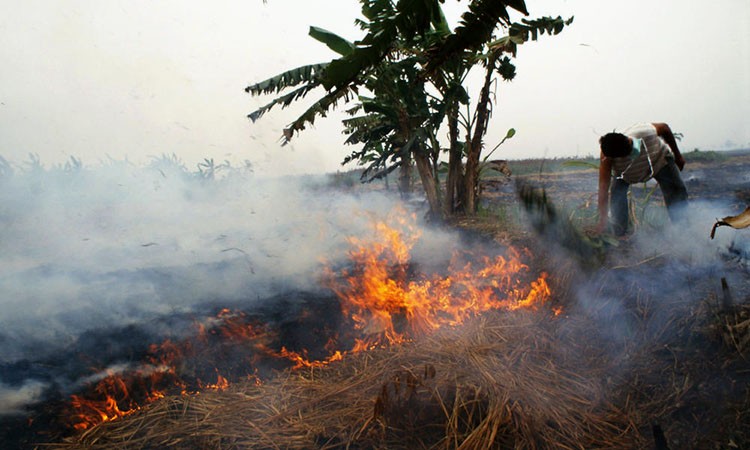 Fire burning in peat moss area in Central Kalimantan Indonesia. Photo credit: World Wildlife Fund
There are 1.6 million people who rely on forests for food, fresh water, clothing, medicine and shelter, according to the World Wildlife Fund. But people also see forests as an obstacle they must remove. Around 46,000 to 58,000 square miles of forest are lost each year—a rate equal to 48 football fields every minute.
Deforestation is estimated to contribute around 15 percent of all greenhouse gas emissions. Not only does deforestation contribute to climate change, it can also disrupt livelihoods and natural cycles, the World Wildlife Fund said. Removal of trees can disrupt the water cycle of the region, resulting in changes in precipitation and river flow, and contribute to erosion.
YOU MIGHT ALSO LIKE
228 Cities Around the World Take the Lead on Climate Action
100 Solutions to the World's Most Pressing Challenges
Stephen Hawking: One Thing Threatens Us More Than Donald Trump … Climate Change
Jul. 21, 2017 01:50PM EST
Will Rose / Greenpeace
Eleven peaceful activists from the Greenpeace ship Arctic Sunrise have taken to the water in inflatable boats with handheld banners to oppose the Statoil Songa Enabler oil rig, 275 km North off the Norwegian coast, in the Arctic Barents sea.
The banners say: "People Vs. Arctic Oil" and are directed at Statoil and the Norwegian government, which has opened a new, aggressive search for oil in the waters of the Barents Sea.
Keep reading...
Show less
Jul. 21, 2017 10:34AM EST
Dominion Pipeline Monitoring Coalition
The Federal Energy Regulatory Commission (FERC) paved the way Friday for the 600-mile, 42-inch fracked gas Atlantic Coast Pipeline to proceed when it issued the final environmental impact statement (FEIS). A joint project of utility giants Duke Energy and Dominion Energy, the Atlantic Coast Pipeline would move fracked gas from West Virginia into Virginia and North Carolina.
In April, the Sierra Club submitted more than 500 pages of legal and technical comments on FERC's draft EIS, which were joined by more than 18,000 individual comments detailing opposition to the project. The pipeline has been met with widespread opposition, with more than 1,000 people participating in public hearings across the three affected states. The Sierra Club recently requested that FERC issue a new environmental review document analyzing information that came in after or late in, the public comment process.
Keep reading...
Show less
Jul. 21, 2017 08:25AM EST
Greenpeace / PolluterWatch
By Jessica Corbett
"It's time Rex Tillerson step down or be removed," said Gigi Kellett of Corporate Accountability International, following an announcement on Thursday that ExxonMobil will pay $2 million for violating U.S. sanctions against Russian officials while the now-secretary of state was the company's CEO.
"ExxonMobil demonstrated reckless disregard for U.S. sanction requirements," according to enforcement filing released by the Treasury Department's Office of Foreign Assets Control (OFAC), which issued the penalty. Though the fine is reportedly the maximum penalty allowed, it's pittance to one of the world's most profitable and powerful corporations, which last year reported a profit of $7.8 billion.
Keep reading...
Show less
Jul. 21, 2017 11:15AM EST
New analysis from Amory B. Lovins debunks the notion that highly unprofitable, economically distressed nuclear plants should be further subsi­dized to meet financial, security, reliability and climate goals. The analysis, which will appear shortly in The Electricity Journal, shows that closing costly-to-run nuclear plants and reinvesting their saved operating costs in energy efficiency provides cheaper elec­tricity, increases grid reliability and security, reduces more carbon, and preserves (not distorts) market integrity—all without subsidies.

Keep reading...
Show less
Jul. 21, 2017 08:44AM EST
Oil Change International / Twitter
By Christian Detisch and Seth Gladstone
In the wake of Senate Republicans' ever-deepening debacle over their flailing attempts to strip health insurance from 22 million people, Majority Leader Mitch McConnell is desperate to do something—anything—to show that he can get legislation passed. To this end, he's bypassing the standard committee review process to push a complex 850+ page energy bill straight to the full Senate floor. Perhaps not surprisingly, this legislation, the Energy and Natural Resources Act of 2017, would be a disaster for public health and our climate.
Keep reading...
Show less
Jul. 21, 2017 08:11AM EST
Rooftop solar panels on a beach house in southern Florida. TAI VIINIKKA / CC BY-NC-ND 2.0
A new law passed this week in South Miami will require all new homes built in the city to install solar panels. The measure, which was inspired by a proposal from a teenage climate activist, will go into effect in September.
The text of the ordinance details the climate impacts facing South Miami.
Keep reading...
Show less
Jul. 21, 2017 10:27AM EST
www.youtube.com
Keep reading...
Show less
Jul. 21, 2017 08:49AM EST
iStock
By Katherine Paul and Ronnie Cummins
A recent series of articles by a Washington Post reporter could have some consumers questioning the value of the U.S. Department of Agriculture's (USDA) organic seal. But are a few bad eggs representative of an entire industry?
Consumers are all for cracking down on the fraudulent few who, with the help of Big Food, big retail chains and questionable certifiers give organics a bad name. But they also want stronger standards, and better enforcement—not a plan to weaken standards to accommodate "Factory Farm Organic."
Keep reading...
Show less