This website uses cookies to ensure you get the best experience while browsing it. By clicking 'Got It' you're accepting these terms.
Northwestern New Mexico at Risk from Bureau of Land Management Fracking Plan
Mar. 06, 2012 02:00PM EST
Energy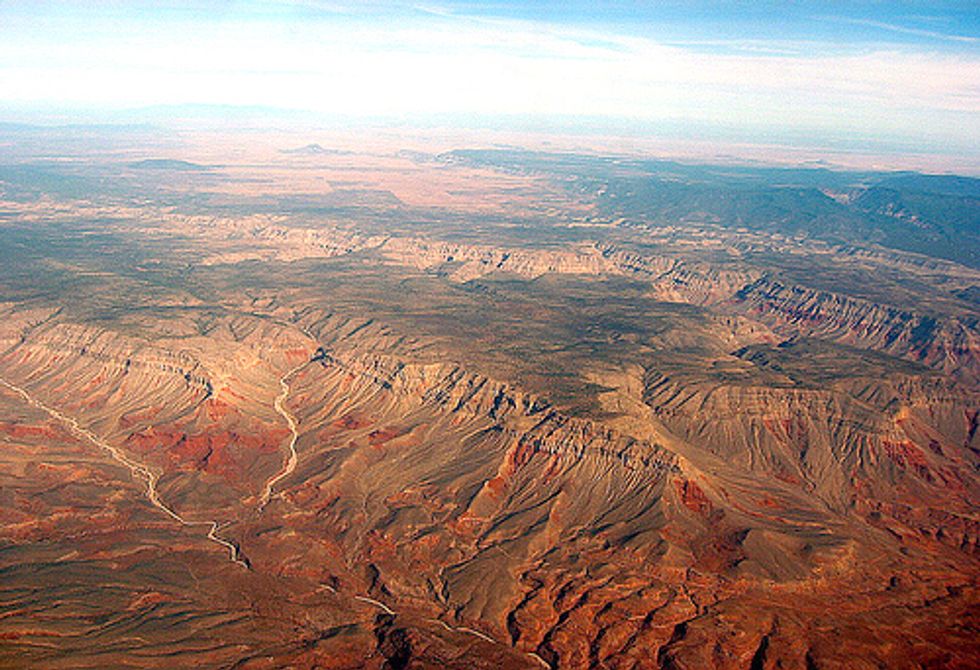 WildEarth Guardians and the San Juan Citizens Alliance fired back late March 5 against the Bureau of Land Management's (BLM) plans to open the door for a massive new fracking project in northwestern New Mexico that threatens clean air, wildlife, and the climate.
"Drilling for oil and gas has already taken a tremendous toll on the air we breathe, the water we drink, and the outdoors that we depend on," said Jeremy Nichols, WildEarth Guardians' Climate and Energy Program director. "This latest proposal threatens to push us over the brink, giving industry unfettered permission to undertake massive fracking at the expense of our environment."
The groups are challenging the first proposal ever approved by the Bureau of Land Management to allow the oil and gas industry to tap shale gas using horizontal drilling in the San Juan Basin of northwestern New Mexico. Although the region has been drilled extensively, the practice of horizontal drilling to access shale gas has never before been commercially viable.
In a Statement of Reasons filed as part of an appeal of the Middle Mesa Plan of Development, the groups pointed out that the proposed fracking project would allow Williams Production (now called WPX) to drill 53 new shale gas wells and undertake a total of 636 fracking jobs over a five-year period. According to the Bureau of Land Management, each fracking job will require 420,000 gallons of fluid for a total of 267,120,000 gallons.
The fracking would occur near the Navajo Reservoir on the San Juan River and in an area that is facing increased air quality challenges. And in allowing WPX to undertake the project, the Bureau of Land Management waived seasonal restrictions on drilling meant to protect deer and elk.
"The Bureau of Land Management analysis of this new technology is underwhelming, particularly given the significant impacts expected concerning water, air and water, and the fact that the 2003 BLM planning document for the area did not assess horizontal drilling for shale. The BLM prepared an Environmental Assessment for a new drilling program for shale that has never been adequately analyzed for full field development, with no recognition of the significant existing cumulative impacts in the project area from decades of conventional natural gas drilling and operations," said Mike Eisenfeld, New Mexico energy coordinator for the San Juan Citizens Alliance. "Horizontal drilling for shale gas is new and it carries risks that have yet to be assessed by the Bureau of Land Management," said Eisenfeld. "With our air, our water, and our lands at stake, we need to ensure that the jump into horizontal drilling and fracking for shale gas is as safe as possible and that the BLM is thoroughly analyzing the entire scale of operations associated with this proposal. That's not too much to ask."
The groups are calling on the Interior Board of Land Appeals in Washington, D.C. to overturn the Bureau of Land Management's decision to allow the Middle Mesa project to proceed because the agency failed to take into account the full risk of horizontal shale gas drilling.
For example, the agency did not analyze the air quality impacts of the drilling. Yet recent air pollution inventories show that ground-level ozone forming volatile organic compound emissions are thirty times higher than originally expected. Ozone, the key ingredient of smog that can trigger asthma attacks, is a persistent problem in the San Juan Basin. According to the U.S. Environmental Protection Agency, in 2011, federal health limits on ozone air pollution were exceeded three times.
The Bureau of Land Management also ignored reports showing that the development of shale gas wells releases more greenhouse gas emissions than traditional wells.
WildEarth Guardians and the San Juan Citizens Alliance pointed to the fact that the 2003 Resource Management Plan for the Farmington Field Office, which covers the Middle Mesa area, actually found that horizontal drilling was not even a viable technology that would be used in the next 20 years.
Despite this, the Bureau of Land Management relied on its management plan in asserting that the risks of horizontal drilling have already been analyzed.
The Interior Board of Land Appeals is not expected to issue a ruling on the appeal until the end of the year. In the meantime, WPX has indicated that, due to economic concerns with the low prices for natural gas, the Middle Mesa project will be on hold for 2012.
For more information, click here.
EcoWatch Daily Newsletter
Baby orangutan and mother orang utan seen walking in Jakarta, Indonesia. Aprison Photography / Moment / Getty Images
By Tara Lohan
To be a good wildlife photographer, you need an expertly trained eye. But good ears help, too.
Worker spraying toxic pesticides or insecticides on corn plantation. D-Keine / E+ / Getty Images
Poor people in developing countries are far more likely to suffer from exposure to pesticides classified as having high hazard to human health or the environment, according to new data that Unearthed analyzed.
Power to heat, to cool, to drive the world's industries. Renewables can supply it all.
Jason Blackeye / Unsplash
By Paul Brown
Virtually all the world's demand for electricity to run transport and to heat and cool homes and offices, as well as to provide the power demanded by industry, could be met by renewable energy by mid-century.

Phthalates, a group of chemicals used to make plastics more flexible and harder to break, affect health in many ways. Tatyana Tomsickova Photography / Moment / Getty Images
By George Citroner
Exposure to phthalates was associated with autism traits in boys (but not girls) between ages 3 and 4 years, according to a new study.
However, the risk was diminished in women who took folic acid during their pregnancy.
This study is the first to find that folic acid supplements provide a protective effect from phthalates.
Exposure in the womb to a group of endocrine-disrupting chemicals called phthalates was associated with autism traits in boys (but not girls) between ages 3 and 4 years, according to a new study.
A coral and fish community at the Great Barrier Reef, northeast of Port Douglas, Queensland, Australia, on Aug. 28, 2018. Francois Gohier / VWPics / Universal Images Group via Getty Images
Researchers released a sobering study this week showing that all of the world's coral reefs may be lost to the climate crisis by 2100.