This website uses cookies to ensure you get the best experience while browsing it. By clicking 'Got It' you're accepting these terms.
North Union Farmers Market Champions Local Foods Year Round
Feb. 02, 2012 10:30AM EST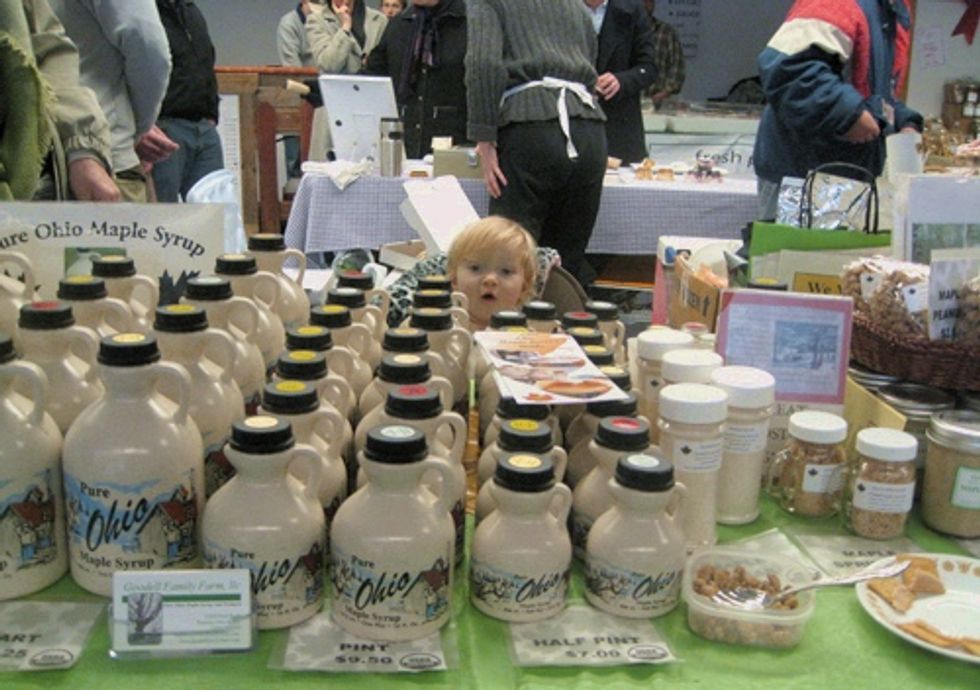 by Donita Anderson
North Union Farmers Market carries on the traditions of the North Union Shakers by championing local foods and operating authentic, certified, producer-only farmers markets. The market offers programming that teaches consumers about the taste and health benefits of eating fresh and locally grown seasonal produce, improves the regional economy by creating vibrant community spaces, and enhances the environment and economy by enabling small farms to sell directly to consumers.
In 2011, there were more than 95 farmers, 40 artisans and 50 food purveyors that participated in the six markets run by the North Union Farmers Market. North Union has incubated more than 300 small businesses in Northeast Ohio since its inception in 1995.
More than ten years ago it became clear that our dedicated shoppers were craving local farm products in the winter months and local farms were beginning to store their abundance and produce from hoophouse operations, greenhouses and high tunnels year round and needed an outlet for their products. This was the beginning of the North Union's Indoor Winter Farmer's Market at Shaker Square in Cleveland.
Fortunately, several other important factors came together to make this indoor market a reality. The developer/ owner of Shaker Square provided the market space to use. A large enough group of farmers agreed to participate and drive to the market through winter's unpredictable and sometimes wild weather conditions. And, through a survey to our customers, we were confident that the farms would "sell the whole truckload" if there was a winter market.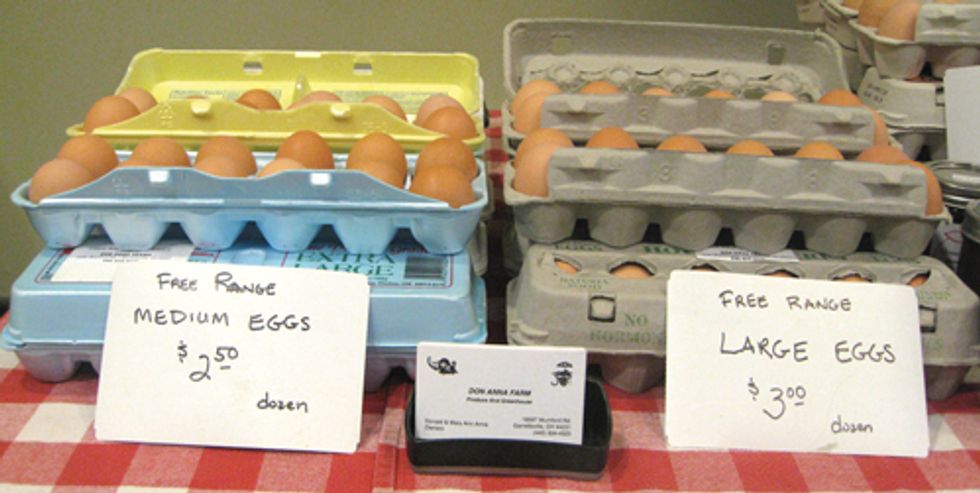 In 2011, farmers encountered huge challenges with record rains in Northeast Ohio that broke the 1871 record of 78.5 inches of rain in one year. Many of the farms in our program lost acres of crops and couldn't attend markets. Farms that were starting for the first time this year just dropped out, because they didn't have the ability to control the damage from the tumult of rain, hail and tornadoes.
We were fearful we wouldn't have enough product to have the Indoor Winter Farmers Market in 2012. Luckily many of the farms were able to plant late crops and grow for this market to hopefully recoup losses from the 2011 season. We are extremely happy with the farm participation and shopper turnout so far this season, and hopeful even more people will come out this winter to buy our farm fresh products.
Throughout the three months of the winter market, 30 farms will be represented. The winter market is doing so well that in 2013 we will have a winter market on the west side of Cleveland as well.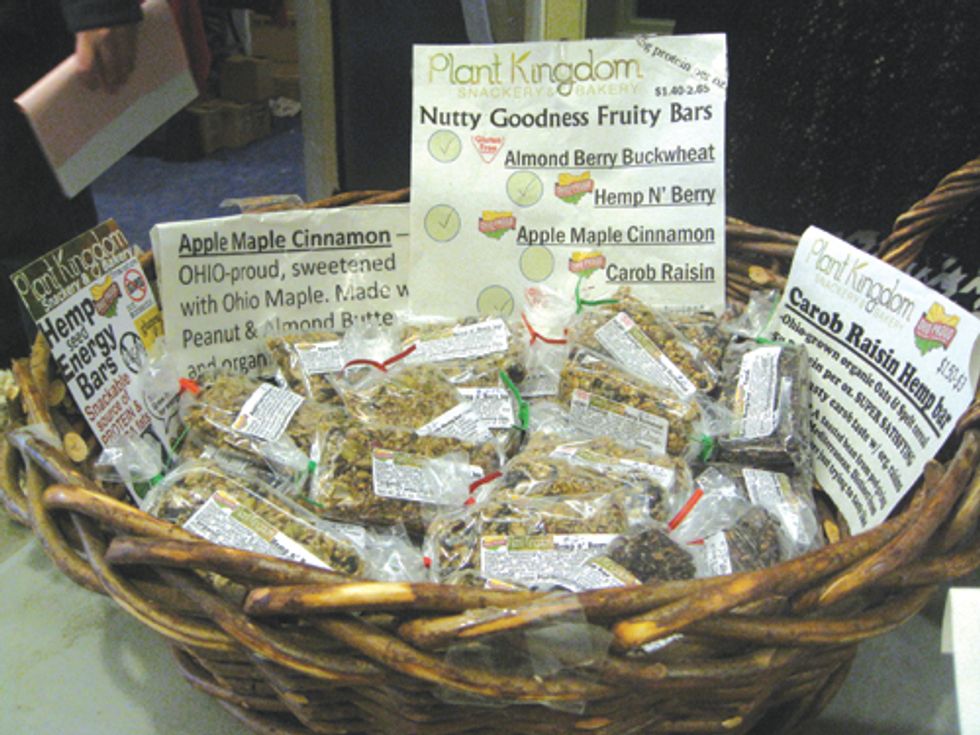 At the winter market you can find more than 12 different types of dried beans, Gold Rush apples along with six other varieties, delicata squash, acorn squash, hubbard squashes, artisan goat and sheeps milk cheeses, butter, unhomogenized milk, broccoli, cucumbers, zucchini, turnips, beets, lettuces, tatsoi, carrots, onions, garlic, potatoes, spinach, kale, mushrooms, sunchokes, herbs, eggs, grassfed beef, pasture raised pork, lamb, free range chickens, along with local foods, bakeries and artists.
This market is not only a great way to access local farm fresh foods in the winter, but it is a gathering place that has a direct effect on the local retail district of Shaker Square. Deweys Coffee Cafe is packed with shoppers sipping hot beverages and noshing on baked goods and popcorn. CVS employees say it's the busiest time of the week for their store. The local restaurant Yours Truly is filled with market shoppers. Farmers markets are an excellent way to help establish economic vitality to local areas.
Winter farmers markets create stronger farms by helping farmers make mortgage payments in the winter, having more dollars to invest in their business and keeping the relationship with their customers going all year round.
Be sure to experience this community building indoor farmers market every Saturday until March 24 from 9 a.m. to noon in the two storefront spaces between Deweys Coffee Cafe and CVS on the Northeast quadrant of Shaker Square.
For more information, click here. 
EcoWatch Daily Newsletter
Investing in grid infrastructure would enable utilities to incorporate modern technology, making the grid more resilient and flexible. STRATMAN2 / FLICKR
By Elliott Negin
The Royal Swedish Academy of Sciences' recent decision to award the 2019 Nobel Prize in Chemistry to scientists who developed rechargeable lithium-ion batteries reminded the world just how transformative they have been. Without them, we wouldn't have smartphones or electric cars. But it's their potential to store electricity generated by the sun and the wind at their peak that promises to be even more revolutionary, reducing our dependence on fossil fuels and protecting the planet from the worst consequences of climate change.
Two Javan rhinos deep in the forests of Ujung Kulon National Park, the species' last habitat on Earth. Sugeng Hendratno / WWF
The global population of the critically endangered Javan rhinoceros has increased to 72 after four new calves were spotted in the past several months.
A tiger looks out from its cage at a new resort and zoo in the eastern Lao town of Tha Bak on Dec. 5, 2018. Karl Ammann believes the "zoo" is really a front for selling tigers. Terrence McCoy / The Washington Post / Getty Images
Are tigers extinct in Laos?
That's the conclusion of a detailed new study that found no evidence wild tigers still exist in the country.
A group of scientists is warning that livestock production must not expand after 2030 for the world to stave off ecological disaster.
The largest wetland in Africa is in the South Sudan. George Steinmetz / Corbis Documentary / Getty Images Plus
Methane emissions are a far more powerful greenhouse gas than carbon dioxide – about 28 times more powerful. And they have been rising steadily since 2007. Now, a new study has pinpointed the African tropics as a hot spot responsible for one-third of the global methane surge, as Newsweek reported.