This website uses cookies to ensure you get the best experience while browsing it. By clicking 'Got It' you're accepting these terms.
7 Nontoxic Nail Polish Brands
Feb. 19, 2014 01:16PM EST
Popular
Most of those cute little bottles lined up in your bathroom have a secret: they're filled to the brim with chemicals. Some nail polish brands have nearly 30 chemicals all combined. These harsh chemicals can not only be bad for the environment, but also bad for you, as they cause nails to become brittle and have harsh fumes. No nail polish is completely natural, but the most important thing to look for are brands that are "3-free," meaning they don't use toluene, dibutyl phthalate (DBP) or formaldehyde, which are all known carcinogens. Some brands also describe themselves as "5-free" when they don't use formaldehyde resin or camphor in addition.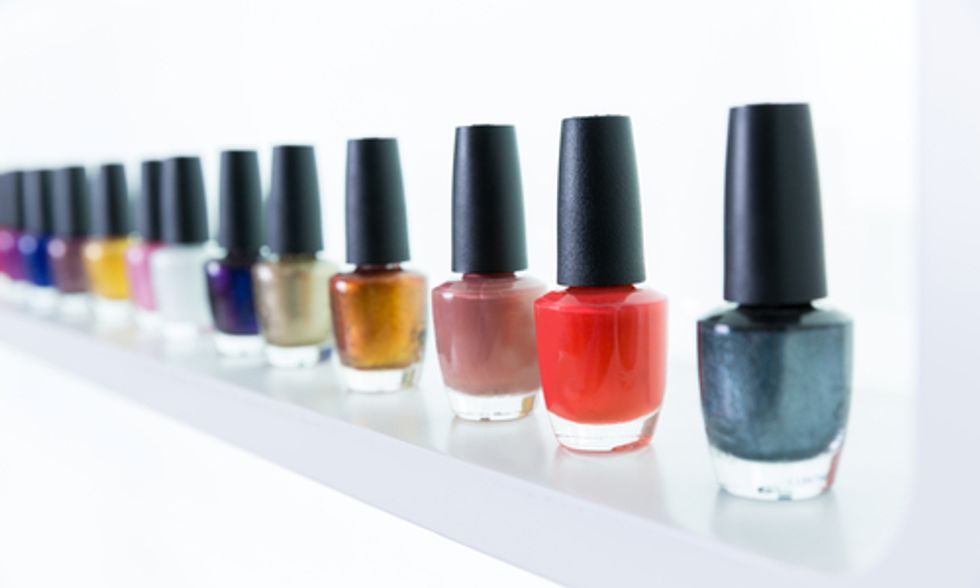 Photo courtesy of Shutterstock
Many of these brands still use other chemicals, so be sure to double-check the ingredients for others that cause you concern. Whether you already have the best of the best when it comes to natural cosmetics or you're just starting to green up your shelves, we've rounded up some of the best brands that have dedicated themselves to more natural nail care, so your next manicure can be headache- and toxin-free.
1. Zoya. Created by Zoya and Michael Reyzis of Art of Beauty, Zoya nail polish revolutionized the nail industry when it began making long-lasting, toxin-free polish. Eliminating toluene, camphor, formaldehyde, formaldehyde resin and DBP from its polishes, Zoya has quickly become one of the most popular 5-free nail polish brands out there. With new colors released each season, you'll be sure to find the perfect shade for every occasion.
2. Suncoat. Since 2001, Suncoat has been crafting nail polishes with a water base and no toxins. Rather than replacing known toxins with other chemicals, a common practice among nail polish makers, Suncoat uses water. With mineral pigments and natural ingredients to boot, who can complain? Check out their peelable nail polish (no remover needed!) and nail art for an all-natural manicure that will have everyone staring.
3. Piggy Paint. Founder Melanie Hurley was horrified when she saw what the nail polish she was putting on her children's nails did to a styrofoam plate. She dedicated herself to making a water-based, non-flammable, non-toxic nail polish that has an almost unnoticeable odor. The vibrant colors of this hypoallergenic and cruelty-free lacquer make Piggy Paint the perfect option for fun-loving kids of any age.
4. Honeybee Gardens. Look at the ingredients of Honeybee Gardens' nail polish and you're bound to let out a breath you didn't know you'd been holding. This polish uses a special, water-based formula that's 3-free, nearly odorless and free of FD&C colors (synthetic food dyes that can be used in food, drink and cosmetics). With 25 colors including the striking blue "Oasis," deep black "Abyss" and fiery red "Burlesque," finding one to match your personality should be easy (but picking only one may not be).
5. RGB. Like Zoya, this luxury eco-minded nail polish is 5-free, plus all of RGB's products are cruelty-free, vegan and made in the U.S. With a wide array of colors available, there's something for every green-ista in this collection. Although it's on the pricier side, knowing that your product is helping the Earth and your nails is well worth it.
6. Sheswai. Three-free and eco-chic, Sheswai nail polish has succeeded in creating a brand that appreciates natural glamour. If the names of the colors aren't enough to grab you (think "yowza"), Sheswai uses sustainably harvested wood as an alternative to the typical plastic cap. No products are tested on animals and a portion of the profits are donated to organizations dedicated to sustainability, such as the Nature Conservancy and World Wildlife Foundation. A product that does good and makes you look good? Sign us up!
7. LVX. Similar to RGB, LVX (Latin for "light") is 5-free, vegan, cruelty-free and produced in the U.S. Co-founder Branka Tomic has a love for high fashion that translates into the sleek, high quality hues you'll find on their website. LVX polishes don't come cheap, but if you've been searching for the perfect combination of luxury and eco-friendly, this is the nail polish to try.
YOU MIGHT ALSO LIKE
Duke Researchers Find Nail Polish Chemical in Women's Bodies
Stop Giving Cancer Patients Toxic Cosmetics to 'Look Good, Feel Better'
Inside the Nation's Largest Organic Vertical Farm
Can Drinking Water Help You Lose Weight?
Related Articles Around the Web
EcoWatch Daily Newsletter
Pro-environment demonstrators on the streets of Washington, DC during the Jan. 20, 2017 Trump inauguration.
Mobilus In Mobili
/ Flickr /
CC BY-SA 2.0
By Dr. Brian R. Shmaefsky
One year after the Flint Water Crisis I was invited to participate in a water rights session at a conference hosted by the US Human Rights Network in Austin, Texas in 2015. The reason I was at the conference was to promote efforts by the American Association for the Advancement of Science (AAAS) to encourage scientists to shine a light on how science intersects with human rights, in the U.S. as well as in the context of international development. My plan was to sit at an information booth and share my stories about water quality projects I spearheaded in communities in Bangladesh, Colombia, and the Philippines. I did not expect to be thrown into conversations that made me reexamine how scientists use their knowledge as a public good.
Mt. Rainier and Reflection Lake on Sept. 10, 2015. Crystal Geyser planned to open a bottling plant near Mt. Rainier, emails show.
louelke - on and off / Flickr
Bottled water manufacturers looking to capture cool, mountain water from Washington's Cascade Mountains may have to look elsewhere after the state senate passed a bill banning new water permits, as The Guardian reported.
Large storage tank of Ammonia at a fertilizer plant in Cubatão, Sao Paulo State, Brazil. Luis Veiga / The Image Bank / Getty Images
The shipping industry is coming to grips with its egregious carbon footprint, as it has an outsized contribution to greenhouse gas emissions and to the dumping of chemicals into open seas. Already, the global shipping industry contributes about 2 percent of global carbon emissions, about the same as Germany, as the BBC reported.
At high tide, people are forced off parts of the pathway surrounding DC's Tidal Basin. Andrew Bossi /
Wikimedia
The Jefferson Memorial in Washington, DC overlooks the Tidal Basin, a man-made body of water surrounded by cherry trees. Visitors can stroll along the water's edge, gazing up at the stately monument.
But at high tide, people are forced off parts of the path. Twice a day, the Tidal Basin floods and water spills onto the walkway.
Lioness displays teeth during light rainstorm in Kruger National Park, South Africa. johan63 / iStock / Getty Images
Ahead of government negotiations scheduled for next week on a global plan to address the biodiversity crisis, 23 former foreign ministers from various countries released a statement on Tuesday urging world leaders to act "boldly" to protect nature.