This website uses cookies to ensure you get the best experience while browsing it. By clicking 'Got It' you're accepting these terms.
Non-Stick Cookware Linked to Puberty Delay
Nov. 27, 2013 03:03PM EST
Health + Wellness
Prenatal exposure to a chemical used in the manufacture of nonstick cookware and stain-resistant materials may be linked to a delay in the first menstrual period, according to research in Denmark.
The study is among the first to look at the long-term health effects of prenatal exposure to perfluoroalkyl substances on human female reproduction, the researchers said. These compounds collect in human tissue and in the environment.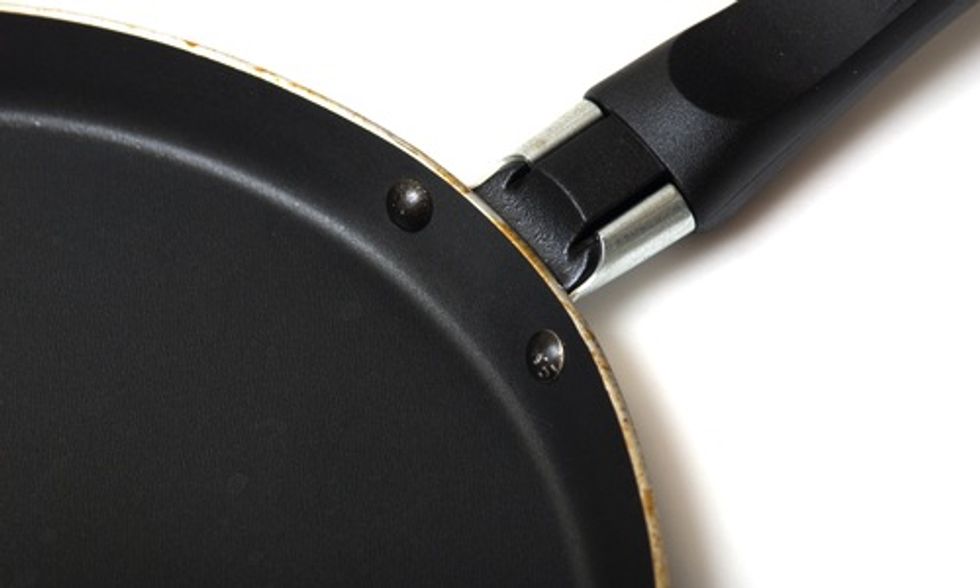 Shutterstock
"Since [the compounds] can be detected in humans all over the world, effects of prenatal exposure on female reproductive function later in life may have wide health implications," the authors wrote.
Between 1988 and 1989, the researchers tested blood collected from pregnant Danish women and then asked their 343 daughters to complete questionnaires at age 20. Maternal levels of the chemicals were used as a proxy for prenatal exposure because the chemicals cross the placental barrier from mother to fetus.
Daughters exposed in the womb to the highest levels of perfluorooctanoic acid (PFOA) reported a 5.3 months later age of first menstrual period than daughters whose mothers had been exposed to lower levels. The average age of first menstrual period for all study daughters was 13.2 years.
It's unclear what health effects, if any, a delay in menstruation of a couple months might have on the daughters.
PFOA is used in the manufacture of many products, including Teflon nonstick pans and stain-resistant food containers. But the U.S. Environmental Protection Agency says most people's exposures may be coming from breakdown products of related chemicals, not from trace amounts found in some consumer products. DuPont and other large U.S. manufacturers voluntarily agreed in 2006 to eliminate PFOA emissions into the air and water by 2015.
An independent scientific panel approved by DuPont as part of a class action lawsuit earlier linked PFOA to kidney and testicular cancer in humans.
No link was found to another perfluorinated compound, perfluoroalkyl sulphonic acid or PFOS, previously used in Scotchgard until 3M voluntarily stopped using it in 2002.
Previous research has suggested that lifetime exposure to perfluorinated compounds may be associated with reduced fertility, delayed puberty and earlier onset of menopause.
The link between these compounds and timing of puberty was investigated in one previous study that found no statistically significant association. However, that study only included girls who began menstruating before age 11.5.

EcoWatch Daily Newsletter
A Starbucks barista prepares a drink at a Starbucks Coffee Shop location in New York. Ramin Talaie / Corbis via Getty Images
By Cathy Cassata
Are you getting your fill of Starbucks' new Almondmilk Honey Flat White, Oatmilk Honey Latte, and Coconutmilk Latte, but wondering just how healthy they are?
By Sharon Kelly
Back in April last year, the Trump administration's Environmental Protection Agency decided it was "not necessary" to update the rules for toxic waste from oil and gas wells. Torrents of wastewater flow daily from the nation's 1.5 million active oil and gas wells and the agency's own research has warned it may pose risks to the country's drinking water supplies.
Swedish climate activist Greta Thunberg takes part in a "Friday for Future" youth demonstration in a street of Davos on Jan. 24, 2020 on the sideline of the World Economic Forum annual meeting. FABRICE COFFRINI / AFP via Getty Images
Treasury Secretary Steven Mnuchin pretended not to know who Greta Thunberg is, and then he told her to get a degree in economics before giving world leaders advice, as The Guardian reported.
The Visible Infrared Imaging Radiometer Suite on the Suomi NPP satellite acquired this image of forest fire smoke hovering over North America on Aug. 15, 2018. NASA Earth Observatory
New York City isn't known for having the cleanest air, but researchers traced recent air pollution spikes there to two surprising sources — fires hundreds of miles away in Canada and the southeastern U.S.
If temperatures continue to rise, the world is at risk from global
sea-level rise
, which will flood many coastal cities as seen above in Bangladesh. NurPhoto / Contributor / Getty Images
The mounting climate emergency may spur the next global financial crisis and the world's central banks are woefully ill equipped to handle the consequences, according to a new book-length report by the Bank for International Settlements (BIS), as S&P Global reported. Located in Basel, Switzerland, the BIS is an umbrella organization for the world's central banks.