This website uses cookies to ensure you get the best experience while browsing it. By clicking 'Got It' you're accepting these terms.
Non-Stick Coatings—Chemical Linked to Cancer Found in 99 Percent of Americans
Apr. 17, 2012 10:41PM EST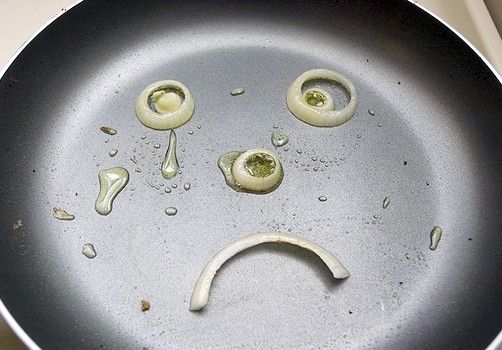 An independent scientific panel approved by the DuPont company as part of a class action lawsuit has linked an industrial chemical known as C-8 or PFOA to kidney and testicular cancer in humans.
"Widespread pollution by PFOA should be a wake-up call that our chemical regulation system is severely broken," said Olga V. Naidenko, Ph.D., a senior scientist at the Environmental Working Group (EWG). "It is particularly urgent for the Environmental Protection Agency to develop a legal limit for drinking water pollution by PFOA, which is currently unregulated and never should have come to market."
EWG has campaigned for nine years to curb the use of PFOA, a toxic perfluorinated chemical whose full name is perfluorooctanoic acid, and to impose a strict cap on its presence in drinking water. As well, EWG has advocated reforms to the federal Toxic Substances Control Act that would require pre-market safety testing of all chemicals.
Emissions of PFOA, once manufactured by DuPont to produce non-stick coatings, have polluted the water of at least nine states and the District of Columbia. As a result of widespread pollution, PFOA and related chemicals are now found in the bodies of more than 99 percent of Americans. Pollution has been particularly pronounced around Parkersburg, W.Va., where a DuPont plant emitted PFOA into the air and Ohio River from the 1950s until recently. Emissions from the plant have been largely eliminated over the past several years under a phase-out agreement between the Environmental Protection Agency and DuPont.
In 2002, communities whose drinking water was polluted with PFOA emissions from the Parkersburg DuPont plant filed a class action lawsuit against the company for contaminating ground water. Two years later, DuPont agreed to a settlement that created a scientific panel to conduct comprehensive detailed studies on PFOA and human health by analyzing data from nearly 70,000 people who live or have lived in six water districts in Ohio and West Virginia in the vicinity of the DuPont plant.
The scientific panel's latest data, made public on Monday, associated the chemical with kidney and testicular cancer and possibly thyroid cancer. In earlier years, the panel linked PFOA to pregnancy-induced hypertension and preeclampsia. With this new finding, DuPont could be forced to spend more than $200 million on medical monitoring programs for current and former residents of the area.
EWG's review of water pollution studies published in the open scientific literature and government dockets has determined that PFOA pollution in water has been reported not only in West Virginia and Ohio, but also New Jersey, Minnesota, Alabama, Georgia, Illinois, Virginia, New York and the District of Columbia.
Although the levels of PFOA found in people's blood have declined recently as the chemical is phased out of use in the U.S., people can be exposed to perfluorinated chemicals by using a variety of consumer products, including grease-resistant food packaging as well as furniture, carpets and clothing treated with stain-resistant coatings. When ingested or inhaled, these chemicals can be converted into PFOA in the human body.
DuPont, the only current American maker of PFOA, has committed to phase out manufacture, purchase and use of the chemical by 2015. But companies overseas continue to produce and use it. U.S. law does not require that that its replacements be screened for safety for the environment and human health. In the case of PFOA and other toxic perfluorinated chemicals, only a global phase-out can protect public health and the environment.
For more information, click here.
EcoWatch Daily Newsletter
Assorted plastic bottles. mali maeder / Pexels
People carry children on a flooded street in Almoradi, Spain on Sept. 13. JOSE JORDAN / AFP / Getty Images
Large food companies are following in the footsteps of fast-food restaurants such as Burger King and KFC by offering meat alternatives. Getty Images
By Elizabeth Pratt
Hormel, Kellogg's, and Kroger are among the large companies now planning to offer "fake meat" products at grocery stores.
Experts say the trend toward plant-based meats coincides with consumers' desires to eat less meat.
However, experts urge consumers to closely check package labels as a product isn't necessarily healthy just because it's described as plant-based.
In grocery stores and fast-food outlets around the U.S., a revolution is taking place.
Colombia rainforest. Marcel Oosterwijk / CC BY-SA 2.0
Many of us think of the Amazon as an untouched wilderness, but people have been thriving in these diverse environments for millennia. Due to this long history, the knowledge that Indigenous and forest communities pass between generations about plants, animals and forest ecology is incredibly rich and detailed and easily dwarfs that of any expert.
picture-alliance / Newscom / R. Ben Ari
By Wesley Rahn
Plastic byproducts were found in 97 percent of blood and urine samples from 2,500 children tested between 2014 and 2017, according to a study by the German Environment Ministry and the Robert Koch Institute.

Pexels
Medically reviewed by Daniel Bubnis, MS, NASM-CPT, NASE Level II-CSS
Hot yoga has become a popular exercise in recent years. It offers many of the same benefits as traditional yoga, such as stress reduction, improved strength, and flexibility.
Lara Hata / iStock / Getty Images
By SaVanna Shoemaker, MS, RDN, LD
Rice is a staple in many people's diets. It's filling, inexpensive, and a great mild-tasting addition to flavorful dishes.