Nobel Laureates to President Obama: Reject Keystone XL and Be On the Right Side of History
Jun. 18, 2013 03:04PM EST
Climate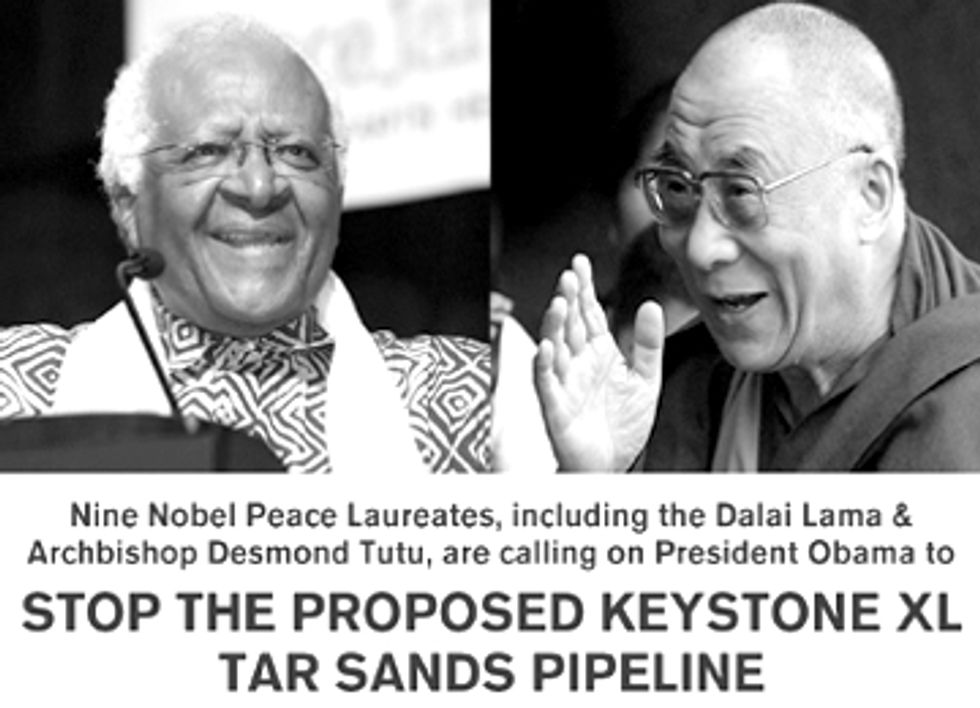 Recipients of the Nobel Peace Prize are calling for the rejection of the Keystone XL tar sands pipeline. A letter from 10 Nobel Peace Prize winners addressed to both President Obama and Secretary of State Kerry announced by the Nobel Women's Initiative was inspired by the Laureates' concern for the rapidly expanding Canadian tar sands.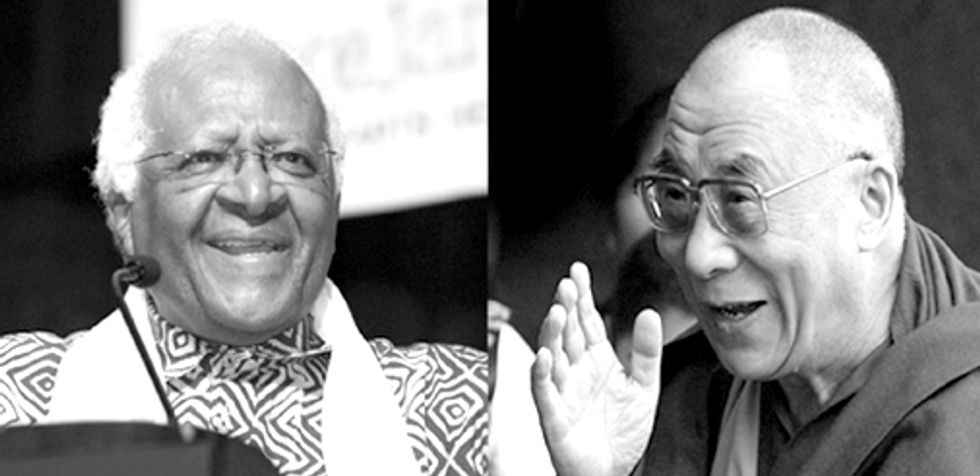 As wildfires burn out of control in Colorado adding to record-breaking weather across the nation, the Laureates said "as leaders who have spoken out strongly on these issues, we urge you, once again, to be on the right side of history and send a clear message that you are serious about moving beyond dirty oil."
The letter sent today followed an earlier letter sent in 2011 also calling for a rejection of Keystone XL. When the great moral leaders of our time, including Archbishop Tutu, call for a rejection of tar sands in the face of catastrophic climate change, it is time for the U.S. to reject the Keystone XL tar sands pipeline, a linchpin enabling the tripling of expansion of this dirty oil. 
Like millions of others, we were buoyed by words in the President's second inaugural address: "We will respond to the threat of climate change, knowing that failure to do so would betray our children and future generations." Mr. President and Secretary Kerry, this is an opportunity to begin to fulfill that promise. While there is no one policy or action that will avoid dangerous climate change, saying "no" to the Keystone XL pipeline is a critical step in the right direction. Now is the time for unwavering leadership.—Nobel Laureates Letter, 2013
The climate impacts of a world that accommodates tar sands expansion are unimaginable. If industry and the Canadian and Albertan governments had their way we would be on track for six degrees centigrade of global warming—triple the two degree limit that the President has promised to avoid.
The International Energy Agency, among many other respected bodies, has found that in order to prevent catastrophic global warming of over two degrees centigrade we must leave two thirds of fossil fuels in the ground.—Nobel Laureates Letter, 2013
In addition to the climate pollution, the tar sands are doing irreversible damage to water, air, land, animals and communities in Northern Alberta and along their pipeline routes where the question of a spill is not if but when.
Recent tar sands oil spills in Kalamazo, MI, and Mayflower, AR, have served as a harsh reminder that shipping the world's dirtiest oil will never likely be safe enough for human health and the environment. —Nobel Laureates Letter, 2013
President Obama and Senator Kerry have both been clear about the urgency and importance of dealing with climate change, and recognizing that as the world's largest polluter, the U.S. is a critical player in ensuring a safe future for generations to come. The Keystone XL tar sands pipeline debate has illustrated the two pathways we face as a country. One locks us into decades of dirty fossil fuels, taking us down a path of negatively affecting millions of lives and livelihoods. And on other pathway we build real energy security based on clean and renewable energy that will protect our economy, our people and future generations.
The Laureates acknowledged the President was under pressure to approve Keystone XL, especially by big oil interests.
We also recognize the pressure from forces in your own country. The Keystone XL pipeline will not benefit or improve the lives of Americans, but nevertheless we understand that the politics of action on climate are not easy. We believe you are the kind of leaders who can stand up to those interests when necessary, to do what is right for the world and for future generations. —Nobel Laureates Letter, 2013
The decision on the Keystone XL tar sands pipeline has emerged as an issue of international interest. It is about standing up to big oil and rejecting the expansion of some of the dirtiest oil on earth. President Obama and Secretary Kerry: It is time to say no to the Keystone XL tar sands pipeline once and for all.
Visit EcoWatch's KEYSTONE XL page for more related news on this topic.
——-
EcoWatch Daily Newsletter