This website uses cookies to ensure you get the best experience while browsing it. By clicking 'Got It' you're accepting these terms.
NOAA Winter Outlook: California Drought Will 'Intensify,' Polar Vortex II 'Unlikely'
Oct. 16, 2014 04:07PM EST
Climate
It looks like California and other regions of the Southwest that have been enduring drought for the past four years won't be getting any relief soon.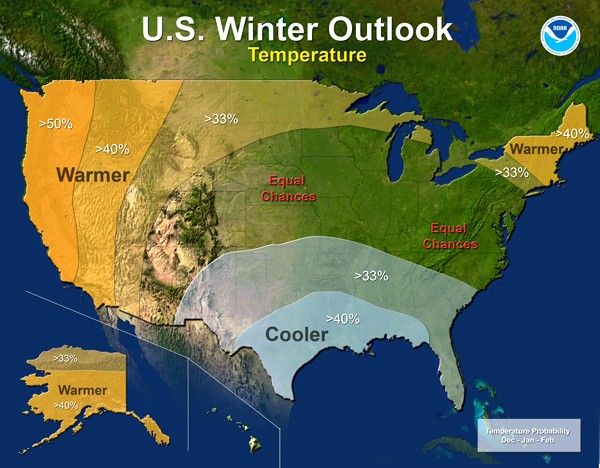 The winter weather forecast, released today by the National Oceanic and Atmospheric Administration (NOAA), predicted warmer winter weather and little rain for the western part of the country, as well as Alaska, Hawaii and New England. The south, on the other hand, may be a little cooler, undoubtedly fueling a spate of op-ed pieces from climate denier columnists and politicians still insisting"global warming" is the only indicator of climate change. But the forecast says a repeat of last year's frigid winter is unlikely in most parts of the country that endured it.
"While drought may improve in some portions of the U.S. this winter, California's record-setting drought will likely persist or intensify in large parts of the state," said NOAA's forecast. "Nearly 60 percent of California is suffering from exceptional drought—the worst category—with 2013 being the driest year on record. Also, 2012 and 2013 rank in the top 10 of California's warmest years on record, and 2014 is shaping up to be California's warmest year on record. Winter is the wet season in California, so mountainous snowfall will prove crucial for drought recovery. Drought is expected to improve in California's southern and northwestern regions, but improvement is not expected until December or January."
The forecast predicted drought would persist or possibly even get worse in some parts of California, Nevada, Utah, Idaho, Oregon and Washington state, while  "new drought development" is likely in northeastern Oregon, eastern Washington state and small areas of Idaho and western Montana.
"Complete drought recovery in California this winter is highly unlikely," said Mike Halpert, acting director of NOAA's Climate Prediction Center. "While we're predicting at least a two-in-three chance that winter precipitation will be near or above normal throughout the state, with such widespread, extreme deficits, recovery will be slow."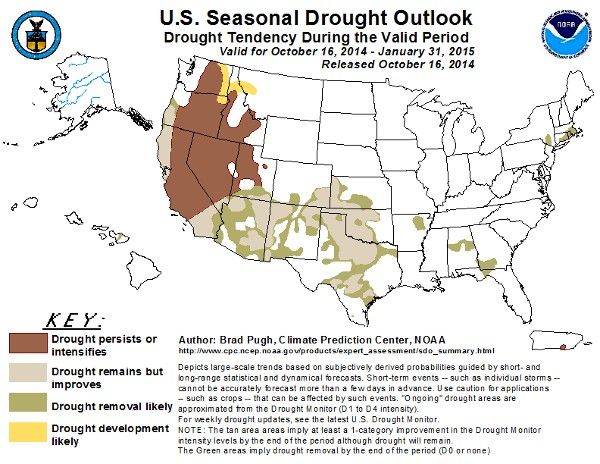 Last month, a study by researchers at California's Stanford University published in the Bulletin of the American Meteorological Society, used a combination of statistical analysis and computer simulations to show that greenhouse gases contributed to the extremely high pressure area or "blocking ridge" over California that diverted storms away from the state, leading to the record low rainfall and historic drought. An article on the Stanford website called it "one of the most comprehensive studies to investigate the link between climate change and California's ongoing drought."
The study's lead author Daniel Swain, who coined the term "Ridiculously Resilient Ridge" to describe the high-pressure zone, said on his California Weather Blog, "Human-caused climate change has increased the likelihood of extremely high atmospheric pressure over the North Pacific Ocean, which suggests an increased risk of atmospheric patterns conducive to drought in California."
YOU MIGHT ALSO LIKE
Drought Emergency Declared in California as Residents Urge Halt to Fracking
Gov. Jerry Brown Discusses Role of Climate Change in California's 10 Wildfires in the Past Week
EcoWatch Daily Newsletter
A. Battenburg / Technical University of Munich
By Sarah Kennedy
Algae in a pond may look flimsy. But scientists are using algae to develop industrial-strength material that's as hard as steel but only a fraction of the weight.
Variety of fermented food korean traditional kimchi cabbage and radish salad. white and red sauerkraut in ceramic plates over grey spotted background. Natasha Breen / REDA&CO / Universal Images Group / Getty Image
Even if you've never taken probiotics, you've probably heard of them.
These supplements provide numerous benefits because they contain live microorganisms, such as bacteria or yeast, which support the healthy bacteria in your gut (1, 2, 3, 4).
Pexels
Singapore will become the first country in the world to place a ban on advertisements for carbonated drinks and juices with high sugar contents, its health ministry announced last week. The law is intended to curb sugar consumption since the country has some of the world's highest diabetes rates per capita, as Reuters reported.
A typical adult takes around 20,000 breaths per day. If you live in a megacity like Beijing, with many of those lungfuls you're likely to inhale a noxious mixture of chemicals and pollutants.
Fred Stone holds his brown swiss cow Lida Rose at his Arundel dairy farm on March 18 after a press conference where he spoke about PFAS chemical contamination in his fields. Gregory Rec / Portland Portland Press Herald via Getty Images
By Susan Cosier
First there was Fred Stone, the third-generation dairy farmer in Maine who discovered that the milk from his cows contained harmful chemicals. Then came Art Schaap, a second-generation dairy farmer in New Mexico, who had to dump 15,000 gallons of contaminated milk a day.
Protesters attend the 32nd annual Fur-Free Friday demonstration on Nov. 23, 2018 in Beverly Hills, California. Ella DeGea / Getty Images
California Governor Gavin Newsom signed into law a bill that that bans the sale and manufacture of fur products in the state. The fur ban, which he signed into law on Saturday, prohibits Californians from selling or making clothing, shoes or handbags with fur starting in 2023, according to the AP.
By Simon Evans
During the three months of July, August and September, renewables generated an estimated total of 29.5 terawatt hours (TWh), compared with just 29.1TWh from fossil fuels, the analysis shows.
A demonstrator waves an Ecuadorian flag during protests against the end of subsidies to gasoline and diesel on Oct. 9 in Quito, Ecuador. Jorge Ivan Castaneira Jaramillo / Getty Images