NOAA: Last Month Was by Far the Planet's Warmest March Since Record Keeping Began
Apr. 20, 2016 11:06AM EST
Climate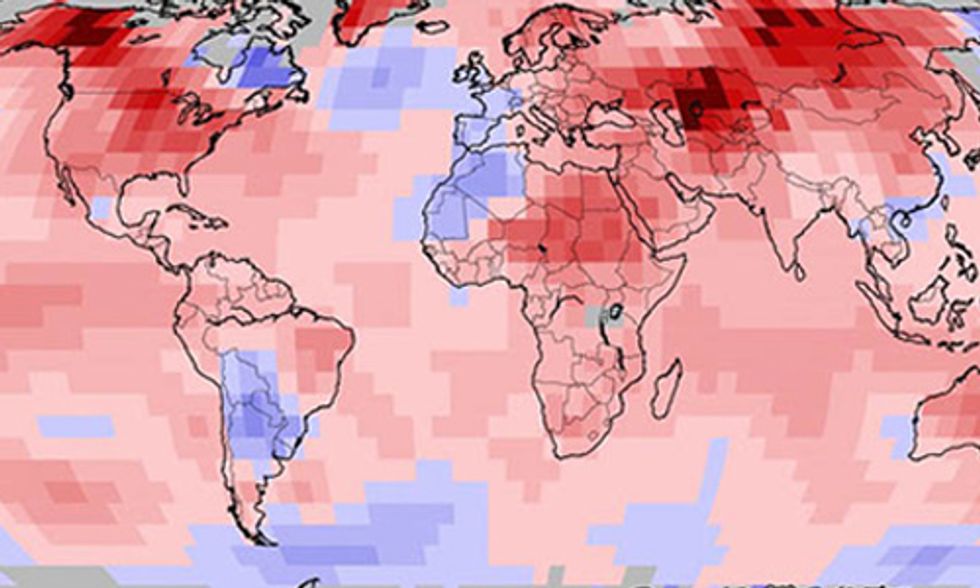 By Jeff Masters and Bob Henson
March 2016 was by far the planet's warmest March since record keeping began in 1880 and was also the warmest month relative to average of any month in the historical record, said the NOAA's National Centers for Environmental Information on Tuesday.
In the NOAA database, March 2016 came in a full 1.22 C (2.20 F) warmer than the 20th-century average for March of 12.7 C (54.9 F), as well as 0.32 C (0.58 F) above the previous record for March, set in 2010. This is a huge margin for breaking a monthly global temperature record, as they are typically broken by just a few hundredths of a degree. The margin was just a shade larger than NOAA's previous record for any month of 1.21 C (2.18 F) above average, set in February 2016. NASA also reported the warmest March in its database, with the departure from average in its analysis slightly less than that for February (1.28 C vs. 1.34 C).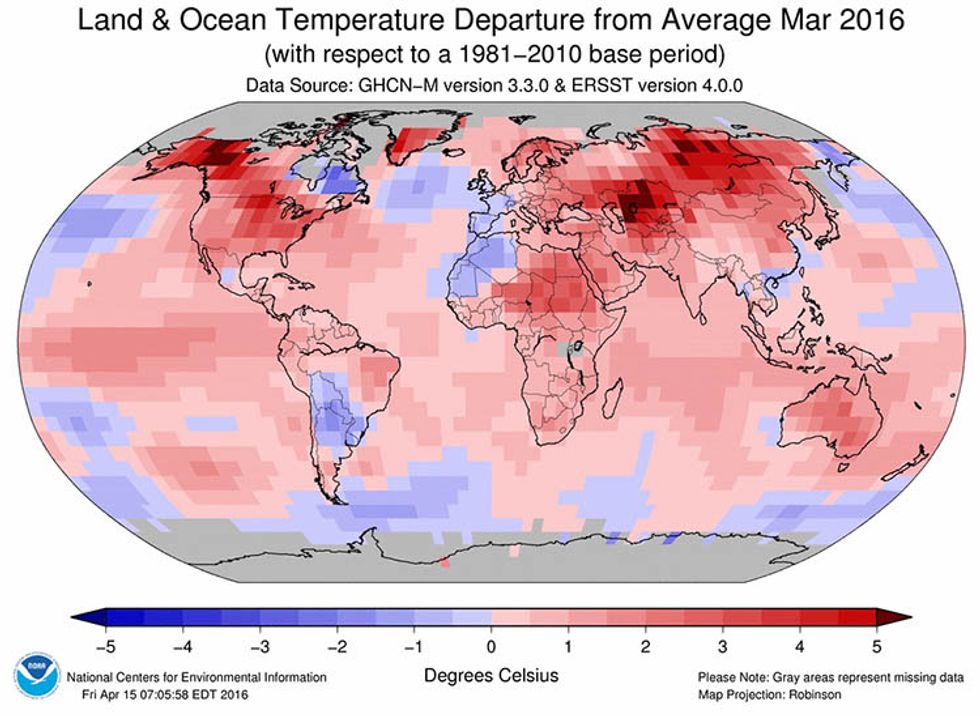 Figure 1.
Departure of temperature from average for March 2016, the warmest March for the globe since record keeping began in 1880. Record warmth was observed over most land areas on Earth, with especially warm readings over much of Siberia, central Asia, northern Africa, the eastern U.S., western Canada and Alaska. Photo credit: National Centers for Environmental Information
The past six months [as measured by departure from average in both the NOAA and NASA databases] all set records for their respective months as the warmest since 1880. The impressive global warmth in recent months is due to the steady build-up of heat-trapping greenhouse gases due to human activities, plus a spike due to a large amount of heat being released from waters in the Eastern Pacific due to the powerful 2015-16 El Niño event. This event peaked in December, but the warmest atmospheric readings (relative to average) usually lag the peak oceanic temperatures by a few months.
NOAA's global surface temperature for the year so far (January-March 2016) is an astounding 0.29 C (0.52 F) warmer than the previous record, set in 2015 (see Figure 2).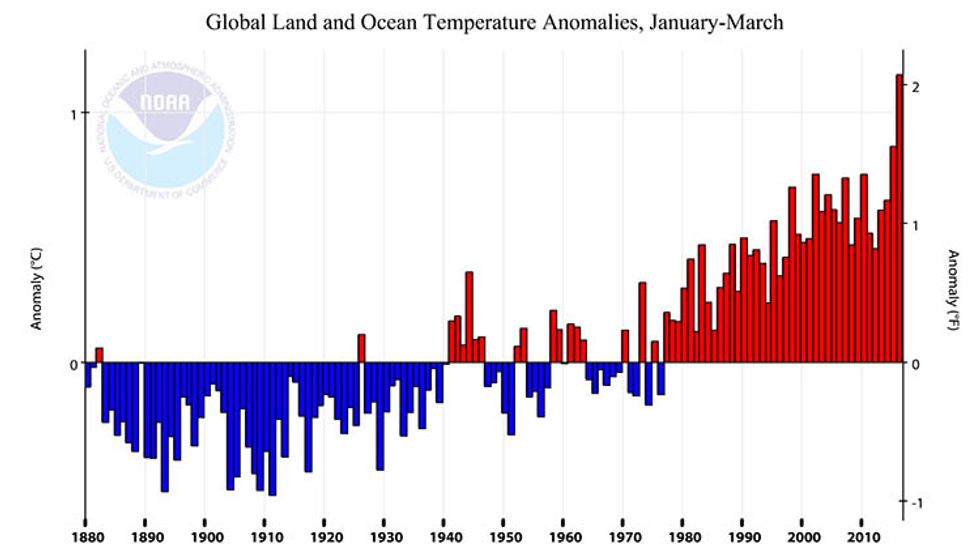 Figure 2.
Departure from average for the global January-through-March temperature for the years 1880 - 2016. This year has seen by far the warmest temperatures on record for each of the three months. Photo credit: NOAA / National Centers for Environmental Information
March 2016 also marked the eleventh consecutive month that the monthly temperature record was been broken and the sixteenth consecutive month (since December 2014) that the monthly global temperature ranked among the three warmest for its respective month in the NOAA database. Both global ocean and global land temperatures were the warmest on record for any March. Global satellite-measured temperatures in March 2016 for the lowest 8 km of the atmosphere were the warmest for any March in the 38-year record and the third-largest warm departure from average any month, according to the University of Alabama Huntsville. This is the sixth consecutive month the University of Alabama Huntsville database has registered a record monthly high.
El Niño Weakens to Moderate Strength
Strong El Niño conditions were observed during March in the equatorial Eastern Pacific, but El Niño is weakening quickly. The event peaked in strength in late November 2015, when the weekly sea surface temperatures (SSTs) in the so-called Niño 3.4 region (5 S - 5 N, 120 W - 170 W) peaked at a record 3.1 C above normal. By the week of April 6, the Niño 3.4 SST anomaly had fallen to 1.3 C above average—just below the 1.5 C threshold between "strong" and "moderate"—and it remained at that level on April 13. Temperatures averaged through the upper 300 meters (1,000 feet) of the tropical Pacific have already fallen below the seasonal norm and NOAA expects a transition to neutral conditions during late Northern Hemisphere spring or early summer 2016, with a 65 percent chance of a transition to La Niña conditions by the August-September-October peak of the Atlantic hurricane season.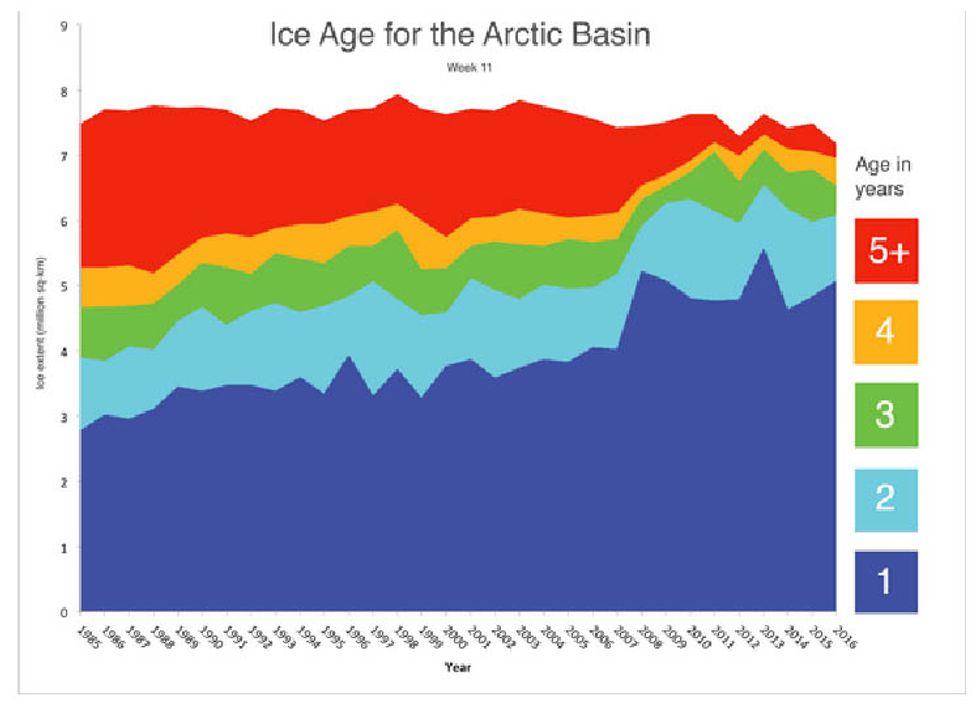 Figure 3.
Arctic sea ice age for the week of March 4 - 10 from 1985 to 2016. The oldest ice—at least 5 years or older--is at its smallest level in the satellite record, representing only 3 percent of the total ice cover. Photo credit: NSIDC, courtesy University of Colorado Boulder, M. Tschudi, C. Fowler, J. Maslanik, R. Stewart, W. Meier
Arctic Sea Ice Falls to 2nd Lowest March Extent on Record
Arctic sea ice extent during March 2016 was the second lowest in the 38-year satellite record, just above the record low set in March 2015, according to the National Snow and Ice Data Center. Arctic sea ice reached its annual maximum extent on March 24 and set a new record for the lowest maximum extent in the satellite record. The previous record was set just last year. However, there is little correlation between the maximum winter extent and the minimum summer extent observed in September. The key to getting a low summer ice extent is to get an earlier-than-average start to surface melting. This allows the snow to darken and expose the ice below earlier, which in turn increases the amount of solar heat absorbed, allowing more ice to melt.
Three Billion-Dollar Weather Disasters From Late February Through March 2016
According to the March 2016 Catastrophe Report from insurance broker Aon Benfield, two billion-dollar weather-related disasters hit the planet in March and a third disaster from late February accumulated enough damage claims to be rated a billion-dollar disaster by the end of March. All of these disasters were severe weather outbreaks in the U.S. So far in 2016, there have been seven billion-dollar weather disasters. This is well ahead of pace of five such disasters in January-March 2013—the year with the most billion-dollar weather disasters on record, with 41. Last year had only two billion-dollar weather disasters through March. Here is the tally of billion-dollar weather disasters so far in 2016:
1. Drought, Vietnam: 1/1 - 3/1, $6.7 billion, 0 killed
2. Winter Weather, Eastern U.S.: 1/21 - 1/24, $2.0 billion, 58 killed
3. Winter Weather, East Asia: 1/20 - 1/26, $2.0 billion, 116 killed
4. Drought, Zimbabwe: 1/1 - 3/1, $1.6 billion, 0 killed
5. Severe Weather, Plains-Midwest-Southeast-Northeast U.S.: 3/4 - 3/12, $1.25 billion, 6 killed
6. Severe Weather, Plains-Midwest-Southeast-Northeast U.S.: 2/22 - 2/25, $1.2 billion, 10 killed
7. Severe Weather, U.S.: 3/17 - 3/18, $1.0 billion, 0 killed
And here are the three disasters from late February through the end of March 2016: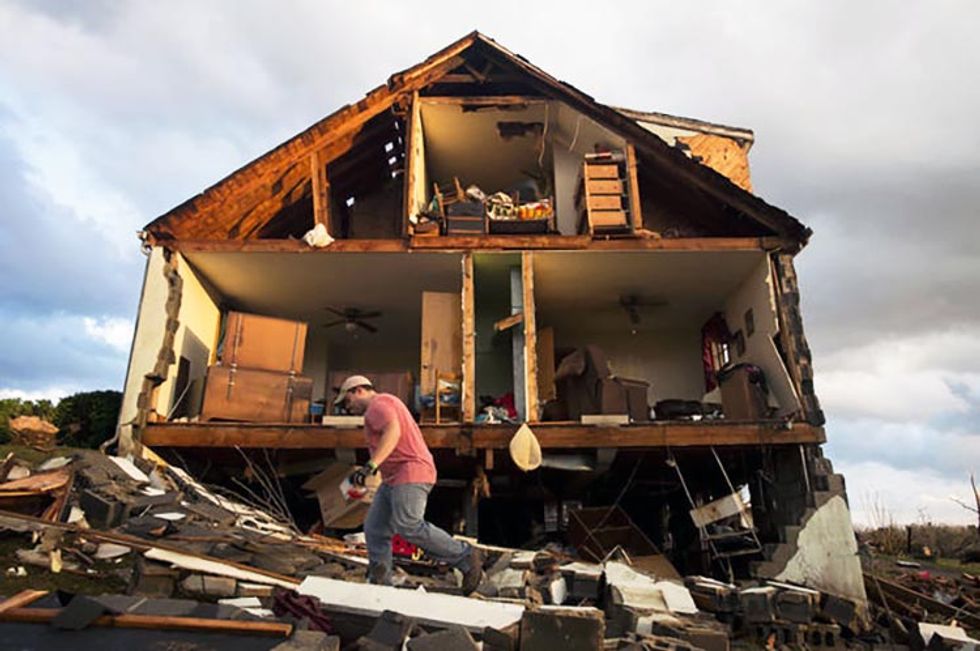 Disaster 1.
A powerful spring-like winter storm brought severe thunderstorms and heavy snowfall across much of the Central and Eastern U.S. from February 22 - 25, killing ten and injuring dozens more. The National Weather Service confirmed 59 tornado touchdowns, including four rated EF3. Total damage was estimated at $1.2 billion. Photo credit: Jill Nance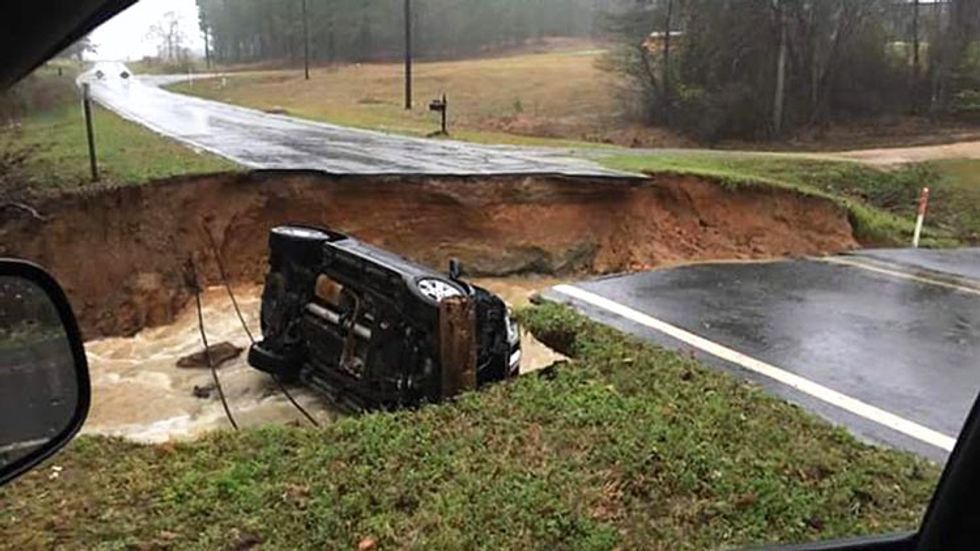 Disaster 2.
A record-strength upper-level low pressure system that stalled out over Northern Mexico and Southern Texas brought widespread severe weather and at least $1.25 billion in damage to the U.S. from March 4 - 12. In this photo, we see flood damage in Haughton, Louisiana, on March 9, 2016, after rainfall in excess of 20" in a four-day period hit the Shreveport area, bringing historic flooding. Photo credit: Michael Dean Newman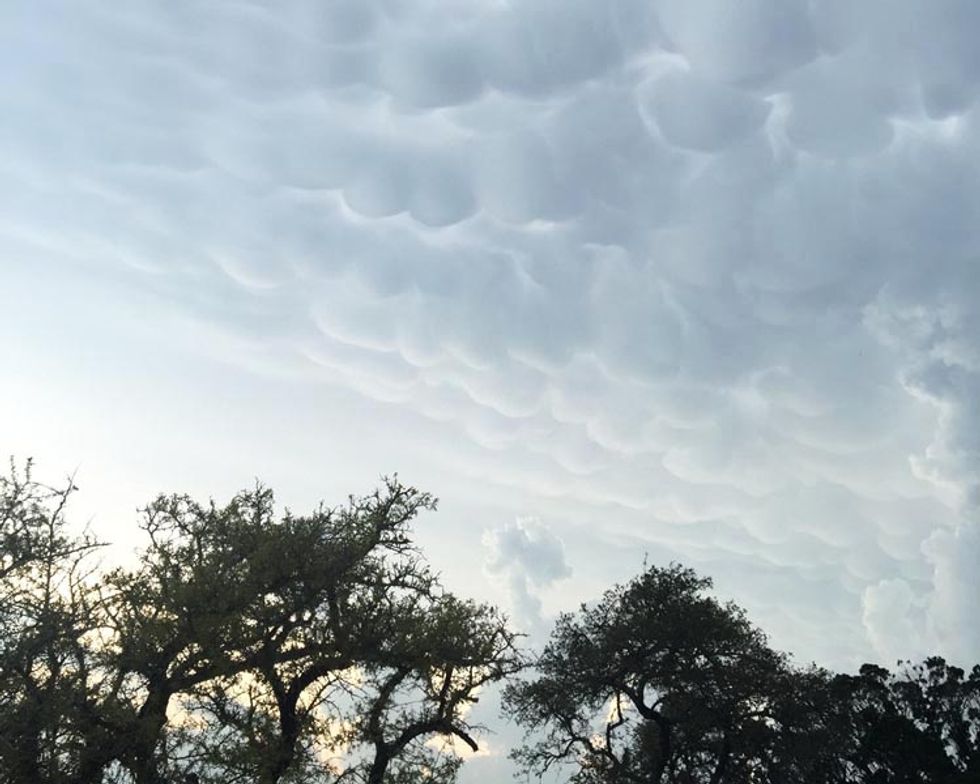 Disaster 3.
A stationary front draped over Texas and the Gulf Coast on March 17-18 triggered widespread severe weather. Large hail and damaging winds hit Texas, Mississippi, Arkansas, Louisiana and Florida. The greatest damage occurred in Dallas-Fort Worth, where tennis ball-sized hail pummeled southern Tarrant County. Parts of southern Mississippi recorded baseball-sized hail. Total economic losses were expected to be $1 billion. In this photo, we see menacing mammatus clouds over Boerne Stage Field, Texas, on March 18. Photo credit: Wunderphotographer agrant414
Notable Global Heat and Cold Marks Set for March 2016
Hottest temperature in the Northern Hemisphere: 45.0 C (113.0 F) at Bokoro, Chad, March 1
Coldest temperature in the Northern Hemisphere: -54.0 C (-65.2 F) at Tsetsen Uul, Mongolia, March 8
Hottest temperature in the Southern Hemisphere: 47.0 C (116.6 F) at Mardie, Australia, March 3
Coldest temperature in the Southern Hemisphere: -72.8 C (-99.0 F) at Pole of Inaccessibility, Antarctica, March 27
(Courtesy of Maximiliano Herrera).
Major Weather Stations That Set (Not Tied) New All-Time Heat or Cold Records in March 2016
Ilorin (Nigeria) max. 40.2 C (104.4 F), March 2
Tabligbo (Togo) max. 41.0 C [105.8 F), March 2
Caracarai (Brazil) max. 39.6 C [103.3 F], March 4
Kannur (India) max. 39.0 C, March 8, revised to 39.1 C [102.4 F] on March 11
La Macarena (Colombia) max. 39.4 C [102.3 F], March 10
Cumaral (Colombia) max. 38.0 C [100.4 F], March 10
Kozhikode (India) max. 38.1 C, March 11, revised to 38.6 C [101.5 F] on March 13
Pointe Canon (Rodrigues Island, Mauritius) max. 34.1 C [93.4 F], March 18
Attapeu (Laos) max. 41.5 C [106.7 F], March 19
Dawei (Myanmar) max. 39.0 C [102.2 F], March 20
Puerto Paez (Colombia) max. 40.4 C [104.7 F], March 20
El Guamo (Colombia) max. 41.4 C [106.5 F], March 23
Magangue (Colombia) max. 40.2 C [104.4 F], March 23
Ahmednagar (India) max. 44.4 C [111.9 F], March 23
Batu Embun (Malaysia) max. 38.5 C [101.3 F], March 25
Hanimadhoo (Maldives) max. 34.5 C [94.1 F], March 30
(Courtesy of Maximiliano Herrera).
Four All-Time National Heat Records and One All-Time Cold Record Set in March 2016
From January through March 2016, four nations or territories tied or set all-time records for their hottest temperature in recorded history and one (Hong Kong) has set an all-time cold temperature record. "All-time" record here refers to the warmest or coldest temperature ever reliably reported in a nation or territory. The period of record varies from country to country and station to station, but it is typically a few decades to a century or more. Most nations do not maintain official databases of extreme temperature records, so the national temperature records reported here are in many cases not official. Our data source is international weather records researcher Maximiliano Herrera, one of the world's top climatologists, who maintains a comprehensive list of extreme temperature records for every nation in the world on his website. If you reproduce this list of extremes, please cite Maximiliano Herrera as the primary source of the weather records. Here are 2016's all-time heat and cold records so far:
Botswana set its all-time hottest record on Jan. 7, when the mercury hit 43.8 C (110.8 F) at Maun. The old record was set just the previous day (January 6) with 43.5 C (110.3 F) at Tsabong. The record heat in Botswana during the first week of January was part of a remarkable heat wave that affected much of southern Africa, causing at least $250 million in drought-related damages to South Africa in the month. Mr. Herrera noted in an email to me that temperatures in South Africa at elevations between 1,000 and 1,600 meters were higher than any previous temperatures ever recorded at those altitudes anywhere in the world. The national heat records of Lesotho, Mozambique, Namibia and Swaziland might all have fallen were it not for the lack of observing stations in the hottest areas. Lesotho has no weather stations anymore that issue the standard "synoptic" weather observations every six hours; Mozambique and Swaziland have closed all their stations in the hottest areas; and Namibia just closed its Noordower station, which was its hottest station.
Wallis and Futuna Territory (France) set a new territorial heat record with 35.8 C (96.4 F) on January 10 at Futuna Airport. This is the second year in a row that Wallis and Futuna has beaten its all-time heat mark; the previous record was a 35.5 C (95.9 F) reading on January 19, 2015 at the Futuna Airport.
Tonga set its all-time hottest record on February 1, when the mercury hit 35.5 C (95.9 F) at Niuafoou.
Vanuatu in the South Pacific set its all-time national heat record on February 8, when the mercury hit 36.2 C (97.2 F) at Lamap Malekula. The previous record was a 35.7 C (96.3 F) reading just the previous day (February 7) at the Bauerfield Efate Airport. All seven major weather reporting stations in Vanuatu beat or tied their all-time heat records February 7 - 8.
Hong Kong Territory (China) set its all-time coldest mark on January 24, when the mercury dipped to -5.7 C (21.7 F) at Tai Mo Shan.
April is Off to a Sizzling Start
Widespread, intense heat has afflicted a huge swath of the tropics during the first half of April, from Central Africa to the Philippines. The heat wave across Southeast Asia has been particularly extreme—the worst there since at least 1960—with all-time records set at a number of locations. Weather Underground weather historian Chris Burt takes a closer look at the extraordinary heat of April, including two new all-time national records, in his Tuesday blog post.
YOU MIGHT ALSO LIKE
Historic Rainfall Slams Houston
March 2016 Was Hottest on Record by Greatest Margin Yet Seen for Any Month
Consensus on Consensus: 97% of the World's Climate Scientists Say Humans Are Causing Climate Change
Greenland's Ice Melt Breaks Record, Starting Nearly Two Months Early
EcoWatch Daily Newsletter