This website uses cookies to ensure you get the best experience while browsing it. By clicking 'Got It' you're accepting these terms.
NOAA: July Was Hottest Month Ever Worldwide
Aug. 20, 2015 01:14PM EST
Climate
July was a scorcher, globally speaking. Last month was the warmest on record worldwide with many countries and the world's oceans experiencing intense heat waves, the U.S. National Oceanic and Atmospheric Administration said today in a report.
Yikes! Early data from @NASA show that last month was Earth's hottest on record http://t.co/9PhoHFBTjv via @mashable pic.twitter.com/GD7TVmG7gf

— Greenpeace USA (@greenpeaceusa) August 20, 2015
The report found that "the July average temperature across global land and ocean surfaces was 1.46°F above the 20th century average." And since July is "climatologically the warmest month for the year, this was also the all-time highest monthly temperature in the 1880–2015 record, at 61.86°F, surpassing the previous record set in 1998 by 0.14°F." It comes as no surprise that Arctic sea ice hasn't fared well with all this warmth. The average Arctic sea ice extent was the eighth smallest since records began in 1979.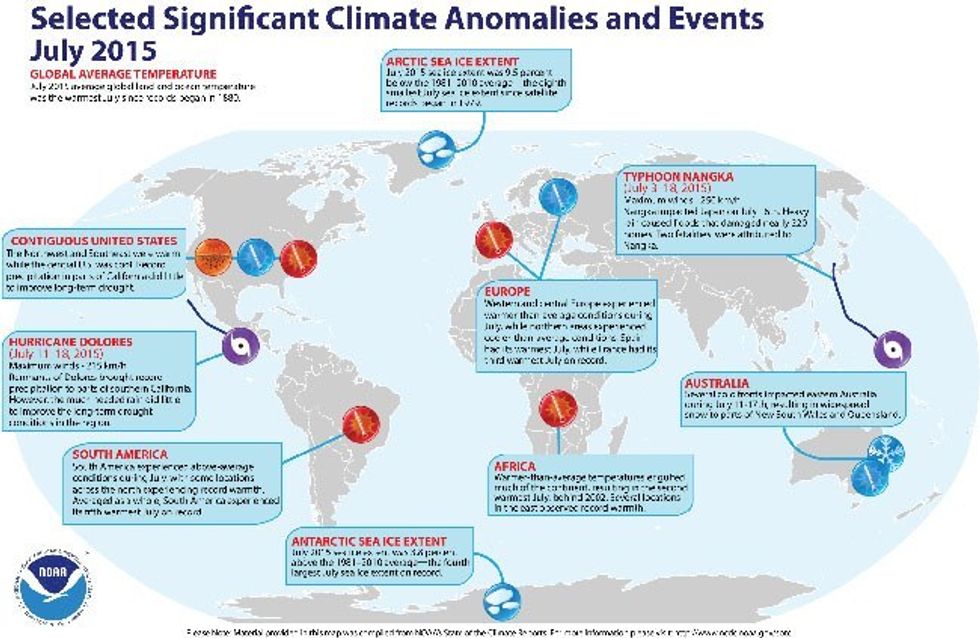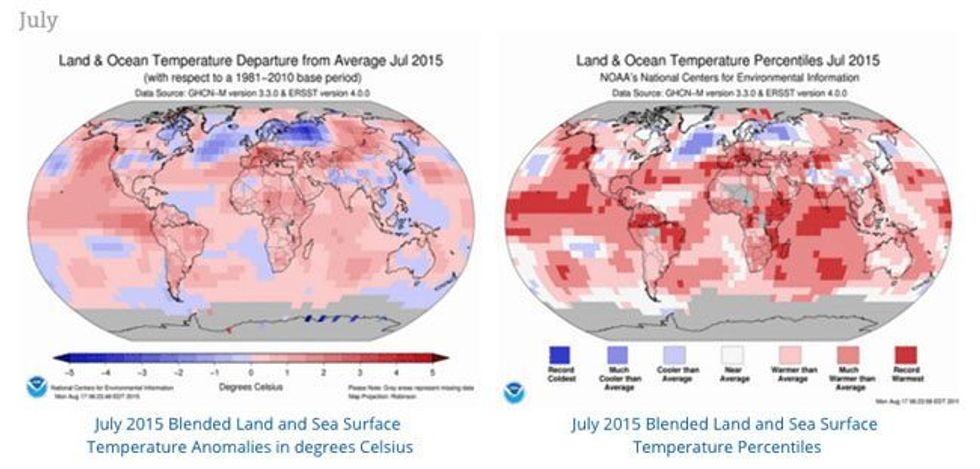 The report also found that it's been the warmest January to July period on record, all but ensuring that 2015 will be the hottest year on record. "I would say [we're] 99 percent certain that it's going to be the warmest year on record," Jessica Blunden, a climate scientist with ERT, Inc., at the National Oceanic and Atmospheric Administration, said during a press teleconference on Thursday.
Evidence of this record heat is everywhere you look. Thirteen of the last 15 years have been the warmest years on record. According to a Climate Central analysis, "the odds of that happening randomly without the boost of global warming was 1 in 27 million." At EcoWatch we have covered extensively the heat waves hitting the globe in recent months. India and Pakistan both had heat waves that killed thousands of people and even melted the roads. Extreme weather has scorched the Middle East, Asia, Europe and the U.S. Earlier this month, the heat index in Iran hit 164°F, among the hottest temperatures ever endured by mankind.
Allen Eagles Football practice scorching hot🔥@nikefootball @_anthonytaylor_ worked so hard he melted his shoe pic.twitter.com/KZ5z1gZTtH — mike harrison (@EgleDoc) August 10, 2015
The Western U.S., particularly Alaska, which is warming twice as fast as other regions of the globe, has seen record warmth in the first half of the year. It was so hot in Texas last week that an athlete's shoe melted during practice. Read page 1
This record warmth accompanied by the intense drought has sparked what might be the worst wildfire season yet. The National Interagency Fire Center reported that already more than 7.1 million acres has been burned in the U.S., which is the first time in 20 years that the area charred has exceeded 7 million acres by this date. The fires out West have become so bad that interactive maps of the wildfires make it appear that the entire West is just on fire, especially Alaska where, at one point, there were at least 300 active fires burning.
Earlier this week, an astronaut took a photo of the wildfires from space:
Thoughts and prayers are with those affected by the wildfires in the Northwest. pic.twitter.com/q6yqb697bN — Kjell Lindgren (@astro_kjell) August 17, 2015
And climate change won't just bring drought, heat waves and fire, as if that wasn't bad enough. Heavy downpours, stronger storms and flooding are all on the rise due to climate change. Extreme weather will be the "new climate normal," according to the World Bank.
YOU MIGHT ALSO LIKE
One of World's Fastest Melting Glaciers May Have Lost Largest Chunk of Ice in Recorded History
The Drought in California Is So Bad the Ground Is Literally Sinking
EcoWatch Daily Newsletter
A harbour seal on an ice floe in Glacier Bay, Alaska. A new study shows that the climate crisis has warmed waters, changing ecosystems and crippling sea ice growth. Janette Hill / robertharding / Getty Images Plus
Doctors report that only 1 in 4 children are getting the recommended 60 minutes of physical activity per day. Ronnie Kaufman / DigitalVision / Getty Images
By Dan Gray
Pediatricians are being urged to start writing "exercise prescriptions" for the children they see in their office.
A First Nations protester walks in front of a train blockade in Tyendinaga, near Belleville, Ontario, Canada on Feb. 21, 2020. LARS HAGBERG / AFP via Getty Images
An indigenous rail blockade that snarled train travel in Canada for more than two weeks came to an end Monday when police moved in to clear protesters acting in solidarity with another indigenous community in British Columbia (B.C.), which is fighting to keep a natural gas pipeline off its land.
A rainbow snake, a rare reptile spotted in a Florida county for the first time in more than 50 years, seen here on July 5, 2013.
Kevin Enge / FWC Fish and Wildlife Research Institute / Flickr
A Florida hiker recently stumbled across a slithering surprise — a rare snake that hadn't been spotted in the area for more than 50 years.
We need our government to do everything it can to stop PFAS contamination and exposure from wreaking havoc in communities across the country. LuAnn Hun /
Unsplash
By Genna Reed
The EPA announced last week that it is issuing a preliminary regulatory determination for public comment to set an enforceable drinking water standard to two of the most common and well-studied PFAS, PFOA and PFOS.
This decision is based on three criteria:
PFOA and PFOS have an adverse effect on public health
PFOA and PFOS occur in drinking water often enough and at levels of public health concern;
regulation of PFOA and PFOS is a meaningful opportunity for reducing the health risk to those served by public water systems.