This website uses cookies to ensure you get the best experience while browsing it. By clicking 'Got It' you're accepting these terms.
No Voices for Small Island Threatened By Climate Change
Mar. 13, 2012 09:00AM EST
Climate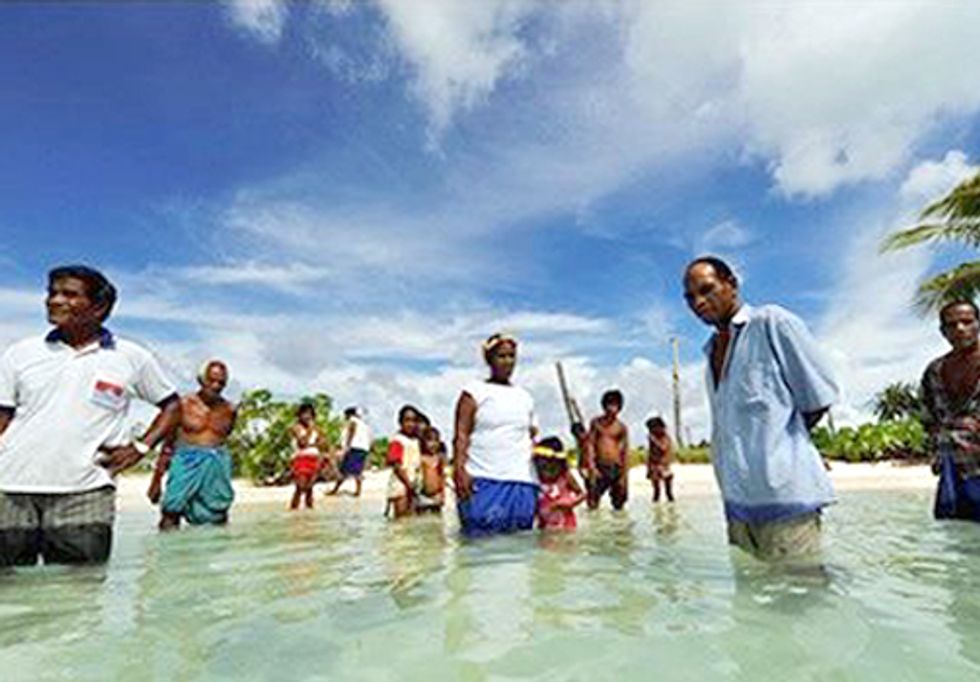 By Shauna Theel
On March 9, the president of low-lying Pacific island nation Kiribati (pronounced KEER-ih-bhass) told The Associated Press about a plan to buy land from Fiji as an "insurance policy" against the effects of climate change. The land purchase would be large enough for the whole population of Kiribati to move should their country become uninhabitable. Not a single major newspaper or television news outlet has covered the story.
The more than 100,000 I-Kiribati (Kiribati residents) face rising sea levels, reduced access to safe water, and changing weather patterns in part due to climate change. The village of Tebunginako, which is now all but abandoned, is a powerful symbol of this threat.
Yet none of the major print newspapers (The New York Times, The Wall Street Journal, The Washington Post, USA Today, and The Los Angeles Times), the broadcast networks (ABC, CBS, NBC), or the cable networks (CNN, Fox News, MSNBC) have covered the Kiribati's plight since Friday, according to a search of Nexis and Snapstream transcripts. (The Post and USA Today ran the AP report on their websites, but not in print.)
The Intergovernmental Panel on Climate Change (IPCC) states with "very high confidence" that climate change would likely "seriously compromise" freshwater resources, particularly for islands like Kiribati, where less than half of the population has access to safe water. A United Nations (UN) report found that if sea-levels were to rise two meters, as some recent estimates have projected, Kiribati would "become uninhabitable" by 2100, and an article in The Geographical Journal said "Climate change analysts predict that within the coming decades, atoll nations" like Kiribati "will almost certainly revert to sandbars and then to nothing." Even under the average sea-level rise projection from the 2007 IPCC report, Kiribati would "lose significant proportions" of its land, according to an article published in Ecological and Environmental Anthropology.
And while the mainstream media remains largely silent, Fox News has actively mocked the existential threat that faces the I-Kiribati and others.
For more information, click here.
EcoWatch Daily Newsletter
California Gov. Gavin Newsom speaking with attendees at the 2019 California Democratic Party State Convention at the George R. Moscone Convention Center in San Francisco.
Gage Skidmore
/ Flickr /
CC BY-SA 2.0
California Gov. Gavin Newsom imposed new restrictions on oil exploration in his state yesterday by putting a moratorium on hundreds hydraulic fracturing permits until the projects are reviewed by independent scientists, as the AP reported.
The endangered Houston toad. Courtesy of U.S. Fish and Wildlife Service
While the planet continues to heat up, almost every single one of the 459 species listed as endangered in the U.S. will struggle as the climate crisis intensifies, according to new research published in the journal Nature Climate Change.
"This singular scientific achievement was accomplished at Heliogen's commercial facility in Lancaster, California."
Heliogen
A startup backed by Bill Gates unveiled a breakthrough solar technology Tuesday that could free heavy industry from fossil fuels.
Rhodiola rosea is an adaptogenic herb that can help with chronic fatigue and stress-related burnout. Tero Laakso / Flickr
By Gavin Van De Walle, MS, RD
While everyone has specific life stressors, factors related to job pressure, money, health, and relationships tend to be the most common.
Stress can be acute or chronic and lead to fatigue, headaches, upset stomach, nervousness, and irritability or anger.
A video shows a woman rescuing a koala from Australia's wildfires.
VOA News / YouTube screenshot
More than 350 koalas may have died in the wildfires raging near the Australian town of Port Macquarie in New South Wales, but one got a chance at survival after a woman risked her life to carry him to safety.