This website uses cookies to ensure you get the best experience while browsing it. By clicking 'Got It' you're accepting these terms.
No Surprise—U.S. Chamber of Commerce Pushes Keystone XL Scam
Jan. 13, 2012 12:22PM EST
Climate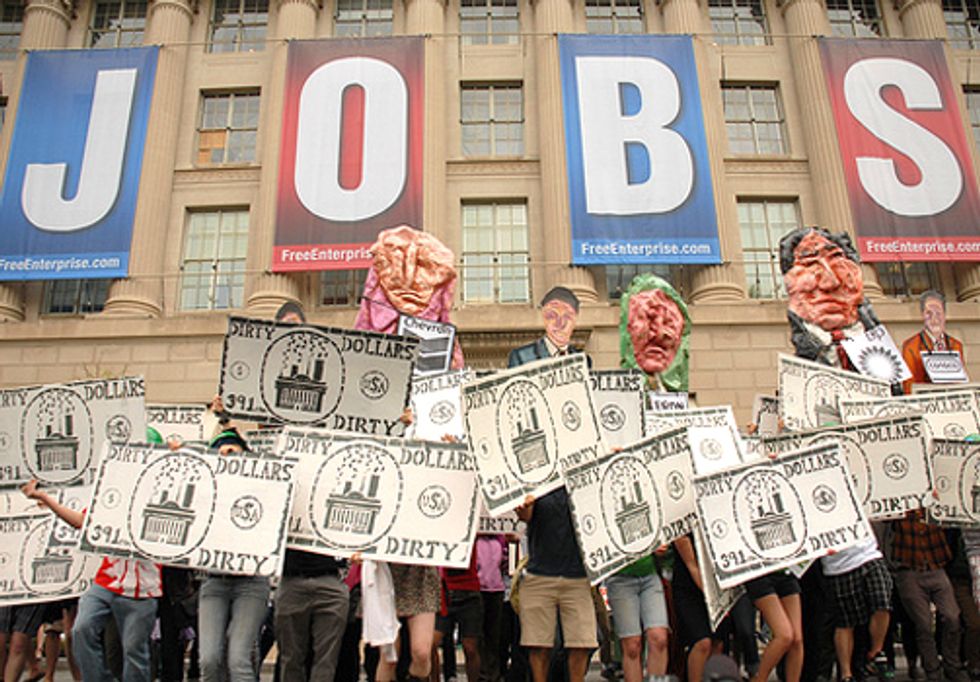 by Jamie Henn
In news that will surprise just about no one, U.S. Chamber of Commerce President Tom Donahue hosted a press conference Jan. 12 where he offered full-throated support for the Keystone XL pipeline, that 1,700 mile Big Oil scam that would take tar sands oil from Canada down to the Gulf Coast of Mexico. Over the last few weeks, Keystone XL has become a major political fight as Congress and Big Oil (now there are two popular institutions) have tried to slam the project down the American people's throats, despite the fact that President Obama already delayed the project for at least a year over environmental and safety concerns.
"There is no legitimate reason, none at all, to subject it to further delay," Donohue said in his annual address on the state of business and the economy. "Real leaders understand that Americans can have big differences in philosophy but still find common ground. They wouldn't tell us that solutions have to wait until after the election."
No, Tom, real leaders stand up to Big Oil and protect the American people from scams like Keystone XL, a fuse to the "largest carbon bomb in North America," the Canadian tar sands. But it's no surprise, I guess, that the U.S. Chamber of Commerce isn't concerned about the climate or the interests of everyday Americans.
As Bill McKibben wrote Jan. 12:
"The U.S. Chamber of Commerce, two years ago, filed a legal brief arguing that if the planet warmed, humans could alter their physiology to cope with the heat. So I guess there's no reason for them to worry about the climate impacts of opening up the second-biggest pool of carbon on the planet. For those of us who plan to keep our current anatomy, however, their assault on basic environmental review is one more sign they're nothing but a front for the fossil fuel lobby."
It's no real surprise that the U.S. Chamber of Commerce is pushing Keystone XL, but it does help clarify what we've been saying all along—this pipeline is a scam and the only reason politicians are pushing it is because they're on the payroll of Big Oil and front groups like the U.S. Chamber of Commerce.
For more information, click here.
EcoWatch Daily Newsletter
Pro-environment demonstrators on the streets of Washington, DC during the Jan. 20, 2017 Trump inauguration.
Mobilus In Mobili
/ Flickr /
CC BY-SA 2.0
By Dr. Brian R. Shmaefsky
One year after the Flint Water Crisis I was invited to participate in a water rights session at a conference hosted by the US Human Rights Network in Austin, Texas in 2015. The reason I was at the conference was to promote efforts by the American Association for the Advancement of Science (AAAS) to encourage scientists to shine a light on how science intersects with human rights, in the U.S. as well as in the context of international development. My plan was to sit at an information booth and share my stories about water quality projects I spearheaded in communities in Bangladesh, Colombia, and the Philippines. I did not expect to be thrown into conversations that made me reexamine how scientists use their knowledge as a public good.
Mt. Rainier and Reflection Lake on Sept. 10, 2015. Crystal Geyser planned to open a bottling plant near Mt. Rainier, emails show.
louelke - on and off / Flickr
Bottled water manufacturers looking to capture cool, mountain water from Washington's Cascade Mountains may have to look elsewhere after the state senate passed a bill banning new water permits, as The Guardian reported.
Large storage tank of Ammonia at a fertilizer plant in Cubatão, Sao Paulo State, Brazil. Luis Veiga / The Image Bank / Getty Images
The shipping industry is coming to grips with its egregious carbon footprint, as it has an outsized contribution to greenhouse gas emissions and to the dumping of chemicals into open seas. Already, the global shipping industry contributes about 2 percent of global carbon emissions, about the same as Germany, as the BBC reported.
At high tide, people are forced off parts of the pathway surrounding DC's Tidal Basin. Andrew Bossi /
Wikimedia
The Jefferson Memorial in Washington, DC overlooks the Tidal Basin, a man-made body of water surrounded by cherry trees. Visitors can stroll along the water's edge, gazing up at the stately monument.
But at high tide, people are forced off parts of the path. Twice a day, the Tidal Basin floods and water spills onto the walkway.
Lioness displays teeth during light rainstorm in Kruger National Park, South Africa. johan63 / iStock / Getty Images
Ahead of government negotiations scheduled for next week on a global plan to address the biodiversity crisis, 23 former foreign ministers from various countries released a statement on Tuesday urging world leaders to act "boldly" to protect nature.