This website uses cookies to ensure you get the best experience while browsing it. By clicking 'Got It' you're accepting these terms.
No, SeaWorld Is Not Phasing Out Orca Shows
Nov. 10, 2015 10:29AM EST
Yesterday's headlines proclaiming that SeaWorld will be ending orca whale shows were almost as misleading as the alleged "educational value" of the shows themselves.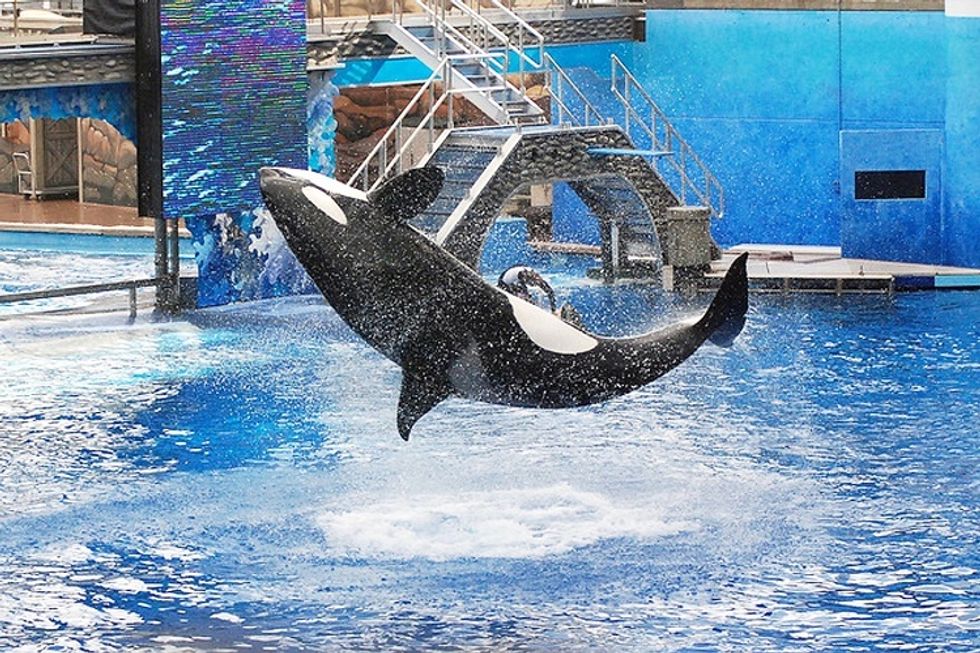 SeaWorld is not phasing out orca shows, just calling these shows by a different name. Photo credit: Josh Hallett
On Monday, SeaWorld announced that it will "phase out" the San Diego park's theatrical killer whale show in 2016 and unveil a "new orca experience" in 2017. According to the announcement, which was made in a presentation to investors, the new experience will be "informative." SeaWorld also says the new shows will be take place in a "more natural setting" and that they will carry a "conservation message inspiring people to act."
This announcement was quickly picked up by media outlets around country, generating headlines that SeaWorld was "ending" or "getting rid of" its killer whale show.
Unfortunately, many of Monday's headlines exaggerated the announcement. SeaWorld's infamous orca shows are being reworked, rather than eliminated, at the San Diego, California park. (The announcement does not pertain to SeaWorld's other parks.) The announcement does not mean that SeaWorld will end orca exploitation or that it will release orcas to marine sanctuaries, the preferred course of action among many advocates.
The lack of meaningful change left many advocates frustrated. "SeaWorld fully intends to continue forced breeding of orcas in captivity," says David Phillips, director of the International Marine Mammal Project (IMMP), an Earth Island Institute project that works to protect dolphins and whales. "They will continue to keep orcas in concrete tanks with no intention of retirement or release. They intend to continue to import and export orcas to other captive facilities as they see fit."
Responding to the announcement in a press release, People for the Ethical Treatment of Animals said: "This move is like no longer whipping lions in a circus act but keeping them locked inside cages for life."
SeaWorld has faced mounting public pressure in recent years. The 2013 release of Blackfish, a popular documentary criticizing SeaWorld's treatment of orcas, sparked public outrage and company profits have taken a hit. The marine mammal giant has also faced several lawsuits this year, including one by Earth Island's IMMP, arguing that SeaWorld has misled the public about the health and wellbeing of captive orcas.
In October, the California Coastal Commission voted to ban SeaWorld San Diego from breeding orcas in captivity and to restrict transfer of whales. (SeaWorld has said it will sue the commission over these restrictions.) And just last week, California Representative Adam Schiff announced that he will introduce a bill in Congress to phase out orca captivity throughout the U.S. If passed, the bill would ban breeding, import and export and wild capture of orcas.
Given the timing of SeaWorld's announcement, many animal welfare advocates believe it is simply a public relations response to negative publicity and amounts to nothing more than greenwashing. Referencing the October Coastal Commission vote on orca breeding and transfers, former Coastal Commission chairwoman Sara Wan notes that "[SeaWorld] is still proceeding with their litigation against the commission and with their captive breeding program as well, proving that this is all a PR stunt for their investors."
On Monday SeaWorld CEO Joel Manby acknowledged the benefits that a more positive public image would bring. "People love companies that have a purpose, even for-profit companies," he told SeaWorld investors in a webcast. "Just look at Whole Foods … I don't see any reason why SeaWorld can't be one of those brands."
Manby also assured investors that any capital expenditures to spruce up orca tanks at SeaWorld San Diego will be "minimal," leaving advocates to wonder how exactly the "theatrical" shows will be transformed into a more "natural" and "educational" experience.
What Manby doesn't seem to understand is that the public is not only upset with the tricks the orcas are forced to perform for large crowds or the appearance of their tanks—it is the very fact of their captivity and the suffering it causes. SeaWorld is not phasing out orca shows, it is simply calling these shows by a different name, a semantic difference that makes no difference to the orcas still living in captivity.
To take action, sign IMMP's petition demanding that SeaWorld begin telling the truth about orca captivity.
YOU MIGHT ALSO LIKE
SeaWorld to End Killer Whale Shows in Wake of Mounting Protests
EcoWatch Daily Newsletter
Coca-Cola says it will not phase out its plastic bottles. Roberto Machado Noa / LightRocket / Getty Images
Myakka River State Park outside of Sarasota, Florida on Dec. 30, 2016. The park is a small preserve of rare protected habitat along Florida's Gulf Coast, a region that has seen intense development and population growth. Andrew Lichtenstein / Corbis via Getty Images
Today, the Trump administration will finalize its replacement for the Obama-era Waters of the United States (WOTUS) rule in a move that will strip protections from more than half of the nation's wetlands and allow landowners to dump pesticides into waterways, or build over wetlands, for the first time in decades.
"It would be great to see all the candidates join Elizabeth Warren in taking the No Big Ag Money Pledge," said Citizens Regeneration Lobby's Alexis Baden-Mayer.
Peter Blanchard
/ Flickr / ric (CC BY 2.0)
Food system justice and environmental advocates on Wednesday urged all Democratic presidential hopefuls to follow in the footsteps of Sen. Elizabeth Warren in signing a pledge rejecting campaign cash from food and agribusiness corporations.
A new study shows the impact Native Americans had on landscapes was "small" compared to what followed by Europeans. The findings provide important takeaway for
conservation
in New England today, seen above in a view of areas surrounding Rangeley Lakes in Maine. Cappi Thompson / Moment / Getty Images
There's a theory going around that Native Americans actively managed the land the lived on, using controlled burns to clear forests. It turns out that theory is wrong. New research shows that Native Americans barely altered the landscape at all. It was the Europeans who did that, as ZME Science reported.