No Fracking in State Parks, Ohio House Democrats and Republicans Surprisingly Agree
Mar. 19, 2015 10:18AM EST
Energy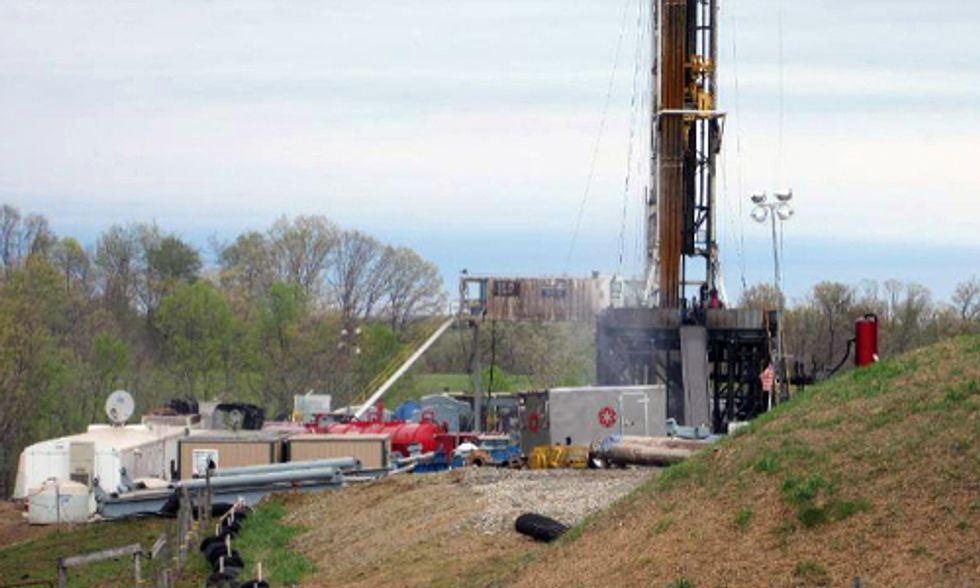 In a surprising move for a polarized Ohio legislature controlled by far-right Republicans cozy with fossil fuel interests, its House Energy and Natural Resources committee voted 12-0 Tuesday to ban fracking in state parks. The full bill, which aims to speed up the drilling permitting process, was then passed unanimously on the House floor Wednesday. It now heads to the Senate.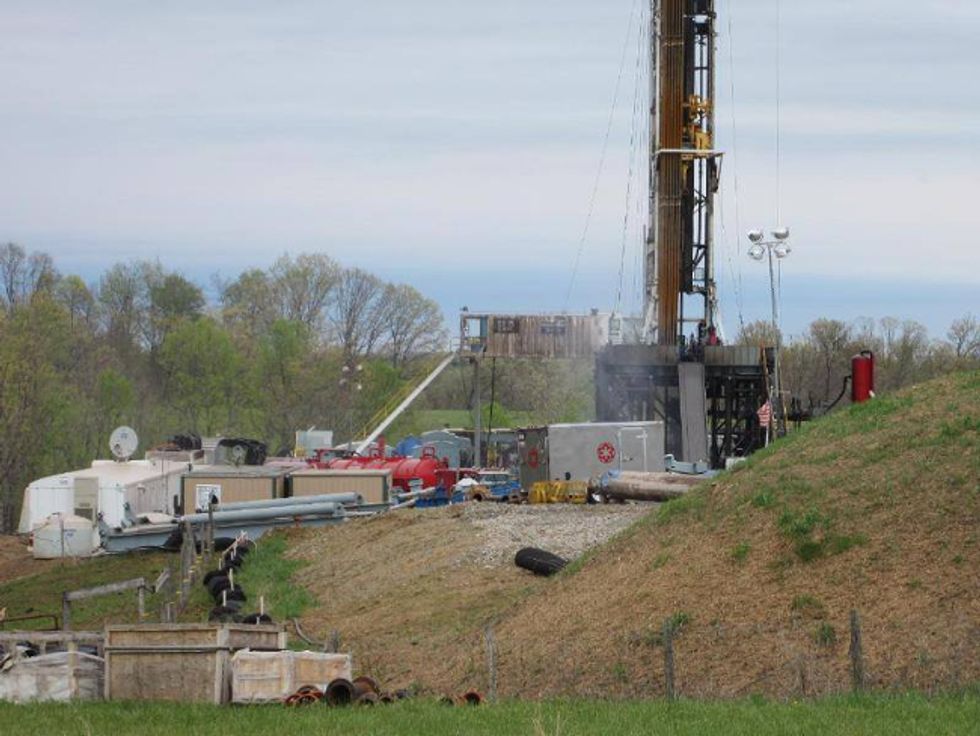 It comes following a series of maneuvers in the last several years that have left both fracking operators and anti-fracking activists unsure where they stood. Just last week, House Republicans had opposed such a ban. But when an amendment was proposed by House Democrat Sean O'Brien just before the committee convened Tuesday, it took a 15-minute recess so Republicans could confer privately. When they returned, they had agreed to support the amendment, which also protects the surface of state forests from being disrupted by fracking although it could still take place underground.
"Despite its best efforts, industry was stonewalled from snorkeling through state parks," said Trent Dougherty of the Ohio Environmental Council. "OEC testified against the bill in late February, citing, among other concerns, the bill's overreaching impact to state protected forests and parks. Tuesday's amendment addressed some of our major concerns. We would have desired no bill approving unitization on public lands, and on the other side, industry wanted to force ODNR to allow drilling units to include all public owned lands in the state—no questions asked. In the end, the bill was a compromise where industry can force ODNR to move at the speed of business, just not over the back of Mother Nature."
The Columbus Dispatch reports that the agreement didn't come out of the blue. It said that O'Brien and Energy and Natural Resources Committee chairman, Republican Al Landis, who represents natural gas-rich Tuscarawas County on the state's eastern border, has been having a series of conversations about the bill.
"This amendment came through in the last 20 minutes," O'Brien told the Dispatch. "It took a lot of negotiations, a lot of give and take and I think we came up with a better bill. Everyone wants to protect parks and do the right thing."
Actually, that's not always clear, especially when it comes to Gov. John Kasich who is generally opaque about where he stands on issues and why. While Landis admitted his members had changed their minds, Kasich's position has been a moving target.
In 2011, Kasich signed the bill that allowed fracking in state parks, saying he supported it to help fund maintenance in the parks. It gave a new body, the Oil and Gas Commission, oversight and permitting authority. But Kasich failed to appoint any members to the board, making it unable to issue permits for fracking to proceed.
Then in February 2014, his spokesman Rob Nichols told the Dispatch, "At this point, the governor doesn't support fracking in state parks. We reserve the right to revisit that, but it's not what he wants to do right now, and that's been his position for the past year and a half."
Nichols denied that the revelation by Democrats of a marketing plan put together by the ODNR to promote fracking on state lands had anything to do with the announcement of this previously unknown position of Kasich's. He said that what had by then been a two-year delay in appointing members to the Oil and Gas Commission was the result of "being very deliberative about how we go about filling these seats."
He deflected the governor's lack of clarity by blaming former Youngstown State Representative Bob Hagan, one of the Democrats who exposed the marketing plan, and the Sierra Club, telling the Dispatch, "Representative Hagan and the Sierra Club—one of the largest secretly funded groups on the planet—have a pact to try and kill the fracking jobs that are helping get Mr. Hagan's own communities back on track. It's pretty hard to reason with folks bent on that kind of self-destruction."
An earlier version of the bill currently in the House would have removed the permitting authority of the Oil and Gas Commission, in effect overriding Kasich's moratorium, making this week's reversal even more surprising.
"Ohio's state parks, forests and preserves belong to the people of Ohio," said Ohio Sierra Club director Jen Miller. "We applaud the legislators in the House Natural Resources Committee for recognizing that Ohioans want to protect our precious places, and avoiding a fast-track process for opening them to fracking. However, the Ohio Sierra Club's members and volunteers in Ohio will continue to work tirelessly to defend all state lands from industrial activities like fracking until they are set aside for generations to come, which starts with repealing bills like HB 133 altogether."
Tish O'Dell, Ohio organizer for the Community Environmental Legal Defense Fund and president of the Ohio Community Rights Network, also feels the bill falls short. She said, "I am always fascinated by this surge in energy to protect our parks. If it is too dangerous to do in our parks, then why is it ok to do in our neighborhoods, and on our farmland, and in our oceans and lakes?"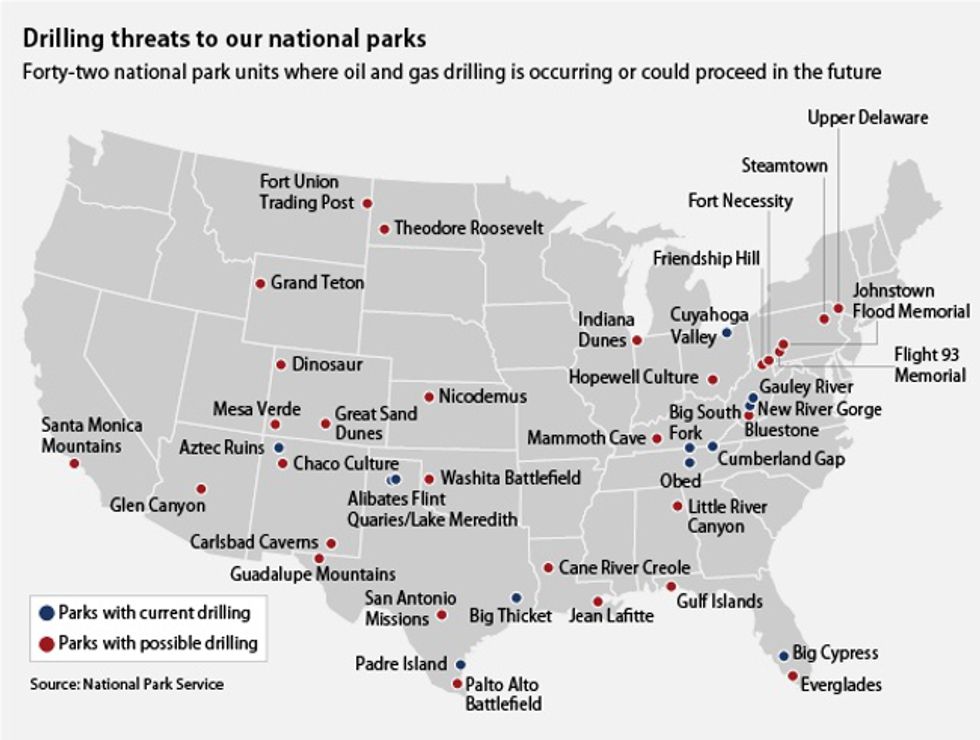 Ohio's imminent ban on fracking state parks comes as U.S. Secretary of the Interior Sally Jewell has said that the new rule on fracking federal lands will be issued by the Bureau of Land Management "within the next few days." She said yesterday in a presentation at the Center for strategic and International Studies that the new rule won't differ radically from a 2013 revised proposed rule that focused on well integrity, chemical disclosure and management of flowback fluids.
While she said that "the public, environmental organizations and the industry will recognize that we struck the right balance," it's unlikely environmentalists will be happy with a slightly tightened status quo that allows fracking to continue.
"The inherently dangerous nature of fracking means that no set of regulations can prevent accidents from happening that impact public health and natural resources," said Food & Water Watch executive director Wenonah Hauter last December when representatives Mark Pocan (D-Wi) and Jan Schakowsky (D-IL) introduced a bill in Congress to ban fracking on public lands. "In light of the dismal track record that the oil and gas industry has on protecting the environment, the only way that public lands can be protected is by banning fracking."
Schakowsky was also one of four Democrats who introduced the "FRAC Pack" this week, a group of bills that would close oil and gas industry loopholes in the Safe Drinking Water Act, Clean Air Act and Clean Water Act.
YOU MIGHT ALSO LIKE
Ohio Gov. John Kasich Signs Nation's First Renewable Energy Freeze
Federal Bill Introduced to Ban Fracking on Public Lands
Groups Sue Ohio Governor for Illegally Making State a Fracking Waste Dump
EcoWatch Daily Newsletter
Related Articles from EcoWatch