Nitrate Contaminating Drinking Water for More Than 254,000 Californians
Mar. 19, 2012 02:12PM EST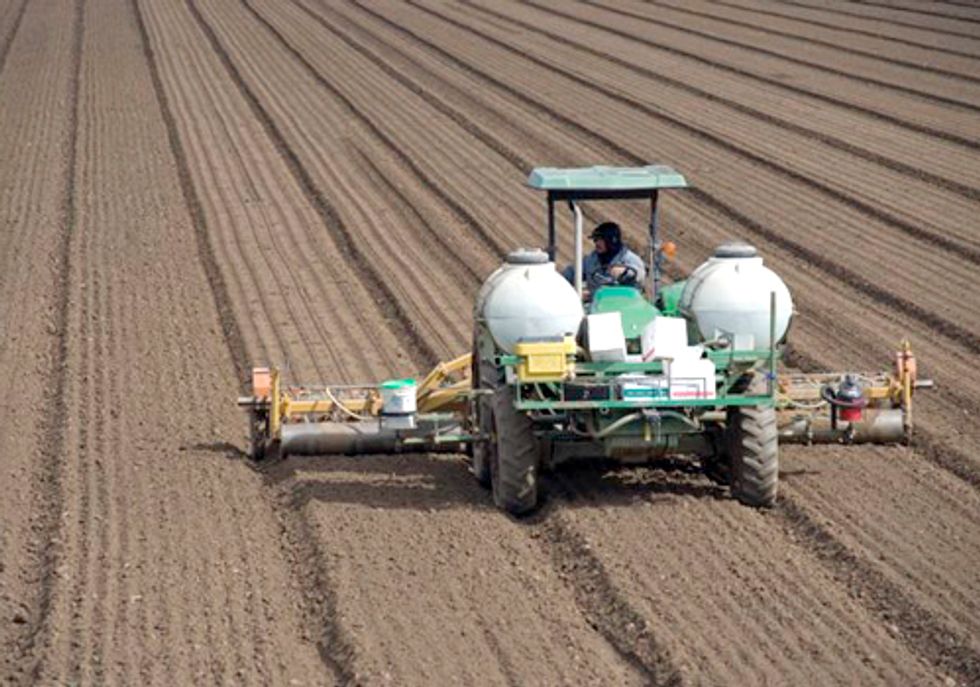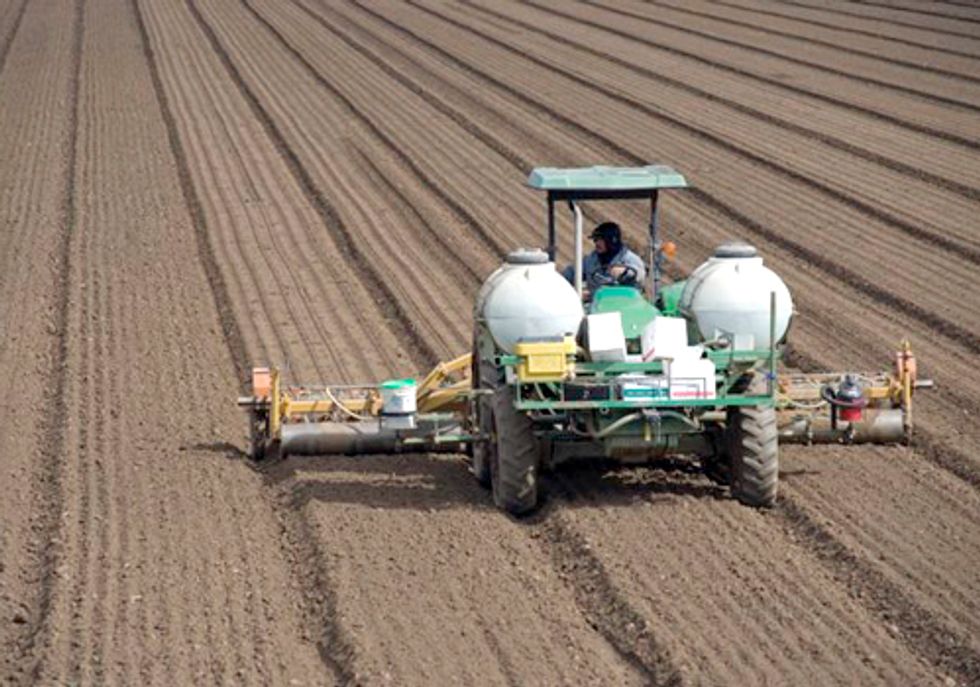 The University of California at Davis' Center for Watershed Sciences released a major report on March 19 detailing extensive nitrate contamination in groundwater used as drinking water in the state's two leading agricultural regions—The Tulare Lake Basin in the Central Valley, and the Salinas Valley on the Central Coast. It finds that nitrate is now polluting the drinking water for a quarter million people, with projections that millions more Californians will be affected in the future. The report estimates that providing safe water to the communities currently affected will cost $20 to $36 million per year. Nitrate has been linked to Blue Baby syndrome, miscarriage, birth defects, diabetes, thyroid disease and cancer. (See below for contact info, solutions & key findings).
For years, families throughout the Salinas and Tulare regions have lugged gallons of water into their homes every week because nitrate levels mean it's unsafe to drink from the tap. Even elementary schools in the affected communities are forced to buy bottled water for their children.
"Imagine not being able to cook with or drink the water out of your tap. But that's what's happening in California's two most profitable farm regions," says Laurel Firestone, co-director of Community Water Center in Visalia, Calif. Rural, low-income areas with small systems are especially vulnerable to nitrate contamination because they can't afford expensive water treatment systems. "It's time to ensure that California's farm communities have access to safe and affordable drinking water."
"The state has known for 40 years that applying too much fertilizer contaminates drinking water with unsafe levels of nitrates," says Maria Herrera, of Community Water Center. "Trying to fix the problem through voluntary actions has not worked, and meanwhile the problem has gotten worse. We need to stem the problem at its source and reduce unnecessary fertilizer use."
Unlike pesticides, the use of chemical fertilizer is not regulated, taxed or monitored. "The state needs to implement a program that ensures wide-scale adoption of farm practices to reduce the amount of fertilizer that comes off fields," says Jennifer Clary, of Clean Water Action.
On March 14, the Central Coast Water Board will be voting on a program that requires farmers to monitor and protect groundwater quality. According to Clary, "this program is an essential first step to protecting communities and water safety in the Salinas Valley area and will create a precedent for protecting impacted communities in other regions of the state." The Central Valley Regional Water Board is also working on a series of regulatory permits that will require irrigated lands to protect groundwater quality for the first time ever. The first draft order in the Central Valley is expected in April.
Key report findings include:
The total volume of groundwater exceeding the U.S. Environmental Protection Agency (EPA) Maximum Contaminant Levels (MCL) for nitrate in the Tulare Lake Basin and Salinas Valley is 32.2 million acre feet and 3.4 million acre feet, respectively. The amount is equal to 11 trillion gallons—so vast it would fill Lake Shasta nearly eight times.
Agricultural activities are responsible for 96 percent of the pollution, with chemical fertilizer making up 54 percent of the sources.
About 254,000 people are currently at risk. One million people—more than 57 percent of residents in the two areas—rely on a community water system with recorded nitrate concentrations that have been above the MCL at least once between 2006 and 2010.
Report authors estimate that if nothing is done to prevent more runoff from farms, by 2050, nearly 80 percent of the residents in the Tulare and Salinas regions could be impacted.  
Additional Background:
Advocates call for solutions
The Community Water Center, Clean Water Action, and California Rural Legal Assistance Foundation are calling for funding to develop and implement safe drinking water solutions to affected communities; a state program to provide tools and strong incentives to ensure fertilizer is used more efficiently to prevent pollution; and a framework to measure the effectiveness of these efforts.
Legislative action
Four bills have been proposed this year to fund and provide safe drinking water in the Salinas Valley and Tulare Lake Basin, and to support farm implementation of best management practices. They include:
AB685 (Eng) Establishing a State Policy to Implement the Human Right to Water in California
AB1669 (Perea): Establishing a mechanism to direct funding to develop and implement drinking water solutions in Nitrate At Risk Areas.
AB 2174 (Alejo): Expands CDFA's Fertilizer Research and Education Program (FREP) to provide assistance to farmers to implement pollution prevention management practices, as well as makes funds available to communities to mitigate the impacts of fertilizer contamination.
AB2238 (Perea): Establishing clearer funding mechanisms to develop and implement projects that connect and consolidate small disadvantaged community water systems without safe, affordable drinking water.
Farm-based solutions
Advocates call for rescuing the Fertilizer Research and Education Program (FREP) program from the fertilizer industry and reform it so that it helps fund technical assistance and outreach needed by farmers and farm communities. AB 2174, sponsored by Assemblymember Luis Alejo, will expand the FREP program to provide technical assistance to farmers, who have been paying into this fund for 20 years and have not received the practical support necessary to implement more effective nitrogen management practices.
Clear requirements for groundwater protection and monitoring should be implemented through the Irrigated Lands Regulatory Programs to ensure that farms are on a level playing field and best management practices adopted on a large scale to protect community drinking water supplies.
A national problem
Concern is growing nationally over the environmental and health impacts of nitrogen pollution, spurred mainly by the use of chemical nitrogen fertilizer. Nitrogen runoff from farms acts as unwanted fertilizer that spurs the growth of algae in lakes and coastal areas, essentially choking out other forms of marine life. Surveys by the EPA show that about one-third of U.S. streams and two-fifths of U.S. lakes are impaired by high nitrogen concentrations. And two-thirds of U.S. coastal systems, including the Gulf of Mexico and the Chesapeake Bay, are moderately to severely impaired.
Meanwhile, nitrate contamination affects communities throughout California. In February, the California State Water Board identified 452 wells in use in 206 community systems that are impacted by nitrates.
And thousands of farm communities across the U.S. struggle with the cost of providing safe drinking water. For example, a water system in Decatur, Illinois costs about 8 million dollars, with additional annual operating expenses of two- to four hundred thousand dollars—to serve its population of 76,000. The problem is international as well. A 2011 nitrogen assessment put the cost of European nitrogen pollution at 100 billion dollars a year.
For more information, click here.
EcoWatch Daily Newsletter
Related Articles from EcoWatch
Recent Stories from EcoWatch