This website uses cookies to ensure you get the best experience while browsing it. By clicking 'Got It' you're accepting these terms.
Nissan's Game-Changing Deal Allows EV Owners to Sell Power Back to the Grid
Mar. 06, 2015 11:52AM EST
Business
Like rollover minutes or selling surplus solar power back to the utility, Nissan is soon letting electric car drivers sell unused power left in their car batteries back to the grid, or use it to power their home. Nissan, a leading EV maker with their popular LEAF, agreed on this game-changing deal with Spanish utility company Endesa this week at the 85th Geneva International Motor Show.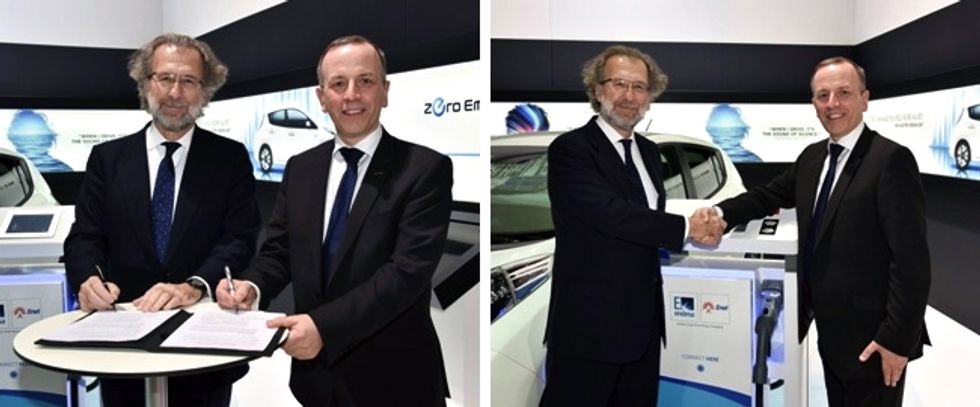 According to a press release, this move from the two companies will usher a mass-market vehicle-to-grid (V2G) system for the European market. This technology consists of Endesa's two-way charger and an energy management system that can also integrate power from renewable sources, such as solar panels and wind turbines.
The deal allows EV drivers to reduce costs, and theoretically gives them the power to decide how and where to use the electricity they generate, and not just on the road. Nissan said that their LEAF or e-NV200 drivers can charge their vehicles at low-demand, and cheap tariff periods, with an option to then use the electricity stored in the vehicle's battery at home when costs are higher, or even feed back to the grid with a net financial benefit.
"We believe this innovation represents a significant development for Nissan LEAF and e-NV200 customers," said Paul Willcox, chairman of Nissan Europe. "Every Nissan electric vehicle battery contains a power storage capability that will prove useful in contributing towards smarter and responsible management of the power demand & supply of local power grids, thus reducing our EV total cost of ownership. Not only does this represent an opportunity for Nissan's EV private and fleet owners, it could also support grid stability and fully demonstrate that each Nissan EV represents a tangible social asset."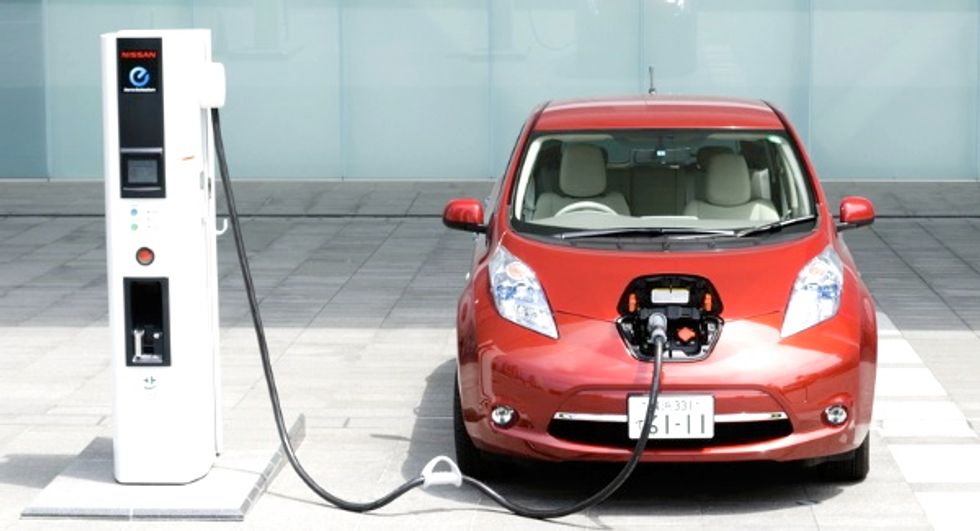 Photo Credit: Joel_420
/
Shutterstock.com
The groundbreaking deal integrates electric vehicles with the renewable energy sector. Nissan said their longer term zero-emission vision is for EVs to be at the center of a fully integrated system whereby owners can participate in wholesale energy markets using the power stored in the batteries of their electric vehicles, and thus significantly reduce their cost of operation.
The auto giant added that in a not-so-distant scenario, the EV user not only decides when and where they want to charge their EV, but how best they spend and re-sell the energy stored in their EV; receiving tangible financial benefits in terms of energy savings, while at the same time maximizing the use of green energy.
"The flexibility offered by V2G implementation in terms of storing and releasing green energy into the grid will further enhance the already significant and tangible benefits of electric mobility," said Javier Uriarte, Head of Market Iberia at Endesa. "This is why Endesa, together with its parent company Enel and partner Nissan, have decided to join efforts in promoting this technology."
The electric car industry is only growing, especially in Europe. Demand is high, with registrations up 300 percent in the UK and 36.6 percent across the continent. Nissan is the world leader in EV sales, with more than 160,000 Nissan LEAFs sold globally.
YOU MIGHT ALSO LIKE
Look Out Utility Companies: Tesla is Disrupting More Than Just the Auto Industry
Nation's First Plug-In Hybrid Electric Minivan Coming Soon
Tesla Hits New Milestone Installing 2,000 Superchargers Worldwide
EcoWatch Daily Newsletter
A new study shows that half of all Arctic warming and corresponding sea-loss during the late 20th century was caused by ozone-depleting substances. Here, icebergs discharged from Greenland's Jakobshavn Glacier. Kevin Krajick / Earth Institute /
EurekAlert!
The world awakened to the hole in the ozone layer in 1985, which scientists attributed it to ozone depleting substances. Two years later, in Montreal, the world agreed to ban the halogen compounds causing the massive hole over Antarctica. Research now shows that those chemicals didn't just cut a hole in the ozone layer, they also warmed up the Arctic.
Diane Wilson holds up a bag full of nurdles she collected from one of Formosa's outfall areas on Jan. 15. Julie Dermansky / DeSmogBlog
On the afternoon of Jan. 15, activist Diane Wilson kicked off a San Antonio Estuary Waterkeeper meeting on the side of the road across from a Formosa plastics manufacturing plant in Point Comfort, Texas.
After Wilson and the waterkeeper successfully sued Formosa in 2017, the company agreed to no longer release even one of the tiny plastic pellets known as nurdles into the region's waterways. The group of volunteers had assembled that day to check whether the plant was still discharging these raw materials of plastics manufacturing.
Malaysian Environment Minister Yeo Bee Yin (front 2nd L) and officials inspect a container containing plastic waste shipment on Jan. 20, 2020 before sending back to the countries of origin. AFP via Getty Images
The Southeast Asian country Malaysia has sent 150 shipping containers packed with plastic waste back to 13 wealthy countries, putting the world on notice that it will not be the world's garbage dump, as CNN reported. The countries receiving their trash back include the United States, the United Kingdom, France and Canada.
Trump leaves after delivering a speech at the Congress Centre during the World Economic Forum annual meeting in Davos on Jan. 21, 2020. JIM WATSON / AFP via Getty Images