Newly Discovered Documents Reveal Kasich Misled Ohioans on Fracking Public Lands
UPDATE: July 2, 2014. This article previously contained links to PDFs that were rendered poorly by Food & Water Watch's document sharing platform. They have recently reposted the documents to their website; this updated article contains the corrected links.
Newly discovered documents released today by Food & Water Watch reveal that the Kasich Administration continued to refine plans that would promote fracking on state lands for months after the Ohio Department of Natural Resources (ODNR) claims the plans were abandoned. The latest revelations in the "Frackgate" scandal raise serious questions about whether the fracking promotion plan was actually implemented.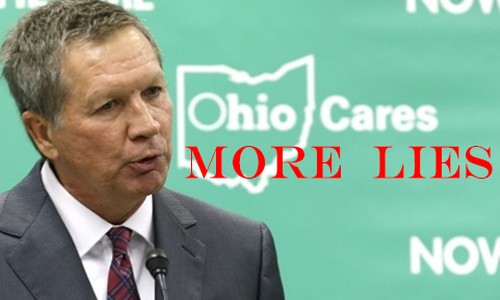 "Simply put, the Kasich Administration has misled the public about how long and how deeply it planned to promote fracking on state lands," said Alison Auciello, Ohio organizer for Food & Water Watch and an Ohio native.
"Governor Kasich must immediately come clean on the true historical timeline and current status of his administration's discussions about fracking on state lands. Additionally, the attorney general's office must thoroughly investigate what appear to be glaring inconsistencies and conflicts of interest in this administration's dealings on fracking in Ohio." 
As reported on EcoWatch, in February the Ohio Chapter of the Sierra Club and Progress Ohio revealed a draft of the communications plan from Aug. 20, 2012, as well as an email including top officials in the Kasich Administration that had been circulated in an effort to set up a meeting to discuss the strategy. Since the release of the documents the Kasich Administration and the ODNR have been publicly denying that the plan was ever implemented. 
A spokesperson for the ODNR, Bethany McCorkle, told the Columbus Dispatch, "No action or next steps came out of the meeting," about the Aug. 20 meeting held to discuss the draft plan.
Rob Nichols, spokesperson for the administration, later told the Dispatch in regard to a recently released email from a top administration official to plan a Nov. 27, 2012 meeting on state land leasing, "The decision was made not to drill on public lands so there was no need to utilize the 'for' options."
But, as shown in the new documents obtained by Food & Water Watch, the next steps from the Aug. 20 meeting were planned and show that the intention was to move forward at the Nov. 27 meeting. The new documents include:
A more flushed out version of the communications plan, dated Sept. 10, 2012, including an earlier draft from Aug. 28 and Fracking Talking Points/Q&A document.
An Aug. 27 email exchange between ODNR staff, Mark Anthony and Bethany McCorkle, about working on the "long-version" of the communications plan.
A condensed "Communications Plan Highlights," demonstrating intentions to implement the plan and the ODNR was checking the progress.
Notes from the Nov. 27 meeting, previously revealed to have been scheduled with top Kasich Administration officials and ODNR, "State Lands Leasing," that details the rollout of the communications plan.

Additional documents from ONDR reflect talking points developed as part of the communications plan, strongly suggesting that it was implemented contrary to administration claims:
A coalition of conservation groups and others announced Thursday that a historic number of comments and petitions of support have been submitted to the U.S. Department of the Interior in support of Bears Ears National Monument. Despite the entirely inadequate 15-day comment period ending on May 26, more than 685,000 comments in support of Bears Ears National Monument have been collected.
Keep reading...
Show less
Rink Glacier in western Greenland, with a meltwater lake visible center. NASA/OIB
Scientists have had their eyes on Greenland as its iconic glaciers have begun disappearing due to a warming climate. But, what they didn't expect to see was a whole new type of melting.
Keep reading...
Show less
Mountain View Fire
By Lena Moffitt
An oil tanker in Mead, Colorado exploded, killing one and injuring three on Thursday. Authorities are continuing to investigate the cause of the explosion.
Keep reading...
Show less
Banner created by Alliance for Climate Education
Keep reading...
Show less
Twenty-two GOP senators sent a letter Thursday urging Donald Trump to pull out of the Paris agreement. They argued remaining in the deal could "upend" the administration's ability "to fulfill its goal of rescinding the Clean Power Plan."
Keep reading...
Show less
By Cheryl Johncox
The Federal Energy Regulatory Commission (FERC) rejected on Thursday Energy Transfer Partners' request to resume horizontal directional drilling at two sites for its Rover fracked gas pipeline. This rejection comes after numerous leaks into Ohio's wetlands, and Clean Air and Clean Water act violations. FERC has halted the process at only eight locations of the 32 where drilling is taking place under Ohio's wetlands and streams.
Keep reading...
Show less
By Nadia Prupis
A majority of people in eight countries say they are ready to change their lifestyles if it would prevent climate catastrophe, a survey on global threats released Wednesday found.
Keep reading...
Show less
May. 25, 2017 01:55PM EST
Bill Maher is sick of billionaires' obsession with Mars, more like "Mars-a-Lago," he said.
In a new animation produced by ATTN:, the popular talk show host of Real Time, discusses the perils of our planet, including how "climate change is killing us."
Keep reading...
Show less