This website uses cookies to ensure you get the best experience while browsing it. By clicking 'Got It' you're accepting these terms.
Newly Discovered Documents Reveal Kasich Misled Ohioans on Fracking Public Lands
Jun. 19, 2014 03:59PM EST
Energy
UPDATE: July 2, 2014. This article previously contained links to PDFs that were rendered poorly by Food & Water Watch's document sharing platform. They have recently reposted the documents to their website; this updated article contains the corrected links.
Newly discovered documents released today by Food & Water Watch reveal that the Kasich Administration continued to refine plans that would promote fracking on state lands for months after the Ohio Department of Natural Resources (ODNR) claims the plans were abandoned. The latest revelations in the "Frackgate" scandal raise serious questions about whether the fracking promotion plan was actually implemented.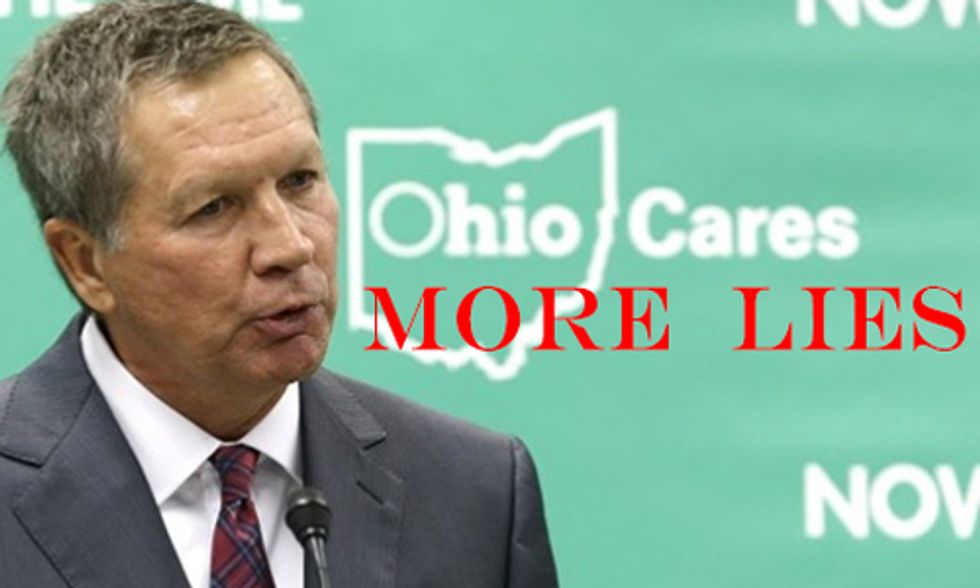 "Simply put, the Kasich Administration has misled the public about how long and how deeply it planned to promote fracking on state lands," said Alison Auciello, Ohio organizer for Food & Water Watch and an Ohio native.
"Governor Kasich must immediately come clean on the true historical timeline and current status of his administration's discussions about fracking on state lands. Additionally, the attorney general's office must thoroughly investigate what appear to be glaring inconsistencies and conflicts of interest in this administration's dealings on fracking in Ohio." 
As reported on EcoWatch, in February the Ohio Chapter of the Sierra Club and Progress Ohio revealed a draft of the communications plan from Aug. 20, 2012, as well as an email including top officials in the Kasich Administration that had been circulated in an effort to set up a meeting to discuss the strategy. Since the release of the documents the Kasich Administration and the ODNR have been publicly denying that the plan was ever implemented. 
A spokesperson for the ODNR, Bethany McCorkle, told the Columbus Dispatch, "No action or next steps came out of the meeting," about the Aug. 20 meeting held to discuss the draft plan.
Rob Nichols, spokesperson for the administration, later told the Dispatch in regard to a recently released email from a top administration official to plan a Nov. 27, 2012 meeting on state land leasing, "The decision was made not to drill on public lands so there was no need to utilize the 'for' options."
But, as shown in the new documents obtained by Food & Water Watch, the next steps from the Aug. 20 meeting were planned and show that the intention was to move forward at the Nov. 27 meeting. The new documents include:
A more flushed out version of the communications plan, dated Sept. 10, 2012, including an earlier draft from Aug. 28 and Fracking Talking Points/Q&A document.
An Aug. 27 email exchange between ODNR staff, Mark Anthony and Bethany McCorkle, about working on the "long-version" of the communications plan.
A condensed "Communications Plan Highlights," demonstrating intentions to implement the plan and the ODNR was checking the progress.
Notes from the Nov. 27 meeting, previously revealed to have been scheduled with top Kasich Administration officials and ODNR, "State Lands Leasing," that details the rollout of the communications plan.

Additional documents from ONDR reflect talking points developed as part of the communications plan, strongly suggesting that it was implemented contrary to administration claims:
EcoWatch Daily Newsletter
A harbour seal on an ice floe in Glacier Bay, Alaska. A new study shows that the climate crisis has warmed waters, changing ecosystems and crippling sea ice growth. Janette Hill / robertharding / Getty Images Plus
Doctors report that only 1 in 4 children are getting the recommended 60 minutes of physical activity per day. Ronnie Kaufman / DigitalVision / Getty Images
By Dan Gray
Pediatricians are being urged to start writing "exercise prescriptions" for the children they see in their office.
A First Nations protester walks in front of a train blockade in Tyendinaga, near Belleville, Ontario, Canada on Feb. 21, 2020. LARS HAGBERG / AFP via Getty Images
An indigenous rail blockade that snarled train travel in Canada for more than two weeks came to an end Monday when police moved in to clear protesters acting in solidarity with another indigenous community in British Columbia (B.C.), which is fighting to keep a natural gas pipeline off its land.
A rainbow snake, a rare reptile spotted in a Florida county for the first time in more than 50 years, seen here on July 5, 2013.
Kevin Enge / FWC Fish and Wildlife Research Institute / Flickr
A Florida hiker recently stumbled across a slithering surprise — a rare snake that hadn't been spotted in the area for more than 50 years.
We need our government to do everything it can to stop PFAS contamination and exposure from wreaking havoc in communities across the country. LuAnn Hun /
Unsplash
By Genna Reed
The EPA announced last week that it is issuing a preliminary regulatory determination for public comment to set an enforceable drinking water standard to two of the most common and well-studied PFAS, PFOA and PFOS.
This decision is based on three criteria:
PFOA and PFOS have an adverse effect on public health
PFOA and PFOS occur in drinking water often enough and at levels of public health concern;
regulation of PFOA and PFOS is a meaningful opportunity for reducing the health risk to those served by public water systems.