This website uses cookies to ensure you get the best experience while browsing it. By clicking 'Got It' you're accepting these terms.
Newly Discovered Compounds Hundreds of Times More Toxic Than Known Carcinogens
Jan. 06, 2014 03:39PM EST
Health + Wellness
By David Stauth
Researchers at Oregon State University have discovered novel compounds produced by certain types of chemical reactions—such as those found in vehicle exhaust or grilling meat—that are hundreds of times more mutagenic than their parent compounds which are known carcinogens.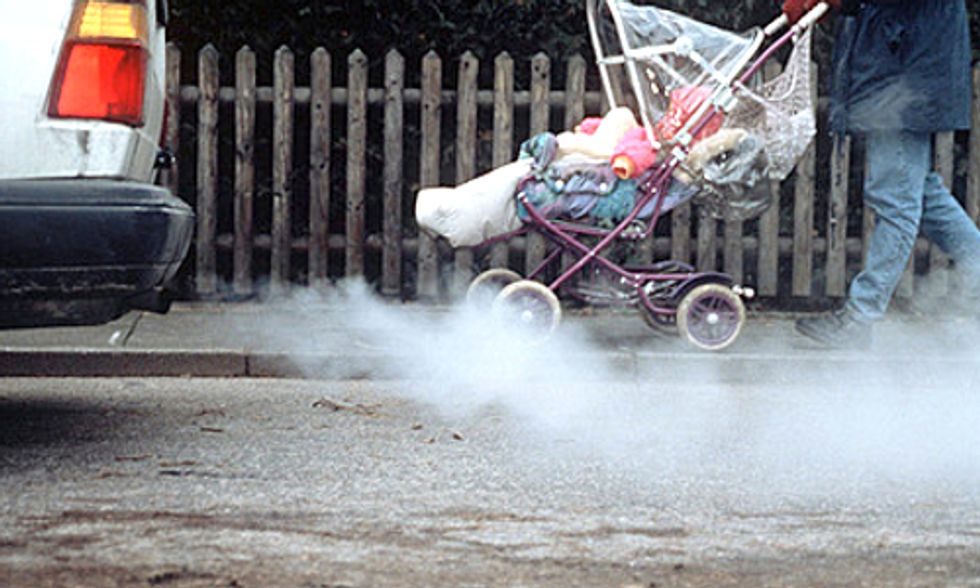 These compounds were not previously known to exist, and raise additional concerns about the health impacts of heavily-polluted urban air or dietary exposure. It's not yet been determined in what level the compounds might be present, and no health standards now exist for them.
The findings were published in December in Environmental Science and Technology, a professional journal.
The compounds were identified in laboratory experiments that mimic the type of conditions which might be found from the combustion and exhaust in cars and trucks, or the grilling of meat over a flame.
"Some of the compounds that we've discovered are far more mutagenic than we previously understood, and may exist in the environment as a result of heavy air pollution from vehicles or some types of food preparation," said Staci Simonich, a professor of chemistry and toxicology in the OSU College of Agricultural Sciences.
"We don't know at this point what levels may be present, and will explore that in continued research," Simonich said.
The parent compounds involved in this research are polycyclic aromatic hydrocarbons, or PAHs, formed naturally as the result of almost any type of combustion, from a wood stove to an automobile engine, cigarette or a coal-fired power plant. Many PAHs, such as benzopyrene, are known to be carcinogenic, believed to be more of a health concern than has been appreciated in the past, and are the subject of extensive research at OSU and elsewhere around the world.
The PAHs can become even more of a problem when they chemically interact with nitrogen to become "nitrated," or NPAHs, scientists say. The newly-discovered compounds are NPAHs that were unknown to this point.
This study found that the direct mutagenicity of the NPAHs with one nitrogen group can increase six to 432 times more than the parent compound. NPAHs based on two nitrogen groups can be 272 to 467 times more mutagenic. Mutagens are chemicals that can cause DNA damage in cells that in turn can cause cancer.
For technical reasons based on how the mutagenic assays are conducted, the researchers said these numbers may actually understate the increase in toxicity—it could be even higher.
These discoveries are an outgrowth of research on PAHs that was done by Simonich at the Beijing Summer Olympic Games in 2008, when extensive studies of urban air quality were conducted, in part, based on concerns about impacts on athletes and visitors to the games.
Beijing, like some other cities in Asia, has significant problems with air quality, and may be 10-50 times more polluted than some major urban areas in the U.S. with air concerns, such as the Los Angeles basin.
An agency of the World Health Organization announced last fall that it now considers outdoor air pollution, especially particulate matter, to be carcinogenic, and cause other health problems as well. PAHs are one of the types of pollutants found on particulate matter in air pollution that are of special concern.
Concerns about the heavy levels of air pollution from some Asian cities are sufficient that Simonich is doing monitoring on Oregon's Mount Bachelor, a 9,065-foot mountain in the central Oregon Cascade Range. Researchers want to determine what levels of air pollution may be found there after traveling thousands of miles across the Pacific Ocean.
This work was supported by the National Institute of Environmental Health Sciences (NIEHS) and the National Science Foundation. It's also an outgrowth of the Superfund Research Program at OSU, funded by the NIEHS, that focuses efforts on PAH pollution. Researchers from the OSU College of Science, the University of California-Riverside, Texas A&M University and Peking University collaborated on the study.
Visit EcoWatch's HEALTH page for more related news on this topic. 

EcoWatch Daily Newsletter
California Gov. Gavin Newsom speaking with attendees at the 2019 California Democratic Party State Convention at the George R. Moscone Convention Center in San Francisco.
Gage Skidmore
/ Flickr /
CC BY-SA 2.0
California Gov. Gavin Newsom imposed new restrictions on oil exploration in his state yesterday by putting a moratorium on hundreds hydraulic fracturing permits until the projects are reviewed by independent scientists, as the AP reported.
The endangered Houston toad. Courtesy of U.S. Fish and Wildlife Service
While the planet continues to heat up, almost every single one of the 459 species listed as endangered in the U.S. will struggle as the climate crisis intensifies, according to new research published in the journal Nature Climate Change.
"This singular scientific achievement was accomplished at Heliogen's commercial facility in Lancaster, California."
Heliogen
A startup backed by Bill Gates unveiled a breakthrough solar technology Tuesday that could free heavy industry from fossil fuels.
Rhodiola rosea is an adaptogenic herb that can help with chronic fatigue and stress-related burnout. Tero Laakso / Flickr
By Gavin Van De Walle, MS, RD
While everyone has specific life stressors, factors related to job pressure, money, health, and relationships tend to be the most common.
Stress can be acute or chronic and lead to fatigue, headaches, upset stomach, nervousness, and irritability or anger.
A video shows a woman rescuing a koala from Australia's wildfires.
VOA News / YouTube screenshot
More than 350 koalas may have died in the wildfires raging near the Australian town of Port Macquarie in New South Wales, but one got a chance at survival after a woman risked her life to carry him to safety.