New York's New Abolitionists: The Fight to Stop Fracking
Apr. 19, 2013 09:25AM EST
Energy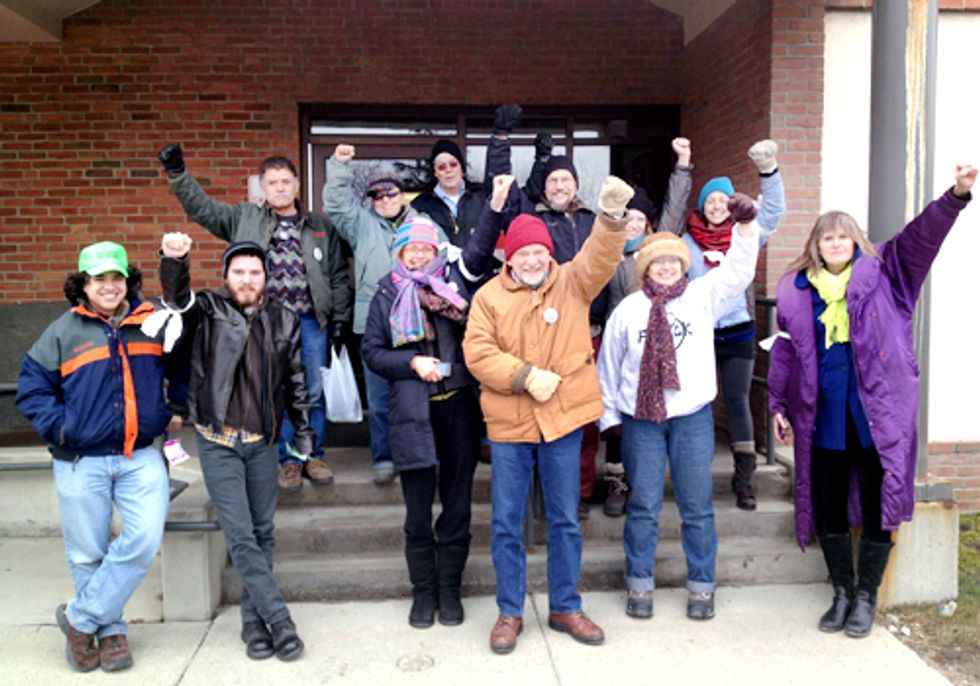 Ellen Cantarow
"I blocked the entrance to the Inergy gas storage facility because I believe that the institutions ... [that should] protect the people and the environment from harm can no longer be relied to do so ... When the government fails to act in the public interest, the public must act on its own."  —Michael Dineen
"I'd rather have bread and water now than no bread and toxic water later as a result of this flawed Inergy project."  —Melissa Chipman
"My small, peaceful act of trespass was intended to prevent a larger, violent one: the trespass of hazardous chemicals into air and water and the intrusion of fracking infrastructure into our beloved Finger Lakes ... For defending water, air and climate stability on which my children's lives depend, and because I have deep respect for the rule of law, I am willing to go to jail."  —Sandra Steingraber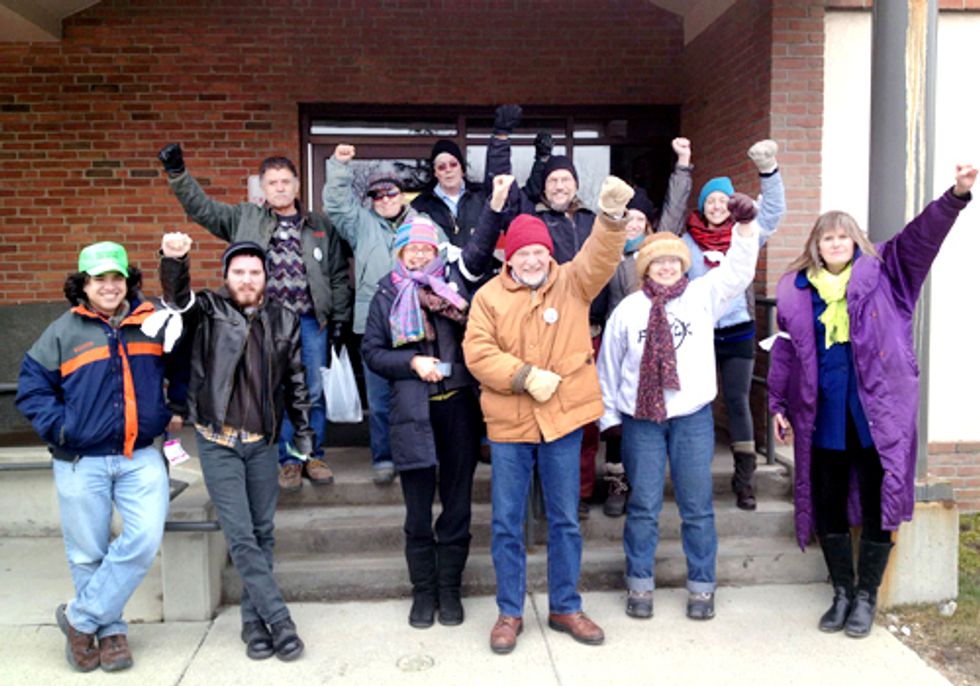 Small, whitewashed, unimposing, the little courtroom in Reading Township on Lake Seneca where Judge Raymond H. Berry sentenced renowned environmental writer and biologist Sandra Steingraber and two others, businesswoman Melissa Chipman and farm owner Michael Dineen to fifteen days in jail this past Wednesday for trespass on property owned by the US's biggest gas storage and transport corporation, Inergy, LP, doesn't look like a place where cardinal human rights events unfold. But then, neither did similar rural courtrooms in the South during the Civil Rights era. The sentencing, which came a day after the 50th anniversary of the publication of Martin Luther King's Letter from a Birmingham Jail, should be seen as a watershed in American human rights and environmental history.
New York isn't just another state. It has a history of legendary movements, from abolition and women's suffrage in the nineteenth century to Occupy in the twenty-first. Its environmental campaigns have included the watershed Storm King Mountain case, in which activists defeated Con Edison's plan to carve a giant facility into the face of that Hudson River landmark. The decision established the right of anyone to litigate on behalf of the environment.
For the past four years, an astonishing grassroots resistance has arisen to oppose to the high-volume hydraulic fracturing industry. Arriving to cover it in August, 2011, I found a sprawl of loosely connected, grassroots groups whose names announce their counties and their long-term vision. Committee to Preserve the Finger Lakes and Gas-Free Seneca were only two of many more. They cross all lines of political affiliation and social background. Almost all are run by volunteers.
It is this movement that, so far, has kept New York free of high-volume hydraulic fracturing. Of all the states lying over the methane-rich Marcellus Shale—Pennsylvania, Ohio and West Virginia are the other three—New York State alone has managed to keep the drilling out. Think of its activists as New York's new abolitionists, or perhaps as a vanguard of America's new Civil Rights movement. "I have never seen [an environmental movement] spread with such wildfire as this," says Robert Boyle, a legendary environmental activist and journalist who was central in the Storm King case and founded Riverkeeper, the prototype for all later river-guardian organizations. "It took me 13 or 14 years to get the first Riverkeeper going. Fracking isn't like that. It's like lighting a train of powder."
The war analogy is appropriate: the battle against high-volume hydraulic fracturing is part of a larger war launched by fossil-fuel corporations for mastery of the Earth itself. The stakes could not be higher: corporations like Inergy are in the business of wrecking the planet. Activists like Steingraber, Chipman and Dineen are trying to save it.
For the past six months the state's gas industry ally, the Department of Environmental Conservation (DEC), has been set to issue New York's first permits for high-volume hydraulic fracturing. All it will take is Governor Andrew Cuomo's OK. He has been vacillating between the fossil-fuel industry, the support of which he will need if he runs for President in 2016, and his environmental base. Meanwhile, Inergy and other corporations have been penetrating the state with pieces of the infrastructure that would eventually support fracking.
Fracking Infrastructure Penetrates New York State
High-volume hydraulic fracturing—the high-pressure propulsion of chemical-and-sand-laced water into deep shale formations to force out methane—is an act of industrial violence that upends half a billion years of safe storage of the gas. But what happens after the drilling, makes this industry perhaps the most invasive in human history. Vast architectures of production and processing have fanned out from shale-gas wells to penetrate once-tranquil rural American regions. The infrastructures include thousands of miles of pipelines, compressor stations that compact shale gas for transport, millions of diesel trucks that service the industry and salt caverns.
Repeat: salt caverns. For millennia, salt has been mined for consumption and food preservation. The caverns, or disused mines, located a thousand feet and more beneath ground and water, are now being used for unconventional oil and gas storage, with catastrophic results. In Louisiana, the collapse of salt caverns used this way has resulted in massive seepage of gas and oil into surface and groundwater, necessitating the evacuation of whole communities. According to a report this past January, in 2002 salt caverns constituted only seven percent of the U.S.'s 407 underground gas storage sites. But between 1972 and 2004 they were responsible for all 10 of the catastrophic accidents involving gas storage.
For the past several years one of New York's grassroots anti-fracking groups, Gas Free Seneca, has been trying to draw public attention to plans by a Missouri-based corporation, Inergy, LP, the U.S.'s largest energy storage and transportation corporation, to use two salt caverns located beside the lake for storing millions of gallons of unconventional gas. This would transform a New York State wonder, the historic Finger Lakes region, into the Northeast's biggest gas storage and transportation hub, endangering the area's ecology and the lives of residents.
The reporter whose observations on salt cavern accidents I just cited, Peter Mantius, writes that one of the caverns was plugged and abandoned a decade ago after a Louisiana engineer concluded its roof had collapsed in a minor earthquake. The other "sits directly below a rock formation weakened by faults and characterized by 'rock movement' and 'intermittent collapse.'" The lake provides 100,000 people with drinking water. In preparation for its Finger Lakes adventure, Inergy has built a gas compressor station that would compact the gasses for storage.
Last fall, New York State activists began staging acts of civil disobedience at Inergy's sites to protest its project. On March 18, 12 people—"Seneca Lake 12," as they're now known—including businesswoman Melissa Chipman, farm owner Michael Dineen and renowned biologist and environmental writer Sandra Steingraber, blocked the gas compressor site. On Wednesday evening, April 17, Chipman, Dineen and Steingraber chose to go to jail for that act rather than pay the fines that might have consigned the protest to oblivion.
Toxic Trespass
Behind his low bench in the Reading Court, Justice Raymond Berry looked more like an elderly office functionary than a dispenser of justice in an historic human rights event. Steingraber stood before him in a maroon shirt, a simple strand of pearls around her neck, her black-stockinged legs looking like a crane's—thin, frail-looking, vulnerable. She spoke in a subdued, girlish soprano:
"On March 18, I willfully ... blocked access to a compressor station site ... In my field of environmental health, the word 'trespass' has meaning. Toxic trespass refers to involuntary human exposure to a chemical or other pollutant ... It is contamination without consent. It is my belief as a biologist that Inergy is guilty of toxic trespass."
For the past three years, she continued, Inergy has been out of compliance with EPA regulations, dumping 44,000 pounds of chloride daily into Seneca Lake. "That's 22 tons a day ... 8,000 tons a year ... Those industrial discharges trespass into the bodies of those who drink it." Inergy, she said, plans a 60-foot flare stack that will release toxins that contribute to heart attacks, strokes, preterm births, and asthma in children. "Thus Ingery trespasses into our lungs and air. I see this as a real danger to my 11-year-old son who has a history of asthma."
Steingraber added that since the corporation is building an infrastructure to store gas obtained by fracking, "Inergy trespasses into our climate ... at a time when the best science shows us that we should be rapidly moving away from fossil fuels of all kinds." Her action, said Steingraber, was meant "to bring attention to such hazards on the Finger Lakes ... and to protect water, which is life itself."
Her voice broke ... "I trespassed. It was an act of civil disobedience. For that and because I have deep respect for the rule of law, which the energy company does not, I am willing to go to jail," she ended, tears filling her eyes. Others in the crowd that jammed the courtroom wept. 
Then a burly sheriff handcuffed the three environmental rights activists. They were led outside to a waiting correctional facilities van, while the crowd that had jammed the courtroom erupted in cheers and clapping.
New Yorkers Against Fracking, founded by Steingraber and others, last summer issued a Pledge to Resist Fracking in New York. A broad coalition of organizations and thousands of people have signed the pledge to resist the industry in acts including nonviolent civil disobedience. (Originally the pledge was meant to launch such protests only after the state began issuing fracking permits. But "Seneca Lake 12" decided the penetration of fracking infrastructure into the state required earlier action).
Attorney Joe Heath, Chief Counsel for the Onondaga Nation, attended the arraignment as Steingraber's lawyer, but stepped aside so she could speak for herself. Heath has experienced decades of American human rights movements starting just as he entered law school at SUNY Buffalo, with the 1971 uprising at Attica prison, the largest in New York State.
"The fact that so many people have been willing to risk their freedom," he said of the growing determination of New York's resisters to engage in civil disobedience, "helps set a mark for how strong the grassroots movement is here in New York, which is getting mirrored in other states. Four years ago when we started fighting, everybody thought fracking would be here a long time ago. What these resisters have done is ... an example of heroism, people taking control and not letting state government and federal government sell us out."
Ellen Cantarow first wrote from Israel and the West Bank in 1979. Her writing has been published in The Village Voice, Grand Street, Mother Jones, Alternet, Counterpunch, ZNet, The Nation and other publications, and has been anthologized. She writes regularly for Tom Dispatch. She is also lead author and general editor of an oral-history trilogy, Moving the Mountain: Women Working for Social Change, published in 1981 by The Feminist Press/McGraw-Hill.
POSTSCRIPT:
LETTER FROM CHEMUNG COUNTY JAIL, PART 1 by SANDRA STEINGRABBER, April 18, 2013: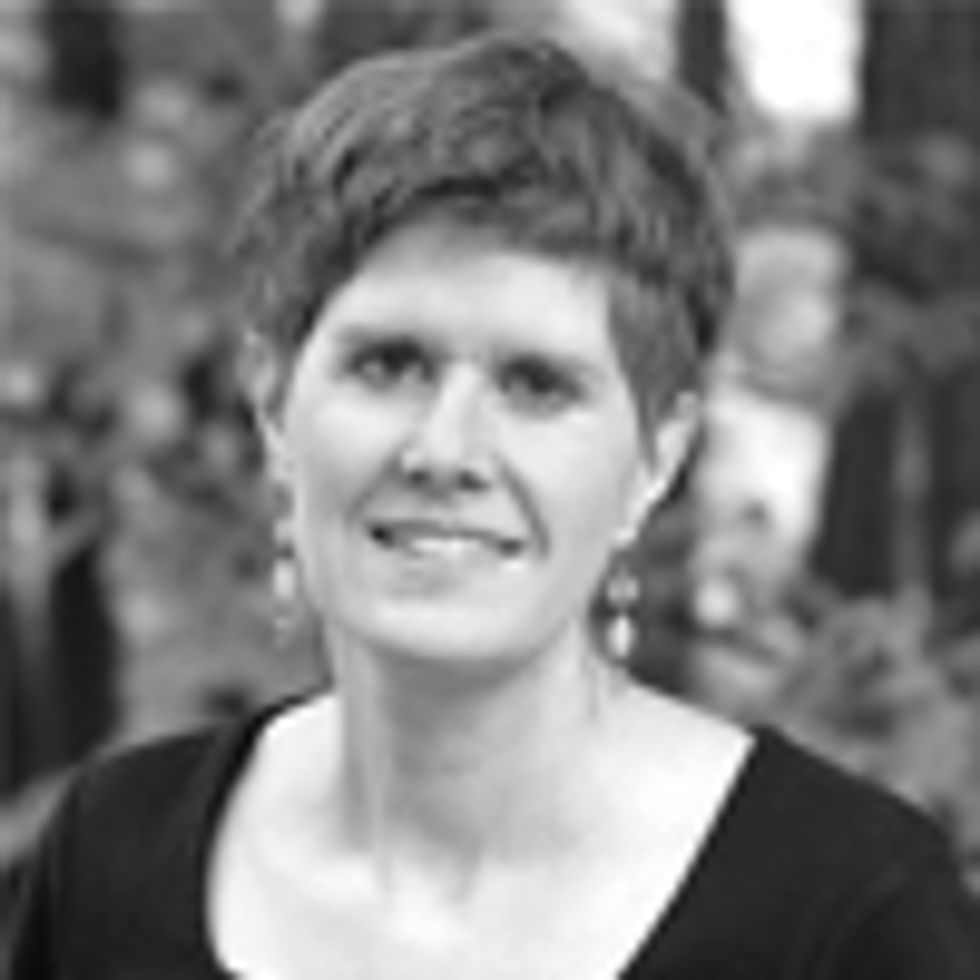 When Henry David Thoreau spent a night in jail for civil disobedience–defining the term in the process–he was served chocolate and brown bread for breakfast. The tray that was slid under my bars at 5 a.m. this morning contained nothing as tasty. In fact, I'd be hard pressed to say what the ingredients were. Packets of instant hot coca (artificial) are available from the commissary for a price–along with ramen noodles, decaf coffee, Jolly Rogers, shampoo, pencils, envelopes and paper.
There is no window in my cell. The lights are on all night. The television is on all day. Through the bars that make up the fourth wall of my new living quarters, I have a view of the catwalk, which is patrolled by guards, and then another wall of bars, and beyond those bars is a window made up of small panes of opaque glass. At about seven o'clock, one of the inmates asked for fresh air, and the guard, whom everyone calls Murphy's Law, cranked open the grid of panes, just a little.
Now, I can stand at my own bars, and move my head in different directions–jumping up and down works the best–and see through the scrims of multiple layers of bars– a glimpse of the outside world. There are row houses with windows and no bars–which fact suddenly seems miraculous–and I thought I saw a bird fly by. No trees through; only slinky–like concertina wire. Somewhere, beyond the shouting of the television, there are church bells.
Thoreau said, about his own experience with incarceration, that the confinement of his physical self was inconsequential; the freedom was a state of mind. Or something like that. I have neither the book, nor Google, to help me fact--check. But I am very aware of my physical self, and sense that my biological life in jail is part of my message. Even though I am entirely cut off from everything, I know and love my children and my husband, the April return of birdsong and wildflowers and pollination and photosynthesis. I believe this is the place to speak about fossil fuel extraction in general and fracking infrastructure in specific.
I now inhabit an ugly, miserable, loud and ungraceful world. There are no flowers; no local, delicious food; no tranquil landscapes; and not even coffee or tea.
If we do not want New York to become a prison of wellheads, pipelines and compressor stations; if we do not want the violence of climate change instability and mass species extinction; if we do not want to leave our children a diminished world bereft of frog song, bees, coral reefs, sea ice; then coming to a place as far removed from the rhythms of the natural world as a jail cell is not an inappropriate place to say so.
Visit EcoWatch's FRACKING page for more related news on this topic.
——–

Sign the petition today, telling President Obama to enact an immediate fracking moratorium:

EcoWatch Daily Newsletter