New Yorkers to Rally Against Fracking and In Support of Renewable Energy June 17
Jun. 12, 2013 05:12PM EST
Energy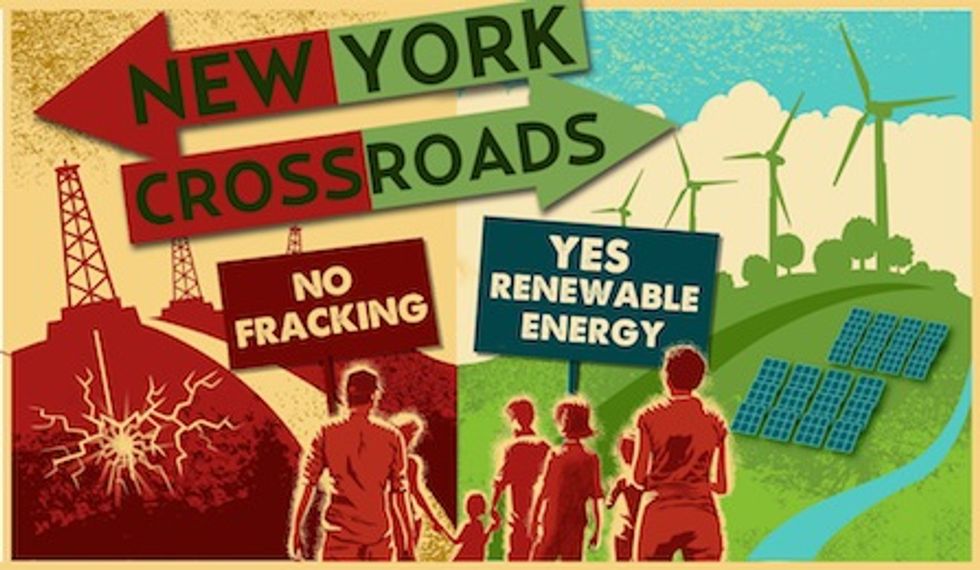 On June 17, thousands of New Yorkers from across the state will attend the "NY Crossroads" rally and march against fracking and in support of renewable energy.
Over 100 co-sponsoring organizations from across the state and the nation will be represented. Speakers will include former Congressman Maurice Hinchey, Lois Gibbs, Jim Dean of Democracy for America, Mark Jacobson, Arun Gandhi, Oren Lyons and Phil Aroneanu of 350.org. Music will be performed by Pete Seeger and Natalie Merchant.
With Gov. Cuomo (D-NY) weighing whether or not to allow fracking in New York State, the NY Crossroads rally will draw attention to this pivotal moment in the state's energy future. With or without regulations in place, fracking is a menace to the environment, public health and emits greenhouse gases at disturbing levels that undermine its credentials as a bridge fuel, beneficial for the environment to avoid climate change. Gov. Cuomo has insisted that his decision would be guided by science, but his administration's actions thus far have lacked transparency and scientific rigor.
The oil and gas industry has poured millions of dollars into New York to lobby, influence elected officials and saturate the state with pro-fracking propaganda, but grassroots opponents remain more passionate than supporters. Although the gas industry's spokespeople and propaganda campaign assure the safety of fracking, New Yorkers are not buying it and remain opposed to fracking, while the truth is coming out that fracking is far from safe and that the gas industry cannot be trusted. A recent investigation by the Times Tribune in Pennsylvania revealed many cases of water contamination from fracking.
Following the impact of hurricanes on New York, Gov. Cuomo has vowed to lead on climate change in the wake of Superstorn Sandy, but fracking would be in stark contradiction to that promise. With the release of a study by Stanford and Cornell scientists suggesting an alternative energy future for New York powered entirely by wind, water and sunlight can be achieved by 2030, New Yorkers will be uniting in Albany to call on Gov. Cuomo to lead the nation in constructing a renewable energy economy in New York rather than continuing down the destructive path towards greater reliance on dirty, dangerous fossil fuels.
Thousands of New Yorkers with signs and props will gather at 12 p.m. on the East Capitol Lawn in Albany.
Visit EcoWatch's FRACKING and RENEWABLES pages for more related news on this topic.
——–
Sign the petition today, telling President Obama to enact an immediate fracking moratorium:

EcoWatch Daily Newsletter