New Yorkers Tell Obama: No Keystone XL, Yes Renewables
May. 14, 2013 12:18PM EST
Climate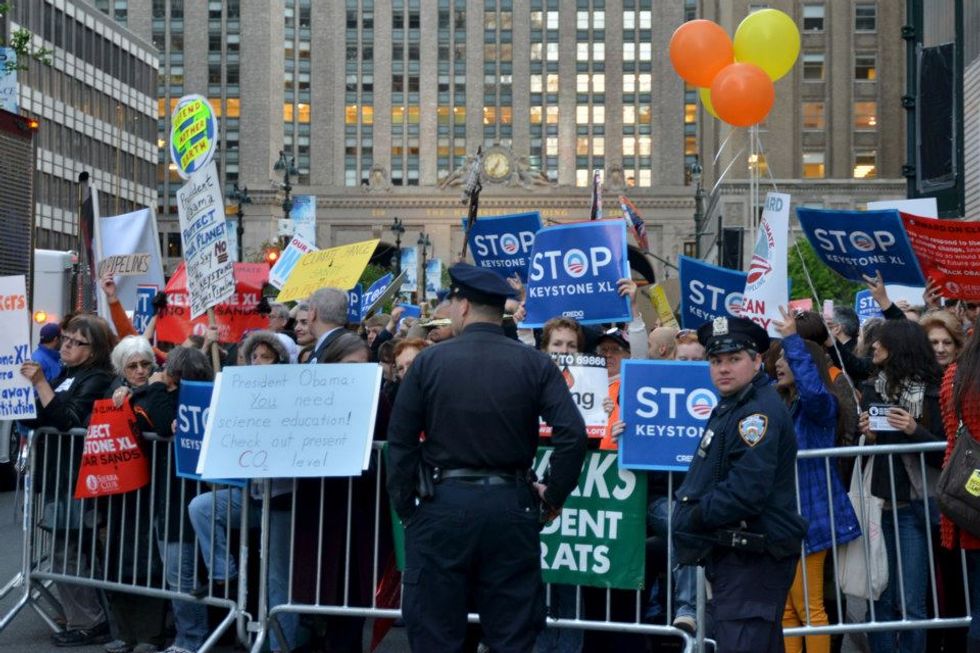 Yesterday, when President Obama came to New York City for a fundraiser at the Waldorf Astoria hotel, more than 500 people were there to greet him. They came in force with signs and banners to remind him of their opposition to the Keystone XL tar sands pipeline, as well as local natural gas pipelines like Spectra and the Rockaway Pipeline.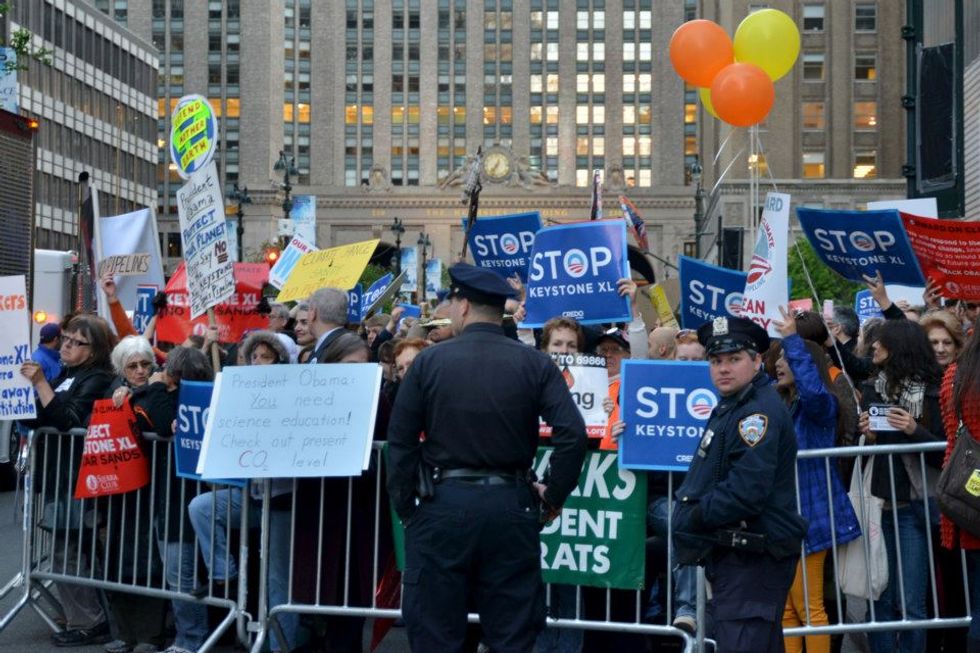 The crowd of people gathered in Bryant Park, where Reverend Billy of the Church of Stop Shopping kicked off the event, and then the group marched down Sixth Avenue and rallied in front of the Waldorf Astoria hotel. Representatives from several sponsor organizations, along with a number of other concerned citizens, addressed the crowd, discussing the devastating impact of Hurricane Sandy, their concerns about Keystone XL and local natural gas pipelines, and their hopes for a clean energy future. The crowd wore yellow and orange, colors which symbolize renewable energy and the Occupy Sandy movement.
The calls for clean energy were particularly poignant in the wake of Hurricane Sandy, whose effects are still being felt by many New York City residents. Many speakers and participants discussed the continuing devastation resulting from the hurricane and the urgent need to replace fossil fuels with cleaner, safer energy sources.
Albert Carcaterra, a teenage resident of Rockaway Park, an area heavily impacted by Hurricane Sandy, echoed the sentiments of many rally participants: "The time for change is now, not later!"
"In October, New York City saw firsthand the impacts of climate change when Hurricane Sandy devastated our city," said Lyna Hinkel, of 350 NYC. "If President Obama is serious about addressing this problem, he has an obligation to us to reject the Keystone XL pipeline and move away from dirty energy. We will also continue to fight local natural gas pipelines and will not accept natural gas as an alternative."
The event was focused specifically on the development of oil and gas pipelines. 
"The presence of pipelines in the U.S. tethers us to fossil fuels and makes us further dependent upon sources of energy that are poisoning our water, polluting our air and rapidly changing our climate," said Patrick Robbins, a member of Occupy the Pipeline.
"Fossil fuel interests benefit from promulgating the notion that organized labor supports Keystone XL. The truth is that organized labor is destined to play a leading role in fighting climate change," said Bruce Hamilton, vice president of Amalgamated Transit Union (ATU) who discussed the support from organized labor for rejecting oil and gas, and instead developing clean energy. "We need jobs. But we don't need jobs that poison workers, destroy communities and leave the planet uninhabitable."
"President Obama has an obligation to my generation, the generation of his own daughters, to make the right decision, the smart decision," said Sophie Lasoff, a 19-year-old student organizer with NYU Divest, who emphasized the passion and energy among young people advocating for clean energy. "Because if he doesn't, he should be prepared to have a lot of passionate young people on his hands. Past generations have made a choice to value profit over life. We will no longer stand for that choice. The fossil fuel industry has all the money and power in the world. But we have something that they don't have—something worth fighting for."
The fight over Keystone XL has energized millions and has become a real test of President Obama's commitment to dealing with the climate crisis. Keystone XL would transport 830,000 thousand barrels a day of the world's dirtiest oil and would open up development of the Canadian tar sands, among the largest carbon bombs on the planet.
For the past several months activists have met President Obama at nearly all of his public events and demanded that he reject the permit for the pipeline. "I'm here to make sure President Obama knows that wherever he goes, we will remind him that we are ready to put ourselves on the line," said JK Canepa, of Coalition Against the Rockaway Pipeline.
The event was co-sponsored by a broad coalition of local and national environmental and social justice organizations, including 350 NYC, 350 NJ, 350.org, 99Rise, Brooklyn For Peace, Coalition Against the Rockaway Pipeline (CARP), CREDO, CUNY Divest, Food & Water Watch, Friends of the Earth, Global Kids Inc., Green Party of NY, Human Impacts Institute, NYC Friends of Clearwater, NYU Divest, Occupy the Pipeline, Occupy Sandy, Restore the Rock, Sane Energy Project, Sierra Club Atlantic Chapter, Sierra Club, United for Action, World Can't Wait, WESPAC and You Are Never Alone (YANA).
Visit EcoWatch's KEYSTONE XL page for more related news on this topic.
——-
EcoWatch Daily Newsletter
Recent Stories from EcoWatch