This website uses cookies to ensure you get the best experience while browsing it. By clicking 'Got It' you're accepting these terms.
New Yorkers—Speak Out Against Fracking
Nov. 16, 2011 07:09AM EST
Energy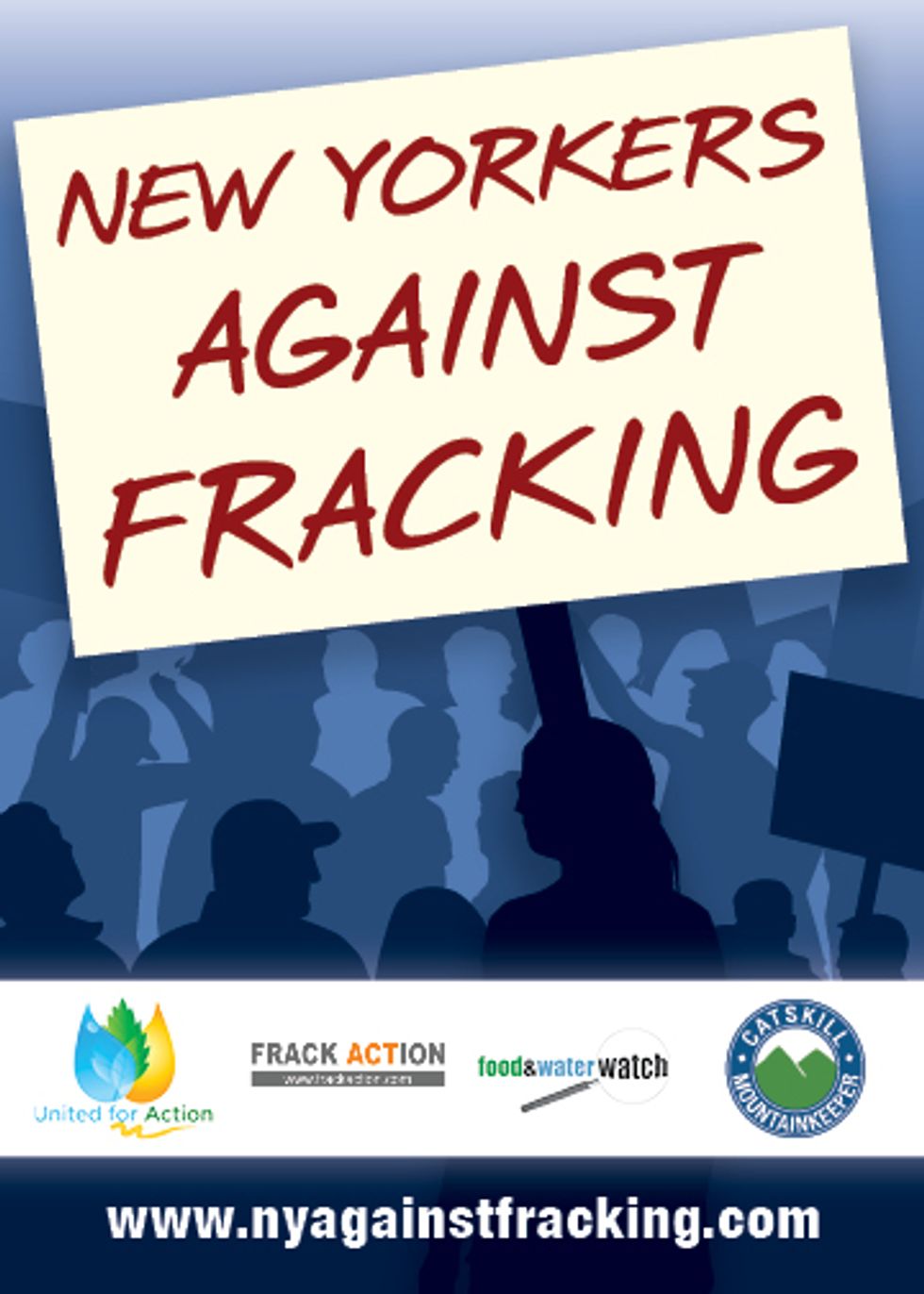 Fracking poses a great threat to our drinking water. The process of fracking means injecting millions of gallons of water, chemicals and sand into shale rock formations at high pressures to break open the rock and release the gas. There are numerous cases of water contamination near fracking sites. Fracking also produces a toxic wastewater that cannot be treated by standard treatment plants. It is especially dangerous because drillers are rushing to use the technique in new areas of the country without fully evaluating the effects on human health and the environment, and without adequate government oversight.
Find out the facts and the fiction of fracking by clicking here.
Dangers Posed by Fracking
• Fracking chemicals are toxic and can contaminate water from spills or accidents.
• Fracking produces hazardous wastewater, which can contain radioactive substances as well as toxic chemicals, making disposal difficult and dangerous.
• Fracking requires millions of gallons of water, which can deplete local water supplies.
• Fracking can cause natural gas to migrate into drinking water sources, which can cause houses and wells to explode.
• There have been more than 1,000 documented cases of water contamination near drilling sites around the country.
The New York Department of Environmental Conservation (DEC) is seeking comments on an environmental impact statement regarding fracking in New York. The statement does little in regards to the cumulative impacts of thousands of fracking operations on public health, rural economies and the environment.
Now is the time to send a message to Governor Andrew Cuomo to ban fracking in New York. The DEC is holding public hearings on Cuomo's proposal to open the state to fracking. We must flood them with people making the case that no amount of regulations will protect us from the inherent dangers of fracking.
What can you do?
• Submit a comment to the DEC and send Governor Cuomo an email urging him to ban fracking by clicking here.
• Attend a public hearing:
Sign Up to Attend a Hearing
    •    Dansville, NY — Nov. 16
    •    Binghamton, NY — Nov. 17
    •    Loch Sheldrake, NY — Nov. 29
    •    New York, NY — Nov. 30
    •    Ithaca, NY — Dec. 1
Find or Offer Transportation
Find a bus, van or carpool near you or help coordinate transportation.
Mobilize
    •    Draft your testimony using our talking points.
    •    Make a sign identifying who you're representing (i.e. Teachers Against Fracking, Farmers Against Fracking…)
    •    Recruit friends to join you at the hearing by forwarding this page.
For more information, click here.
EcoWatch Daily Newsletter
U.S. President Donald Trump listens as Anthony Fauci, Director of the National Institute of Allergy and Infectious Diseases speaks in the Rose Garden for the daily coronavirus briefing at the White House on March 29 in Washington, DC. Tasos Katopodis / Getty Images
By Jake Johnson
Just over a month after proclaiming that the number of coronavirus cases in the U.S. would soon "be down to close to zero," President Donald Trump said during a press briefing on the White House lawn Sunday that limiting U.S. deaths from the pandemic to between 100,000 and 200,000 people would mean his administration and the country as a whole did "a very good job."
Dicamba is having a devastating impact in Arkansas and neighboring states. A farmer in Mississippi County, Arkansas looks at rows of soybean plants affected by dicamba. The Washington Post / Getty Images
Documents unearthed in a lawsuit brought by a Missouri farmer who claimed that Monsanto and German chemical maker BASF's dicamba herbicide ruined his peach orchard revealed that the two companies knew their new agricultural seed and chemical system would likely damage many U.S. farms, according to documents seen by The Guardian.
Washington State Governor Jay Inslee and other leaders speak to the press on March 28, 2020 in Seattle. Karen Ducey / Getty Images
A bushfire burns outside the Perth Cricket Stadium in Perth, Australia on Dec. 13, 2019. PETER PARKS / AFP via Getty Images

By Albert Van Dijk, Luigi Renzullo, Marta Yebra and Shoshana Rapley
2019 was the year Australians confronted the fact that a healthy environment is more than just a pretty waterfall in a national park; a nice extra we can do without. We do not survive without air to breathe, water to drink, soil to grow food and weather we can cope with.
By Fino Menezes
Everyone adores dolphins. Intelligent, inquisitive and playful, these special creatures have captivated humans since the dawn of time. But dolphins didn't get to where they are by accident — they needed to develop some pretty amazing superpowers to cope with their environment.