New Yorkers Rally for Statewide Fracking Ban at Gov. Cuomo Fundraiser
Jul. 01, 2014 09:45AM EST
Energy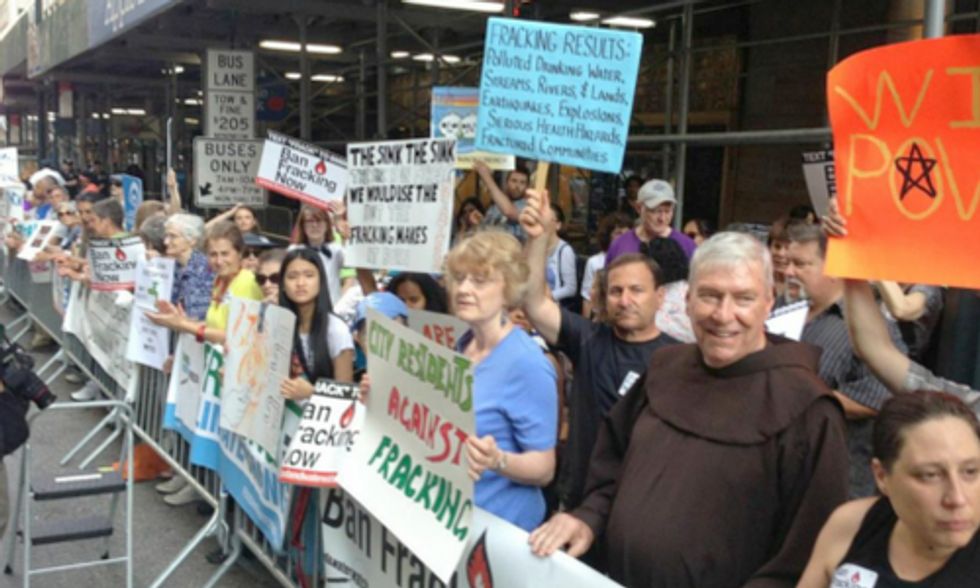 On the same day that New York's highest court ruled municipalities had the right to ban fracking, hundreds of concerned citizens gathered outside Gov. Cuomo's Manhattan fundraiser yesterday, demanding a statewide ban.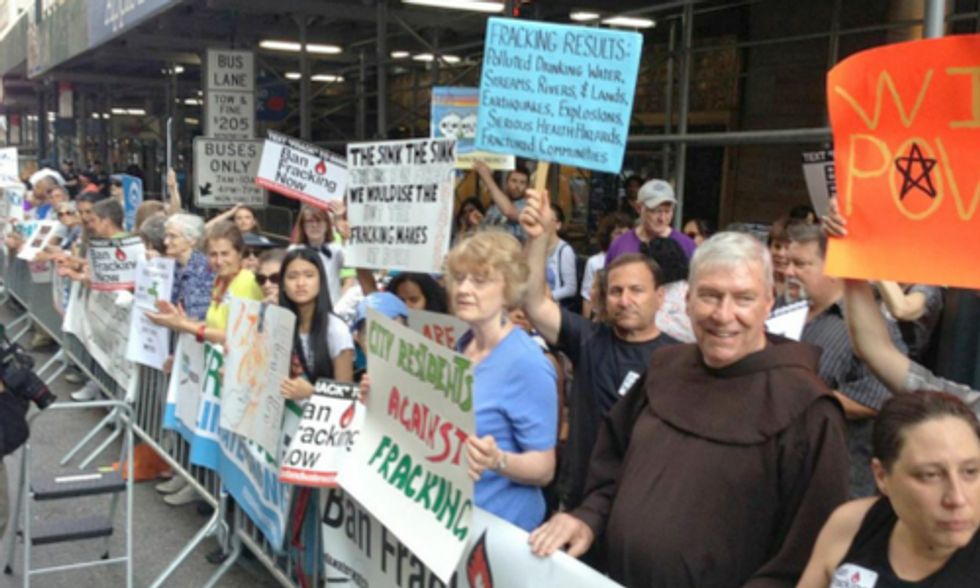 Citing public health concerns, protesters called for Gov. Cuomo to consider the New York General Assembly's recent decision to pass a three-year moratorium on oil and natural gas drilling permits, and follow suit.  
"It's time for Governor Cuomo to listen to the scientists and health experts and ban fracking in New York," said Alex Beauchamp of Food & Water Watch and New Yorkers Against Fracking. "There is clear evidence showing that fracking would poison our air and water, and create serious health problems for New Yorkers. Today's decision reaffirming the rights of localities to ban fracking is a positive development, but fracking's contamination of our air and water will not obey geographical boundaries. The way to truly protect New York and the health of our families is for Governor to keep fracking out of our entire state."
In May, more than 250 health experts and medical organizations, including Physicians for Social Responsibility and Concerned Health Professionals of NY, wrote a letter to Gov. Cuomo and Health Commissioner Howard Zucker calling for a three to five year moratorium on fracking, given the growing evidence exposing fracking's threat to public health. 
"The totality of the science—which now encompasses hundreds of peer-reviewed studies and hundreds of additional reports and case examples—shows that permitting fracking in New York would pose significant threats to the air, water, health and safety of New Yorkers," the letter stated.
Food & Water Watch points to these key trends that the letter discusses:
Evidence linking water contamination to fracking–related activities.
The structural integrity of wells can fail. These failures are common, unavoidable and increase over time as wells age and cement and casings deteriorate.
The disposal of fracking wastewater is linked to earthquakes and radioactive contamination of surface water. It remains a problem with no solution.
Air quality impacts from fracking–related activities.
Community and social impacts of fracking can be widespread, expensive and deadly.
Industry secrecy contributes to unsettled science.
"Climate change is the most critical issue of our generation," said Ling Tsou, co-founder of United for Action. "Fracking, building of liquefied natural gas facilities (LNG) and expansion of natural gas infrastructure are worse for the climate than carbon pollution because methane is a more potent greenhouse gas than carbon. Governor Cuomo needs to ban fracking in New York State, stop any further expansion of natural gas and LNG infrastructure and invest in renewables to power New York State."
EcoWatch Daily Newsletter
Related Articles from EcoWatch
Recent Stories from EcoWatch